Wind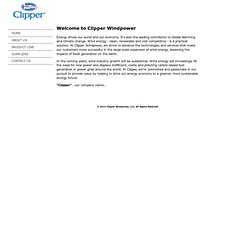 Energy drives our world and our economy. It's also the leading contributor to Global Warming and climate change. Wind energy - clean, renewable and cost competitive - is a practical solution. At Clipper Windpower, we strive to advance the technologies and services that make our customers more successful in the large-scale expansion of wind energy, lessening the impacts of fossil generation on the earth. In the coming years, wind industry growth will be substantial.
Welcome to Clipper Windpower | Wind Turbine Manufacturer | Wind Power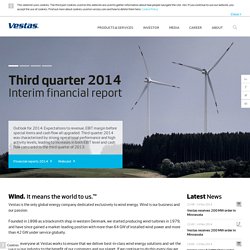 Vestas is the only global energy company dedicated exclusively to wind energy, as shown by our superior cost-effective wind technologies, products and services. Since Vestas was founded in 1979, Vestas has gained a market-leading position with more than 58 GW of installed wind turbines, comprising around 19% of total global capacity. Every day, everyone at Vestas works on bringing wind on par with oil and gas, thereby addressing the growing demand for electricity.
Vestas Technology R&D Americas, Inc