Personal
Reach Subscribers Everywhere - LiveIntent
Pi.pe
Make Mine Music
Welcome Board
Hurricane Electric Interactive Programming
Five free and secure password management apps
Takeaway: Maintaining a large assortment of strong passwords is a challenge. Here are some apps that make the task more manageable. IT pros keep a lot of information stored in their brains.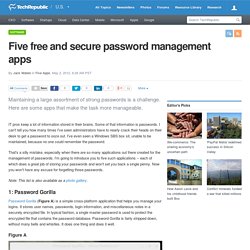 BoxCryptor | On-the-fly Encryption for cloud storage
Slidevana - The Ultimate Keynote and PowerPoint Templates
Web Statistics and Analysis | HypeStat
Technology and Web Guide
Deal & Guide - Guidance Towards Online Services And Deals.
Wollage , the social-scrapbook!