UK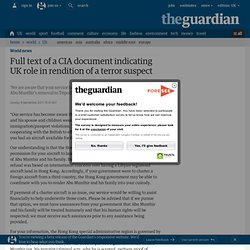 "Our service has become aware that last weekend LIFG deputy Emir Abu Munthir and his spouse and children were being held in Hong Kong detention for immigration/passport violations. We are also aware that your service has been cooperating with the British to effect Abu Munthir's removal to Tripoli, and that you had an aircraft available for this purpose in the Maldives. Our understanding is that the Hong Kong special wing (SW) originally denied permission for your aircraft to land in Hong Kong to enable you to assume control of Abu Munthir and his family.
Full text of a CIA document indicating UK role in rendition of a terror suspect | World news
Evidence that British intelligence agencies mounted their own " rendition " operation in collaboration with Muammar Gaddafi 's security services has emerged with the discovery of a cache of Libyan government papers in an abandoned office building in Tripoli. A secret CIA document found among the haul shows that the British and Libyans worked together to arrange for a terrorism suspect to be removed from Hong Kong to Tripoli – along with his wife and children – despite the risk that they would be tortured. The wording of the document suggests the CIA was not involved in the planning of the rendition operation, but was eager to become engaged during its execution and offered financial support. Other papers found in the building suggest MI6 enjoyed a far closer working relationship with Gaddafi's intelligence agencies than has been publicly known, and was involved in a number of US-led operations that also resulted in Islamists being consigned to Gaddafi's prisons.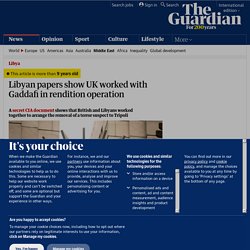 Libyan papers show UK worked with Gaddafi in rendition operation | World news
Sins of colonialists lay concealed for decades in secret archive | UK news
In June 1957, Eric Griffiths-Jones, the attorney general of the British administration in Kenya, wrote to the governor, Sir Evelyn Baring, detailing the way the regime of abuse at the colony's detention camps was being subtly altered. From now on, Griffiths-Jones wrote, for the abuse to remain legal, Mau Mau suspects must be beaten mainly on their upper body, "vulnerable parts of the body should not be struck, particularly the spleen, liver or kidneys", and it was important that "those who administer violence … should remain collected, balanced and dispassionate". Almost as an after-thought, the attorney general reminded the governor of the need for complete secrecy.
On Secret Trials « simonmckay
On Secret Trials Jeremy Bentham said that secrecy was an instrument of conspiracy and ought never to be the system of regular government. The reason why can be no more eloquently captured than by Toulson LJ in the recent case of R (Guardian Newspapers) v City of Westminster Magistrates Court [2012] EWCA Civ 420: "Open justice. The words express a principle at the heart of our system of justice and vital to the rule of law. The rule of law is a fine concept but fine words butter no parsnips.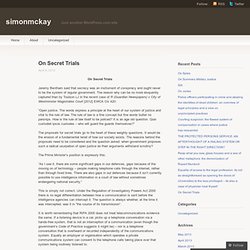 Anti-cuts 'street parties' to rival Queen's diamond jubilee and Olympics | UK news
A UK Uncut protest at Westminster on budget day. The group wants supporters to hold rival 'street parties' while not directly disrupting the Queen's diamond jubilee or Olympics. Photograph: Peter Marshall/Demotix/Corbis Anti-cuts campaigners are planning to stage a series of alternative street parties before the Queen's diamond jubilee celebrations and the Olympics to highlight opposition to the government's austerity programme.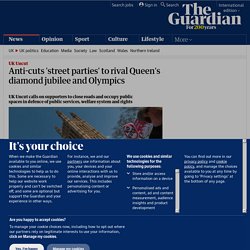 MI5 and MI6 Exposed 2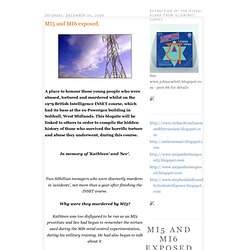 1. 1979 - Powergen, Solihull: The young British Intelligence recruits entering this building, had no idea of the hell that lay before them. No idea that they would be forced to become slaves to a demonic, mind control program; run by MI6 and sanctioned by Royal Arch Freemasonry. No idea that they would be forced to sign the Masonic 'Sat B'hai' contract and swear allegiance to the Monarchy rather than to the UK State. No idea at all, in fact.
How secret renditions shed light on MI6's licence to kill and torture | World news
In fiction, James Bond drew quite judiciously upon his licence to kill, bumping off just 38 adversaries in a dozen Ian Fleming novels. In each case, the individual received his or her just deserts. In real life, MI6 insists its officers do not kill anyone. "Assassination," its former head Sir Richard Dearlove has said , "is no part of the policy of Her Majesty's government" and would be entirely contrary to the agency's ethos. But there can be circumstances in which MI6 officers do have a licence to kill or commit any other crime , enshrined in a curious and little-known law that was intended to protect British spies from being prosecuted or sued in the UK after committing crimes abroad. Section 7 of the 1994 Intelligence Services Act offers protection not only to spies involved in bugging or bribery, but also to any who become embroiled in far more serious matters, such as murder, kidnap or torture – as long as their actions have been authorised in writing by a secretary of state.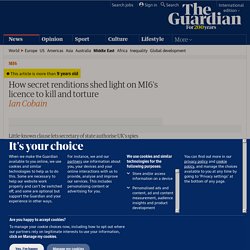 Abdel Hakim Belhaj, pictured, and and Sami al-Saadi are suing MI6's Sir Mark Allen for 'complicity in torture' and 'misfeasance in public office'. Photograph: Francois Mori/AP Two prominent Libyan dissidents are suing a former senior MI6 officer in a move which could expose the role of ministers in the men's abduction to Tripoli, where they say they were tortured by Colonel Muammar Gaddafi's secret police. Lawyers for Abdul Hakim Belhaj and Sami al-Saadi have served a claim on Sir Mark Allen, the MI6 officer at the centre of the affair.
Libyan dissidents sue MI6 officer over abduction and torture claims | World news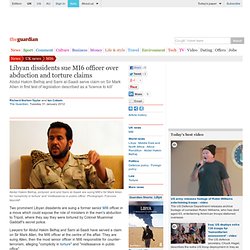 8 April 2012 Last updated at 22:58 GMT By Peter Taylor BBC News Mr Belhaj was intercepted as he tried to fly from Malaysia to claim asylum in the UK M16's alleged involvement in the 2004 rendition to Libya of Abdel Hakim Belhaj was approved by the government, the BBC can reveal. Mr Belhaj is suing the British government, saying it was complicit in his illegal rendition and subsequent imprisonment and torture under Colonel Muammar Gaddafi's former regime.
Rendition of Abdul Hakim Belhaj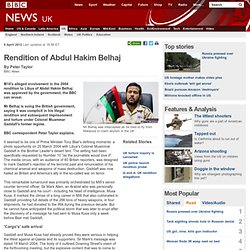 Redacted Motorman Blue Book - Google Docs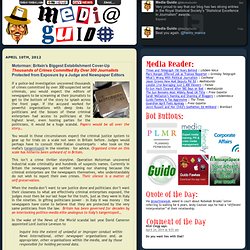 Motorman: Britain's Biggest Establishment Cover-Up Thousands of Crimes Committed By Over 300 Journalists Protected from Exposure by a Judge and Newspaper Editors
If a police-led investigation uncovered thousands of crimes committed by over 300 suspected serial criminals, you would expect the editors of newspapers to be screaming at their journalists to get to the bottom of the story to splash across the front page. If the accused worked for powerful organisations with deep links to politicians and the bosses of these criminal enterprises had access to politicians at the highest level, even hosting parties for the politicians, it would be a huge scandal. Papers would be all over the story…
The protest Games: demonstrators target Olympics - Olympics - Sport
Adobe Flash Player is the standard for delivering high-impact, rich Web content. Designs, animation, and application user interfaces are deployed immediately across all browsers and platforms, attracting and engaging users with a rich Web experience. The table below contains the latest Flash Player version information. Adobe recommends that all Flash Player users upgrade to the most recent version of the player through the Player Download Center to take advantage of security updates. Copyright © 1996 - 2013 Adobe Systems Incorporated.
The government's proposals to extend secret hearings – "closed material procedures" – to all manner of civil proceedings would deprive people of their rights to a fair trial, and undermine the principle of open justice . If the proposals set out in the green paper on justice and security become law, the secretary of state would decide if a claim against government should be heard in secret. Ministers whisper sweet reason about judges retaining a say on whether a case should be heard behind closed doors. That is true enough, but misleading. The judge will only be able to challenge secrecy where the secretary of state's deliberations were outright "irrational", as opposed to being free to strike a proper balance between open justice in public and any harm caused by disclosure. The government, in the person of the secretary of state, may be easily persuaded that embarrassing evidence of misconduct by government officials should be kept under wraps.
Justice and security green paper: silence in court | Comment is free
m.guardian.co.uk
The cybersnoops are always one step ahead of ministers - Crime - UK
Because if a journalist can access someone like Gordon Brown's personal correspondence just imagine what the Chinese are reading. During the past few years, the Government has invested millions of pounds trying to ensure its communications are as secure from interception as possible. But two glaring problems remain. The first is that while the Government can secure its own communications it cannot secure the communications of those it corresponds with. Every time a minister writes an email to anyone outside Whitehall that correspondence is vulnerable from the moment it arrives in the recipient's inbox.
Revealed: bankers' secret meetings with ministers - UK Politics - UK
Let's be clear. It is impossible to imagine a Labour Party led by Tony Blair or Gordon Brown -- in opposition or in government -- having a single positive thing to say about the protesters huddled around St Paul's Cathedral. But Ed Miliband has penned a piece for today's Observer that, with a few predictable caveats, argues he is coming from the same place as the Occupy movement. The protests "reflect a crisis of concern for millions of people about the biggest issue of our time: the gap between their values and the way our country is run," he argues. Firstly, it's a victory for Occupy.
Miliband's intervention is a victory for the Occupy Movement
The Saviour on Vimeo
Oppose the extradition of Julian Assange
Back down at #occupylsx demo, tented village seems to be thri
Global protests: Occupy the London Stock Exchange takes over the City
Occupy London follows occupation movements from across the world Police ask Julian Assange 'to remove mask' he was wearing Protesters had wanted to 'take' Paternoster Square - but it has been closed Tents now being put up in the Square Mile Protests contained within City area and currently not spreading Two arrests made for 'assaults on police officers' By Lee Moran UPDATED: 18:04 GMT, 15 October 2011 Protesters inspired by the growing 'Occupy Wall Street' movement in the U.S have today taken over the City of London. Thousands have descended on the area known as the Square Mile - under the banner 'Occupy the Stock Exchange' - for a 'peaceful protest' against the global financial system.
St Pauls under siege. #occupylsx #OccupyLondon on Twitpic
Occupy London Stock Exchange 15 Oct - storify.com
Liam Fox resignation exposes Tory links to US radical right | Politics | The Observer
16 YEAR OLD GIRL BATTERED BY TOTTENHAM RIOT POLICE - THIS IS WHAT STARTED IT ALL!
England riots: pair jailed for four years for using Facebook to incite disorder | UK news
Cameron: Police got riots wrong
London Riots: it's not about police numbers | Politics
I blame the British government for the riots
#EDL's Steve Guest wants to use the #LondonRiots as a co
London disturbances - Sunday 7 August | UK news
Farewell youth clubs, hello street life – and gang warfare | UK news