Ano
China's Internet crackdown: Anonymous, political intrigue and blackouts. Anonymous has announced its intention s to take down the Great Firewall of China, but while the relationship between Chinese authorities and net users is extremely shaky, is it the right time to declare war?
There is an interesting dialogue emerging in much of China's state-run media this week about the difference between 'free speech' and 'harmful rumours'. has recently released an article entitled "Freedom of Speech does not protect rumors. " Cody Kretsinger of LulzSec Pleads Guilty | Born Tech Geeks. Dominican Republic Police arrested 6 Anonymous hackers. Dominican Republic Police arrested 6 Anonymous hackers Dominican Republic Police has arrested six hackers , Milton Corniell David Jimenez (Zerohack), Juan Rafael Leonardo Acosta (Nmap), Cristian de la Rosa Jose de los Santos (Mot), Robert Reynoso Delgado (Frank-Ostia) linked to Anonymous and accused by the authorities of attacking websites of state and private companies.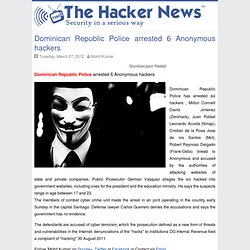 Public Prosecutor German Vasquez alleges the six hacked into government websites, including ones for the president and the education ministry. He says the suspects range in age between 17 and 23. The members of combat cyber crime unit made the arrest in an joint operating in the country early Sunday in the capital Santiago. What the Sabu revelation means for hackers. To most observers he seemed unpredictable, dangerous and so highly skilled that he could evade the long arm of the law.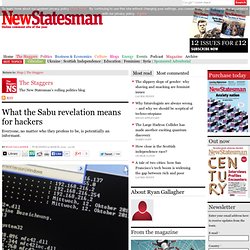 But in an astonishing revelation, last week it emerged that Sabu, the notorious figurehead of hacking group LulzSec, had for almost nine months been working secretly as an informant for the FBI. The identity of 28-year-old Hector Xavier Monsegur, who led a rampage against government websites and multi-national corporations, had been uncovered when he failed to mask his computer's IP address using an internet chat room on just one fateful occasion. Soon after, FBI agents appeared at the door of his apartment on the sixth floor of a 14-story housing project in Manhattan. The agents reportedly played "good cop bad cop", convincing the infamous hacker - almost immediately, according to court documents - that his only way out was to cooperate with an international investigation into his former comrades. LulzSec member 'Sabu' turns on cohorts in FBI sting. LulzSec receives a body blow with the arrest of six individuals, most notably one core member, Hector Monsegur, who is said to have been turned by the FBI into assisting their investigation.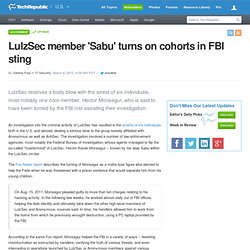 An investigation into the criminal activity of LulzSec has resulted in the arrests of six individuals both in the U.S. and abroad, dealing a serious blow to the group loosely affiliated with Anonymous as well as AntiSec. The investigation involved a number of law enforcement agencies, most notably the Federal Bureau of Investigation, whose agents managed to flip the so-called "mastermind" of LulzSec, Hector Xavier Monsegur -- known by his alias Sabu within the LulzSec circles.
Anonymous' new timeline of FBI infiltration suggests Antisec may have been an FBI creation. Mar 14, 2012 Today, the @YourAnonNews Twitter account theorized that Antisec, which was created just before LulzSec began retreating into Anonymous, was in fact the creation of the FBI.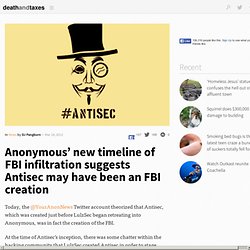 At the time of Antisec's inception, there was some chatter within the hacking community that LulzSec created Antisec in order to stage some misdirection—to get authorities looking elsewhere. Almost simultaneously, if memory serves, some observers were even suggesting that government authorities, whether in the US or UK and elsewhere, were bearing down on LulzSec. YourAnonNews has created a document laying out the timelines of the FBI's activity with Sabu and the rise of Antisec, and it's a very enlightening read. AnonOps Communications. Anonymous members speak out at surreal SXSW panel. A protester wears an Anonymous mask to a rally in France.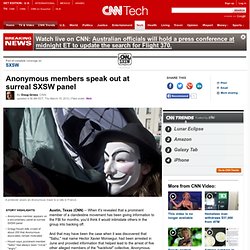 Anonymous member appears on a documentary panel at surreal SXSW panelGregg Housh tells crowd of about 200 that Anonymous associates remain motivatedHoush says prominent member "Sabu" had always been "vocal," "angry"Anonymous is the name of a "hacktivist" collective that has made headlines lately Austin, Texas (CNN) -- When it's revealed that a prominent member of a clandestine movement has been giving information to the FBI for months, you'd think it would intimidate others in the group into backing off. The Sabu Double Play. How the real target is Julian Assange. | The Bat Country Word. By: Louis Syphr Hector Monsegur, known as Sabu, leader of the Anonymous affiliated hacking group LulzSec, was arrested by FBI agents in his New York apartment on Monday, June 7, 2011, at 10:15PM.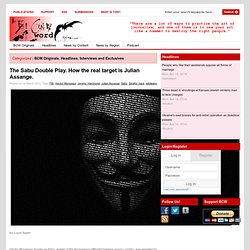 On August 15, Monsegur pleaded guily to several counts of hacking and identity theft. According to Assistant U.S. Attorney James Pastore, as told to U.S. District Judge Loretta Preska at a court hearing on August 5, The defendant has literally worked around the clock with federal agents. Older Tweet: sl1mmer Pg 7. Peace of Mind Through Integrity and Insight. [Full-disclosure] HACK EL PLANETA | AnonOpsMessages sorted by: [ date ][ thread ][ subject ][ author ] >From.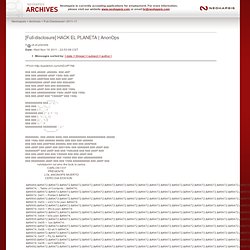 HACK EL PLANETA | AnonOps. Occupy Wall Street And Anonymous: Turning A Fledgling Movement Into A Meme. Two weeks ago, Cornel West, Princeton professor and activist, showed up at a tent city erected by Occupy Wall Street protesters across the street from the Federal Reserve building in Boston.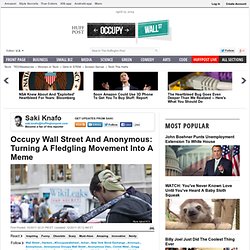 As he finished delivering an impromptu speech, a man who had been standing off to the side leaned in and gave him a hug. He was in his mid-thirties, with gray-dusted hair, a round face and dimples. Most people who witnessed this moment probably didn't think anything of it -- but then, most people aren't familiar with the faces of the online movement known Anonymous. The man was Gregg Housh, an Internet technology consultant and one of the few people associated with Anonymous whose real name is known to the public. Housh occupies a special place in Anonymous lore. Why Anonymous is Winning Its War on Internet Infrastructure. #OpPiggyBank US Police Stations under anonymous attack. Anonymous hacked into Salt Lake City Police slcpd.com website last night and stolen login information along with passwords of the website as a part of the operation Piggy Bank #OpPiggyBank.
As soon as the site admins found out the leak they brought down the whole site and the site is still offline with the message "We are working on replacing content for the website." The attacks however did not stop last night, two more attacks took place a couple of minutes ago. Anonymous called hard to kill web hippies in leaked internal Stratfor emails. In a weekly Intelligence summary, Verizon Business Security blogged, "Wired declared Anonymous to be the net's immune system. But an analyst is compelled to assess if Anonymous is becoming symptomatic of an autoimmune disease. " AntiSec hacktivists certainly whacked the "intelligence consultancy" for Strategic Forecasting Inc and endless articles have been published such as this one that points out the failings and "gross example of Statfor. " Operation Antisec | Anonymous Hacks FBI Contractor ManTech. Anonymous, working together with LulzSec and other hackers, has struck again. As a part of its Operation Antisec, Anonymous has released close to 400 megabytes of documents belonging to FBI contractor ManTech International.
Ironically enough, ManTech proudly claims to specialize in tackling some of the most challenging cyber security problems facing our nation. In the recent past, Anonymous and LulzSec have been actively targeted by law enforcement agencies around the world. 'Anonymous' hacktivists expose the intelligence gap | Loz Kaye. Over Christmas a busy, secretive group were at work, with their own views on who had been naughty and nice. However it was not Santa's elves, but the amorphous "Anonymous" collective making the decisions.
This group of hackers released a vast trove of email addresses, passwords and credit card information belonging to subscribers of the US intelligence company Stratfor – and the hangover has carried on into the new year, with the release of MoD and Nato officials' details. Hello comrades and thanks for joining us for the final phase of our cross count. PASTEBIN | #1 paste tool since 2002 create new paste tools api archive. Op hiroshima. DoxCak3 on Scribd. - Summify. _TeaMp0isoN. EXPHIN1TY - CLEARUSA.ORG LEAK. Doxcak3's Pastebin. Police Oust Occupy Wall Street Protesters at Zuccotti Park. Third Target of FBI Anonymous Probe Steps Forward to Announce Innocence. We've been documenting the people that were targeted in the cross country raids on alleged Anonymous members. So far, it seems that every day we are hearing from those who were affected coming forward to state their case that they had no part in Anonymous hacking.
Today, we found another person stating their innocence. In the major sweep of hackers, the score might now be Anonymous: 3, FBI: 0. Still, as time goes on, we are getting a clearer and clearer picture of the kind of people that were arrested or raided.