Movies & Tv
Sorry, currently our video library can only be watched from within the United States Hulu is committed to making its content available worldwide. To do so, we must work through a number of legal and business issues, including obtaining international streaming rights.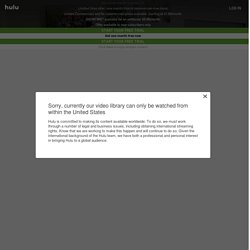 blog.netflix.com
The Internet is improving lives everywhere – democratizing access to ideas, services and goods. To ensure the Internet remains humanity's most important platform for progress, net neutrality must be defended and strengthened. The essence of net neutrality is that ISPs such as AT&T and Comcast don't restrict, influence or otherwise meddle with the choices consumers make. The traditional form of net neutrality which was recently overturned by a Verizon lawsuit is important, but insufficient. This weak net neutrality isn't enough to protect an open, competitive Internet; a stronger form of net neutrality is required. Strong net neutrality additionally prevents ISPs from charging a toll for interconnection to services like Netflix, YouTube, or Skype, or intermediaries such as Cogent, Akamai or Level 3, to deliver the services and data requested by ISP residential subscribers.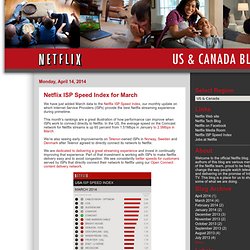 Activate a new BLOCKBUSTER® By Mail membership and receive the first two months (the "Promotional Period") at 50% off the regular price. The applicable membership fee for the Promotional Period is due in full upon activation. Offer is valid for new customers only and cannot be combined with any other offers or discounts. Limit one discounted trial per household. Requires internet access, a valid email address and a valid method of payment for the monthly fee.
Blockbuster By Mail