Movies & Tv
Sorry, currently our video library can only be watched from within the United States Hulu is committed to making its content available worldwide. To do so, we must work through a number of legal and business issues, including obtaining international streaming rights.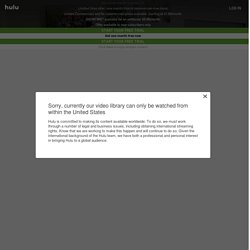 blog.netflix.com
Around the world our members stream a lot of shows and movies onto their televisions, through a Smart TV app or through TV-connected devices such as game consoles, set-top boxes, and Blu-ray players. In fact, the majority of the more than one billion hours our members watch each month is done on a TV. Today we are excited to unveil the biggest update in Netflix history to our TV experience. This update improves the Netflix TV for Netflix members around the world and for the first time extends rich features to platforms such as Roku, Smart TV and Blu-ray players as well as PlayStation and Xbox 360. More than a year and half in the making, this new experience evolved through a process of design exploration, iteration and testing that extended throughout all parts of the Netflix TV experience. We set out to deliver an update that would make it even easier to discover something great to watch and we think we succeeded.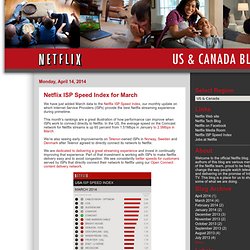 Activate a new BLOCKBUSTER® By Mail membership and receive the first two months (the "Promotional Period") at 50% off the regular price. The applicable membership fee for the Promotional Period is due in full upon activation. Offer is valid for new customers only and cannot be combined with any other offers or discounts. Limit one discounted trial per household. Requires internet access, a valid email address and a valid method of payment for the monthly fee.
Blockbuster By Mail