Websites Development
Slice Script Web Design Blog. Free Website Templates, XHTML CSS Templates - Template World. Free Website templatesCSS Templates | WordPress Themes Free CSS templates in this section are tableless, W3C-compliant web design layouts designed by Template World designers.
These free website templates have been tested and proven compatible with all major browser environments and operating systems. LICENSE: Free website templates are licensed under Creative Commons Attribution 2.5 License. Colour Contrast Check - snook.ca. Date created: January 11, 2005 Date last modified: March 30, 2009 The Colour Contrast Check Tool allows to specify a foreground and a background colour and determine if they provide enough of a contrast "when viewed by someone having color deficits or when viewed on a black and white screen"[W3C].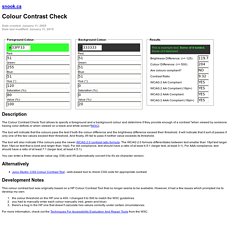 The tool will indicate that the colours pass the test if both the colour difference and the brightness difference exceed their threshold. It will indicate that it sort of passes if only one of the two values exceed their threshold. Accessibility. אתר נגיש | מחויבות חברתית ותבונה עסקית. Stylesheet Switcher. Stylesheet switchers allow you to define several different stylesheets that define how your page should appear and allow your visitors to then choose which of the stylesheets to use depending on which style that the individual visitors prefer.
For example you might have stylesheets that will present your page content with different colour backgrounds, different fonts, different font sizes, and even completely different page layouts and allow your visitors to switch to whichever of these stylesheets best suits the way that they prefer to view your content. The first step in adding a stylesheet switcher to your web page is to define the alternate stylesheets that you want to be able to switch between. You link them all into the head of your page like this: Alternative Style: Working With Alternate Style Sheets. So you've got a web page.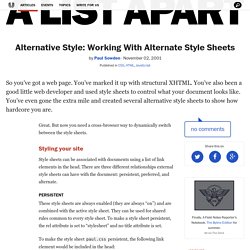 You've marked it up with structural XHTML. You've also been a good little web developer and used style sheets to control what your document looks like. You've even gone the extra mile and created several alternative style sheets to show how hardcore you are. Great. But now you need a cross-browser way to dynamically switch between the style sheets. Contrast Analyser, Version 2.2 | The Paciello Group. About the Colour Contrast Analyser This native application (available for both Windows and Mac) allows you to evaluate the color visibility and contrast of foreground/background color combinations.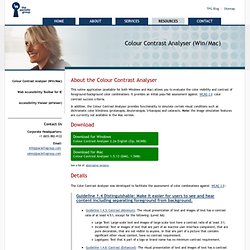 It provides an initial pass/fail assessment against WCAG 2.0 color contrast success criteria. Html Color Codes. HTML Color Codes website provides free color tools for finding HTML colors for your website.
Great tools HTML color chart and HTML color picker will make this simple as a walk in the park. To quickly start using HTML colors in your website take a look at How to use HTML color codes?. If you wish to learn what this combination of characters in HTML Color Codes actually means than take a look at section HTML Color Codes Theory. Web safe colors is the list of colors that look the same on all operating systems. And if you have color blindness then check out HTML Color Names to overcome that problem. HTML color codes. HTML color codes are hexadecimal triplets representing the colors red, green, and blue (#RRGGBB).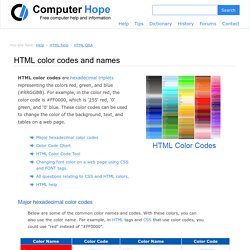 For example, in the color red, the color code is #FF0000, which is '255' red, '0' green, and '0' blue. These color codes can be used to change the color of the background, text, and tables on a web page. Major hexadecimal color codes. What's New at Blog.SpoonGraphics? I've been busy working on a revamp behind the scenes of Blog.SpoonGraphics recently with aims to push the site forward and make use of the new features of WordPress 2.7 as well as CSS3 styling rules that are gaining wider support with the near release of Firefox 3.1.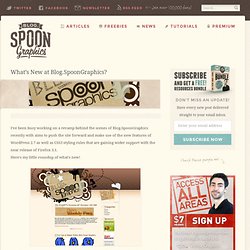 Here's my little roundup of what's new! The large illustrated header, colour scheme and general style of the site have become largely recognisable and still gain good responses from new visitors, therefore this main styling was something I wanted to keep intact with the newer design. One main change visually is the larger content area allowing for the wider, two column sidebar. 50 Fresh Useful Icon Sets For Your Next Design - Smashing Magazine. Advertisement Beautiful and free icon sets always come in handy.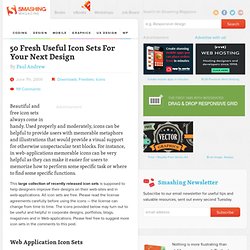 Used properly and moderately, icons can be helpful to provide users with memorable metaphors and illustrations that would provide a visual support for otherwise unspectacular text blocks. For instance, in web-applications memorable icons can be very helpful as they can make it easier for users to memorize how to perform some specific task or where to find some specific functions. Free Website Backgrounds. To download any of these free background images for web sites, press the right mouse button on the desired background and save it to disk.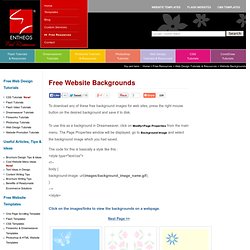 To use this as a background in Dreamweaver, click on Modify>Page Properties from the main menu. The Page Properties window will be displayed, go to Background Image and select the background image which you had saved. Next Page >> Free High Resolution Textures - Lost and Taken. Web Design Tools & Inspiration. BittBox.
---