Feminism
La série brosse en particulier un tableau saisissant de la condition des femmes. Betty Draper, la mère au foyer, élevée dans le souci exclusif de son apparence et de sa beauté, qui a tout pour être heureuse selon les critères de son milieu, mais qui crève de solitude et d'ennui ; Peggy Olson, la jeune rédactrice volontaire – seule femme à occuper ce poste –, aux prises avec le dragon ultra-catholique qui lui sert de mère, furieuse à la fois de subir les mains baladeuses de ses collègues et d'être jugée trop menaçante pour correspondre à leur idéal amoureux ; Joan Holloway, la plantureuse secrétaire rousse, qui tente de faire une force de son statut d'objet sexuel, sans que cela la mette à l'abri de la frustration et de la déception : toutes, si différentes soient-elles, se débattent dans les limites que leur assigne la société américaine de cette époque.
"Jesuisbonne.fr", la demande de stage provoc'
Transgenres, la journée de l'homme ou de la femme ? - La face B de l'info - Société
Contents: What is a "Myth"? Myth 1: Rape Occurs Between Strangers in Dark Alleys Implications
CPS Legal Guidance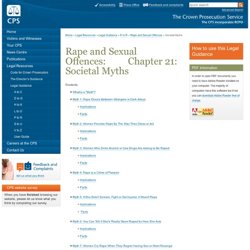 Mesdames, vous travaillez gratuitement depuis le 23 octobre
L'égalité des salaires hommes-femmes trouve soudain sa place dans l'actualité politique. Martine Aubry en avait fait une des mesures phares de son programme –et le désormais candidat PS à la présidence de la République, François Hollande, devrait logiquement la reprendre à son compte. Au même moment, la commissaire européenne Viviane Reding (en charge de la justice, des droits fondamentaux et de la citoyenneté) agite à nouveau la menace de quotas pour les femmes que Bruxelles imposerait au sein des conseils d'administration et des comités de direction des grands groupes cotés.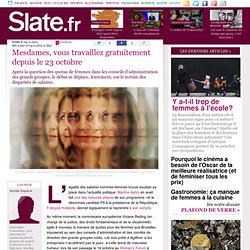 For Abdel-Qader Ali there is only one regret: that he did not kill his daughter at birth. 'If I had realised then what she would become, I would have killed her the instant her mother delivered her,' he said with no trace of remorse. Two weeks after The Observer revealed the shocking story of Rand Abdel-Qader, 17, murdered because of her infatuation with a British soldier in Basra, southern Iraq, her father is defiant. Sitting in the front garden of his well-kept home in the city's Al-Fursi district, he remains a free man, despite having stamped on, suffocated and then stabbed his student daughter to death. Abdel-Qader, 46, a government employee, was initially arrested but released after two hours.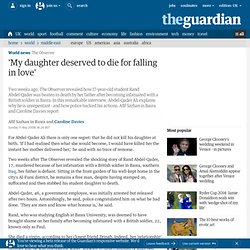 'My daughter deserved to die for falling in love' | World news | The Observer