Budget cuts
erasmusletter_en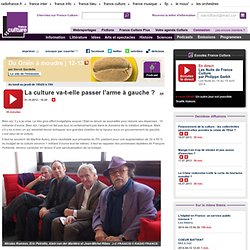 Bien sûr, il y a la crise.
La Culture va-t-elle passer l'arme à gauche ? - Idées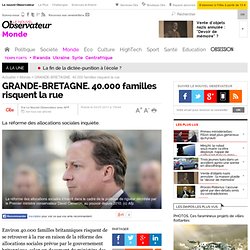 GRANDE-BRETAGNE. 40.000 familles risquent la rue - Monde
Environ 40.000 familles britanniques risquent de se retrouver à la rue en raison de la réforme des allocations sociales prévue par le gouvernement britannique, selon un document du ministère des Collectivités locales révélé dimanche 3 juillet par The Observer . Dans cette lettre adressée à Downing Street, le ministère fait part de son inquiétude sur le plafonnement prévu des allocations sociales à 500 livres (552 euros) par semaine et par foyer. Ces aides englobent notamment les allocations familiales, logement et chômage.
Qu'elle paraît douce en comparaison, la France de Hollande ! De l'autre côté du Channel, les Britanniques subissent une vraie rigueur.
L'Angleterre, 
nouveau royaume des inégalités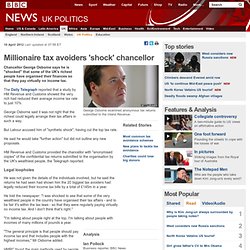 Millionaire tax avoiders 'shock' chancellor
10 April 2012 Last updated at 07:58 ET George Osborne examined anonymous tax returns submitted to the Inland Revenue. Chancellor George Osborne says he is "shocked" that some of the UK's richest people have organised their finances so that they pay virtually no income tax.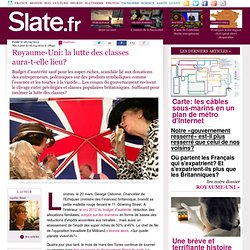 Royaume-Uni: la lutte des classes aura-t-elle lieu?
L ondres, le 20 mars.
David Cameron pris dans le scandale de la tourte
Les conservateurs britanniques sont une nouvelle fois dans la tourmente, et cette fois-ci à cause d'une tourte , comme le rapporte le Guardian.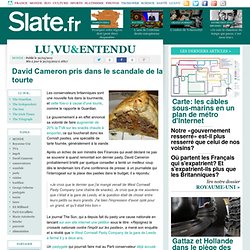 David Cameron: 'I last ate a pasty at Leeds station'.
Pasty row hots up for David Cameron | Politics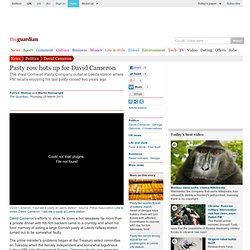 At the Guardian Open Weekend, Polly Toynbee's session with readers included wide-ranging questions and answers on the state of politics.
Q&A with Polly Toynbee: politics and society | Comment is free
David Cameron will on Monday launch a scathing attack on what he calls the "culture of entitlement" in the welfare system, as he warns that claimants with three or more children may start to lose access to benefits, and almost everyone aged under 25 will lose housing benefit.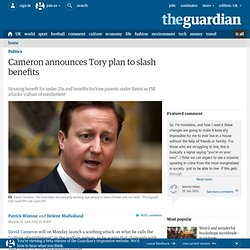 Cameron announces Tory plan to slash benefits | Politics
Budget 2012: pensioners fund tax cut | UK news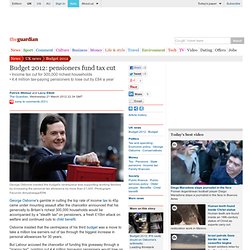 George Osborne insisted the budget's centrepiece was supporting working families by increasing the personal tax allowance by more than £1,000. Photograph: Facundo Arrizabalaga/EPA George Osborne 's gamble in cutting the top rate of income tax to 45p came under mounting assault after the chancellor announced that his generosity to Britain's richest 300,000 households would be accompanied by a "stealth tax" on pensioners, a fresh £10bn attack on welfare and continued cuts to child benefit .
Les Britanniques les plus fortunés paieront moins d'impôts - ROYAUME-UNI
AFP - Le ministre britannique des Finances George Osborne a annoncé mercredi une baisse très controversée du taux marginal d'imposition des hauts revenus, qui passera en 2013 de 50% à 45%, en présentant au Parlement un nouveau budget de rigueur.
Budget 2012 visualised
George Osborne has now delivered his much-leaked 2012 Budget.
The myth of Tory credibility on the economy | Sunny Hundal | Comment is free
David Cameron and George Osborne. A recent poll showed that only one in 10 Britons expect the economy to be stronger in the next six months. Photograph: Ray Tang/Rex Features Quick quiz: has the government saved the economy by taking difficult decisions to cut spending drastically, or are they cutting by almost the same as Labour would have anyway? You'd be forgiven for being confused because the Conservative-led coalition is not sure either. The government's "new cuts narrative" has been outlined in the past by Fraser Nelson , attempted by George Osborne , and articulated last week by Tim Montgomerie as: "Cameron state is 3% larger than the Brown state."
27 March 2011 Last updated at 00:09 GMT Watch: The BBC's Sophie Long spoke to some people taking part in the march More than 250,000 people have attended a march and rally in central London against public spending cuts. Labour leader Ed Miliband addressed crowds in Hyde Park and the main march organised by the Trades Union Congress passed off peacefully.
Protesters set for London march against spending cuts
24 March 2011 Last updated at 09:34 GMT The key points of Chancellor George Osborne's Budget on 23 March 2011. Fuel duty to be cut by 1p per litre from 1800 GMT
Budget 2011 at a glance: George Osborne's key points
Public sector cuts – the truth | Society
Protest march against coalition cuts expected to attract 300,000 | Society
A recession is no excuse for dismantling the NHS | LabourList.org 2.0.2 | LabourList.org
EMA day of action: students fight for grant | Education
Public sector strikes live blog | Society
Axing EMA is not a tough choice - it's a stupid one
How Austerity Is Ushering in a Global Recession | Truthout