August riots
Emeutes dans la banlieue de Londres après une manifestation
The first day after London started burning, I spoke to Claire Fox, radical leftwinger and resident of Wood Green. On Sunday morning, apparently, people had been not just looting H&M, but trying things on first. By Monday night, Debenhams in Clapham Junction was empty, and in a cheeky touch, the streets were thronging with people carrying Debenhams bags. Four hours before, I had still thought this was just a north London thing. Fox said the riots seemed nihilistic, they didn't seem to be politically motivated, nor did they have any sense of community or social solidarity. This was inarguable.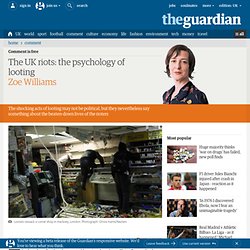 The UK riots: the psychology of looting | Zoe Williams | Comment is free
The Clash (Joe Strummer, Mick Jones et Paul Simonon) en 1978. - AFP Alors que Londres vient de connaître sa troisième nuit d'émeutes avec pillages, incendies de maisons, magasins et de voitures – les plus importantes violences de rue dans la capitale britannique depuis vingt-six ans –, les paroles de ce qu'il est convenu d'appeler sans emphase un hymne reviennent invariablement en tête. «White riot, I wanna riot/ White riot, a riot on my own [...]
Les «riot songs» ou la contestation en chansons 8.38am: Yesterday D avid Cameron and Ed Miliband delivered lengthy speeches about the riots and their causes . Today we're going to hear from Nick Clegg, the deputy prime minister, and Theresa May, the home secretary. I'll be blogging both events live, as well as covering any reaction. Clegg is up first, at 9am. As Polly Curtis reports in the Guardian today , he will announce plans for a "riot payback scheme".
England riots: Clegg and May speeches and reaction - live | UK news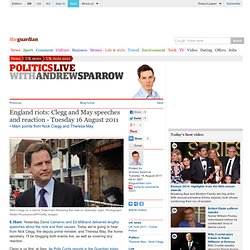 Rioters strike in Edinburgh 10th August 2011