Risk communication research
Risk in the Making: Narrative, Problematic Integration, and the Social Construction of Risk - Russell - 2011 - Communication Theory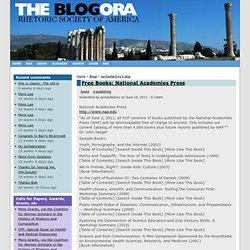 Submitted by syntaxfactory on June 16, 2011 - 6:10am
Free Books: National Academies Press | The Blogora
Libraries - Cultural differences in risk perception [electronic resource] : an examinat
Workers at Risk: Regulatory Dysfunction at OSHA by Thomas McGarity, Rena Steinzor, Sidney Shapiro, Matthew Shudtz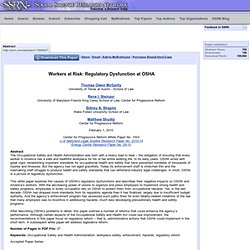 Thomas Owen McGarity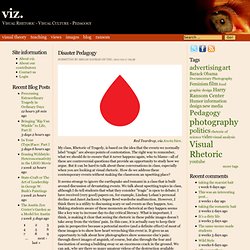 Disaster Pedagogy | viz.
Red Teardrop, via Anota bien. My class, Rhetoric of Tragedy, is based on the idea that the events we normally label "tragic" are always points of contestation.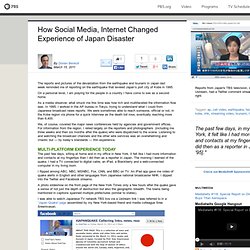 MediaShift . How Social Media, Internet Changed Experience of Japan Disaster
The reports and pictures of the devastation from the earthquake and tsunami in Japan last week reminded me of reporting on the earthquake that leveled Japan's port city of Kobe in 1995. On a personal level, I am praying for the people in a country I have come to see as a second home. As a media observer, what struck me this time was how rich and multifaceted the information flow was. In 1995, I worked in the AP bureau in Tokyo, trying to understand what I could from Japanese broadcast news reports.
Libraries - Risky rhetoric : AIDS and the cultural practices of HIV testing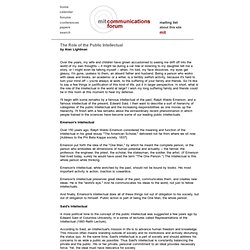 Over the years, my wife and children have grown accustomed to seeing me drift off into the world of my own thoughts -- it might be during a car ride or listening to my daughter tell me a story, or I might even be talking myself -- when, I'm told, my face dissolves, my eyes get glassy, I'm gone, useless to them, an absent father and husband. Being a person who works with ideas and books, an academic or a writer, is a terribly selfish activity, because it's hard to turn your mind off -- you're always at work, to the suffering of your family and friends.
The Role of the Public Intellectual
Users' Hazard Perceptions of Warning Components: An Examination o
Authors: Smith-Jackson, Tonya L.; Wogalter, Michael S.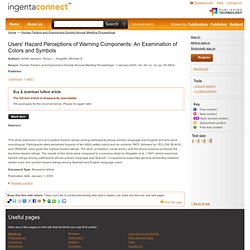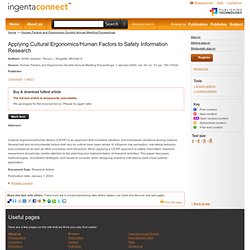 Authors: Smith‐Jackson, Tonya L.; Wogalter, Michael S. Source: Human Factors and Ergonomics Society Annual Meeting Proceedings, 1 January 2000, vol. 44, no. 33, pp. 150-153(4)
Applying Cultural Ergonomics/Human Factors to Safety Information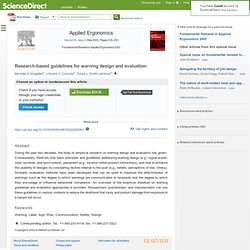 Applied Ergonomics : Research-based guidelines for warning design and evaluation
During the past two decades, the body of empirical research on warning design and evaluation has grown.
idisaster 2.0
More Social Media Lessons from QPS in Australia: If we don't listen, how can we hear? « idisaster 2.0
Post by: Kim Stephens I have written about the Australian Queensland Police Service and their brilliant use of social media for emergency response before.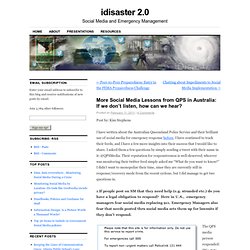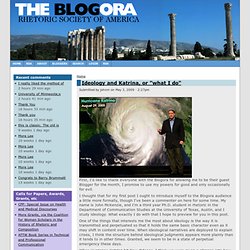 Submitted by johnm on May 3, 2009 - 2:27pm
Ideology and Katrina, or "what I do" | The Blogora
Risk Communication | Flu.gov
Enhancing Your Safety Program with Safety Signs
Introduction
The 2007 ANSI Z535 Standards-A New Era For Facility Safety Signs And Product Safety Labels Begins
Introduction
Journal of Empirical Research on Human Research Ethics: An International Journal, Vol. 5, No. 4 (December 2010), pp. 53-63
Shifting anxieties, altered media: Risk communication in networked times
viewcontent.cgi (application/pdf Object)
communication_of_risk_and_hazard_from_the_angle_of_different_stakeholders.pdf (application/pdf Object)
The Bhopal Gas Tragedy: An Analysis Around 1 a.m. on Monday, the 3rd of December, 1984, in a densely populated region in the city of Bhopal, Central India, a poisonous vapor burst from the tall stacks of the Union Carbide pesticide plant. This vapor was a highly toxic cloud of methyl isocyanate.
Search Results: risk communication: EServer Technical Communication Library
Responding to risk information in the media: The role of attitudes towards the media and direct experience