Risk communication research
Risk in the Making: Narrative, Problematic Integration, and the Social Construction of Risk - Russell - 2011 - Communication Theory. Free Books: National Academies Press. Submitted by syntaxfactory on June 16, 2011 - 6:10am National Academies "As of June 2, 2011, all PDF versions of books published by the National Academies Press (NAP) will be downloadable free of charge to anyone.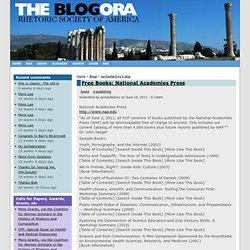 This includes our current catalog of more than 4,000 books plus future reports published by NAP. *" Dr. John Jaeger. Libraries - Cultural differences in risk perception [electronic resource] : an examinat. Workers at Risk: Regulatory Dysfunction at OSHA by Thomas McGarity, Rena Steinzor, Sidney Shapiro, Matthew Shudtz. Thomas Owen McGarity University of Texas at Austin - School of Law Rena I.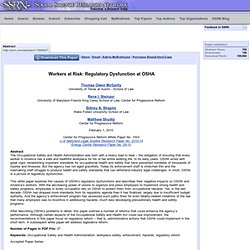 Steinzor. Xkcd. Disaster Pedagogy | viz. Red Teardrop, via Anota bien.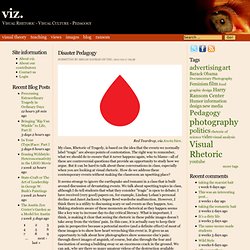 My class, Rhetoric of Tragedy, is based on the idea that the events we normally label "tragic" are always points of contestation. The right way to remember, what we should do to ensure that it never happens again, who to blame—all of these are controversial questions that provide an opportunity to study how we argue. But it can be hard to talk about these conversations in class, especially when you are looking at visual rhetoric. How do we address these contemporary events without making the classroom an upsetting place?
It seems strange to ignore the earthquake and tsunami in a class that is built around discussion of devastating events. How Social Media, Internet Changed Experience of Japan Disaster. The reports and pictures of the devastation from the earthquake and tsunami in Japan last week reminded me of reporting on the earthquake that leveled Japan's port city of Kobe in 1995.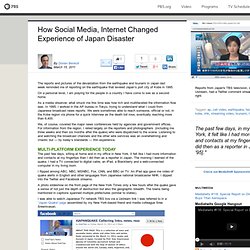 On a personal level, I am praying for the people in a country I have come to see as a second home. As a media observer, what struck me this time was how rich and multifaceted the information flow was. In 1995, I worked in the AP bureau in Tokyo, trying to understand what I could from Japanese broadcast news reports. Libraries - Risky rhetoric : AIDS and the cultural practices of HIV testing. The Role of the Public Intellectual. Over the years, my wife and children have grown accustomed to seeing me drift off into the world of my own thoughts -- it might be during a car ride or listening to my daughter tell me a story, or I might even be talking myself -- when, I'm told, my face dissolves, my eyes get glassy, I'm gone, useless to them, an absent father and husband.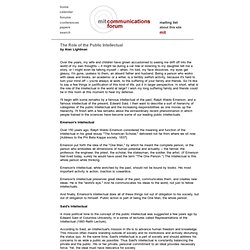 Being a person who works with ideas and books, an academic or a writer, is a terribly selfish activity, because it's hard to turn your mind off -- you're always at work, to the suffering of your family and friends. So I'd like to say a few things in justification of this kind of life, put it in larger perspective. In short, what is the role of the intellectual in the world at large?
I wish my long suffering family and friends could be in this room at this moment to hear my defense. I'll begin with some remarks by a famous intellectual of the past, Ralph Waldo Emerson, and a famous intellectual of the present, Edward Said. Users' Hazard Perceptions of Warning Components: An Examination o. Authors: Smith-Jackson, Tonya L.; Wogalter, Michael S.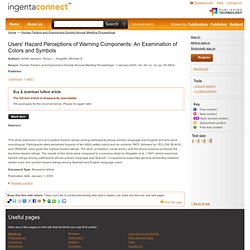 Source: Human Factors and Ergonomics Society Annual Meeting Proceedings, 1 January 2000, vol. 44, no. 32, pp. 55-58(4) Publisher: Buy & download fulltext article: Applying Cultural Ergonomics/Human Factors to Safety Information. Authors: Smith‐Jackson, Tonya L.; Wogalter, Michael S.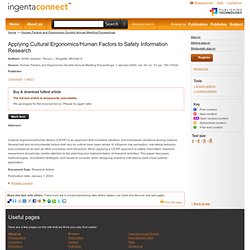 Source: Human Factors and Ergonomics Society Annual Meeting Proceedings, 1 January 2000, vol. 44, no. 33, pp. 150-153(4) Publisher: Buy & download fulltext article: The full text article is temporarily unavailable. We apologise for the inconvenience. Applied Ergonomics : Research-based guidelines for warning design and evaluation. Abstract During the past two decades, the body of empirical research on warning design and evaluation has grown.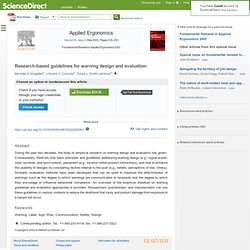 Consequently, there are now basic principles and guidelines addressing warning design (e.g., signal words, color, symbols, and text/content), placement (e.g., location within product instructions), and how to enhance the usability of designs by considering factors internal to the user (e.g., beliefs, perceptions of risk, stress). Similarly, evaluation methods have been developed that can be used to measure the effectiveness of warnings such as the degree to which warnings are communicated to recipients and the degree to which they encourage or influence behavioral compliance.
Idisaster 2.0. More Social Media Lessons from QPS in Australia: If we don't listen, how can we hear? « idisaster 2.0. Post by: Kim Stephens I have written about the Australian Queensland Police Service and their brilliant use of social media for emergency response before.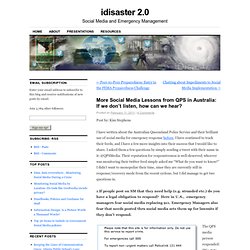 I have continued to track their feeds, and I have a few more insights into their success that I would like to share. I asked them a few questions by simply sending a tweet with their name in it: @QPSMedia. Their reputation for responsiveness is well-deserved; whoever was monitoring their twitter feed simply asked me "What do you want to know?" I didn't want to monopolize their time, since they are currently still in response/recovery mode from the recent cyclone, but I did manage to get two questions in. Ideology and Katrina, or "what I do" Submitted by johnm on May 3, 2009 - 2:27pm First, I'd like to thank everyone with the Blogora for allowing me to be their guest Blogger for the month, I promise to use my powers for good and only occasionally for evil.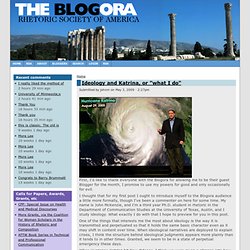 I thought that for my first post I ought to introduce myself to the Blogora audience a little more formally, though I've been a commenter on here for some time. My name is John McKenzie, and I'm a third year Ph.D. student in rhetoric in the Department of Communication Studies at the University of Texas, Austin, and I study ideology. Risk Communication. News Releases Access flu-related press releases and news stories from 2006 to the present. Reports View the Center for Disease Control and Prevention's (CDC) Weekly Influenza Surveillance Reports and flu-related Morbidity and Mortality Weekly Reports (MMWRs). Press Briefings. Enhancing Your Safety Program with Safety Signs. The 2007 ANSI Z535 Standards-A New Era For Facility Safety Signs And Product Safety Labels Begins. Journal of Empirical Research on Human Research Ethics: An International Journal, Vol. 5, No. 4 (December 2010), pp. 53-63. Shifting anxieties, altered media: Risk communication in networked times. Viewcontent.cgi (application/pdf Object)
Communication_of_risk_and_hazard_from_the_angle_of_different_stakeholders.pdf (application/pdf Object) Search Results: risk communication: EServer Technical Communication Library. The Bhopal Gas Tragedy: An Analysis Around 1 a.m. on Monday, the 3rd of December, 1984, in a densely populated region in the city of Bhopal, Central India, a poisonous vapor burst from the tall stacks of the Union Carbide pesticide plant. This vapor was a highly toxic cloud of methyl isocyanate.
Responding to risk information in the media: The role of attitudes towards the media and direct experience.
---