Pasta recipes
Naked tomato sauce. Every year at just about this time I renew my obsession with tomato sauce.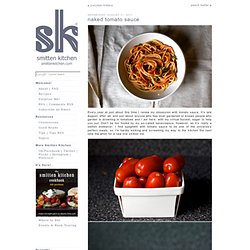 It's late August, after all, and just about anyone who has ever gardened or knows people who garden is drowning in tomatoes and I am here, with my virtual bucket, eager to help you out. Don't be too fooled by my so-called benevolence, however, as it's really a selfish endeavor; I find spaghetti with tomato sauce to be one of the universe's perfect meals, so I'm hardly kicking and screaming my way to the kitchen the next time the whim for a new one strikes me.
Fresh Pomodoro Pasta, White Beans & Olives. Eggplant Pomodoro Pasta. Cold Peanut Noodles Recipe. Linguine with pea pesto. Even though I have a lot of book left to write (unless you're my editor, in which case, just kidding, almost done!)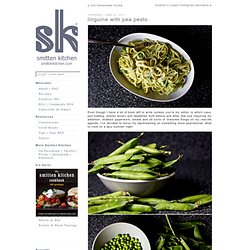 And deadlines both before and after that one requiring my attention, endless paperwork, emails and all sorts of tiresome things on my real-life agenda, I've decided to focus my daydreaming on something more aspirational: what to cook on a lazy summer night. We rented a beach house for a week last year but were surprised to find that 11-month olds don't always sleep in foreign locations. At all. We staggered through the week and ate out a lot. Orecchiette with Chicken Sausage and Broccoli Rabe | Ginas Skinny Recipes. Broccoli rabe and Italian chicken sausage are tossed with orecchiette (otherwise know as little ears because of their shape) and a whole lot of garlic!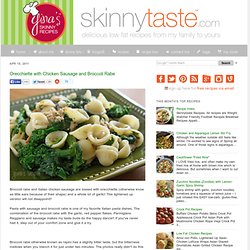 This lightened up version will not disappoint!! Pasta with sausage and broccoli rabe is one of my favorite Italian pasta dishes. The combination of the broccoli rabe with the garlic, red pepper flakes, Parmigiano Reggiano and sausage makes my taste buds do the happy dance!! If you've never had it, step out of your comfort zone and give it a try. Robin's Healthy Take: Pasta Primavera 3 Ways. Pasta Primavera: Simple Ingredients, Endless Possibilities Primavera is a pasta dish loaded with vegetables, but that's where the rules end: The noodles can be long, short, twisted or tubular and the vegetables can be anything from broccoli rabe and bell peppers to yellow squash and wild mushrooms.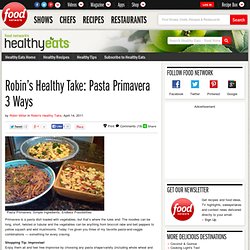 Today I've given you three of my favorite pasta-and-veggie combinations — something for every craving. Shopping Tip: Improvise! Enjoy them all and feel free improvise by choosing any pasta shape/variety (including whole wheat and gluten-free) and any vegetable (fresh or frozen). Cellophane Noodles with Shredded Carrots, Cabbage and Yellow SquashThis Asian-inspired version boasts clear noodles swathed in a sesame-infused, soy-ginger sauce. Chickpea and Parmesan Pasta – Tasty Kitchen. Tortellini With Bacon and Greens. Gnocchi With Sausage and Spinach.
Spaghetti With Beef Mushroom Sauce. Parmesan Pasta With Chicken and Rosemary. Orecchiette With Roasted Broccoli and Walnuts. Macaroni and Cheese With Cauliflower. Chickpea Pasta With Almonds and Parmesan. Gnocchi With Butter and Herbs. Shrimp and Pasta Puttanesca. Spicy Lemon Pasta. Penne With Salmon, Arugula, and Chives. Pasta Carbonara. Spaghetti with lemon and olive oil. Look, it wasn't my finest moment but my Happy Valentine's Day gift to my husband was an epic meltdown over book deadlines and recipe flops and the near impossibility of getting anything done with a toddler underfoot in a kitchen that doesn't actually fit the two of us.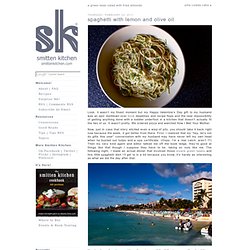 It wasn't pretty. We ordered pizza and watched How I Met Your Mother. Cheesy Baked Shells and Broccoli. Pasta With Tuna and Black Olive Vinaigrette. Lasagna-Style Baked Ziti. Pasta With Tomato-Mushroom Sauce. Rigatoni With Sauteed Eggplant and Tomatoes. Rigatoni With Grilled Peppers and Onions. BLT Pasta. Ravioli With Sauteed Zucchini. Pasta With Mushrooms and Kasha. Pappardelle With Beef and Mushroom Ragu. Fettuccine With Artichokes and Beans. Pasta With Marinated Tomatoes and Mozzarella. Pasta With Peppers and Mozzarella. Spaghetti With Bacon and Eggs. Spaghetti With Roasted Tomatoes and Herbs. Angel Hair With Spicy Shrimp.
---