Chicken recipes
Chicken & Sweet Potato Stew
Honey Chicken Recipe
I love my big, black, sturdy… wok. Yeah, it rhymes, but I promise I wasn't going there. Now, get your mind out of the gutter and back to the food. Seriously, my wok has got to be one of the most valuable things in my kitchen. My cherry red Kitchenaid stand mixer is amazing. I will never dispute that, but the things it does, I could do myself (just not as quickly, effectively, or without complaining later about how sore my arms are).
Spicy Cashew Chicken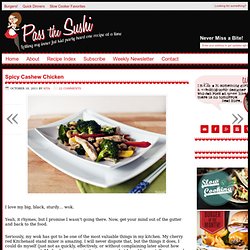 Braised chicken with rosemary, garlic and tomato sauce.
Pollo in Potacchio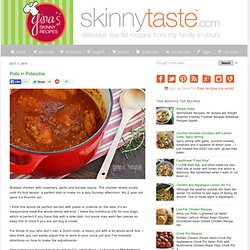 This article is part of a delicious frugality series called How to stretch a whole chicken into many healthy meals . To start this plucky series from the beginning, read the introduction . Stretching a whole organic chicken into 22 healthy servings for $49 bucks is easy.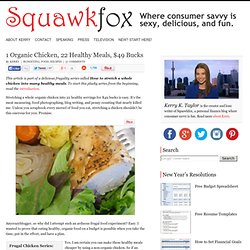 1 Organic Chicken, 22 Healthy Meals, $49 Bucks
chicken recipe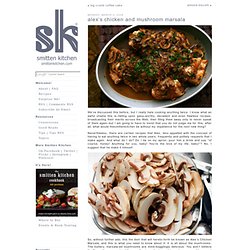 We've discussed this before, but I really hate cooking anything twice. I know what an awful shame this is–falling upon gasp-worthy, decadent and even flawless recipes, broadcasting their merits across the Web, then filing them away only to never speak of them again–but I am going to have to insist that you do not judge me for this; after all, what would thesmittenkitchen be without my impatience for the next new thing? Nevertheless, there are certain recipes that Alex, less appalled with the concept of having to eat anything twice in two whole years, frequently and politely requests that I make again. And what do I do? Do I tie on my apron, pour him a drink and say "of course, honey! Anything for you, baby!
alex's chicken and mushroom marsala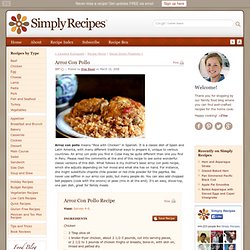 Arroz Con Pollo Recipe
Arroz con pollo means "Rice with Chicken" in Spanish. It is a classic dish of Spain and Latin America, with many different traditional ways to prepare it, unique to various countries. An arroz con pollo you find in Cuba may be quite different than one you find in Peru. Please read the comments at the end of this recipe to see some wonderful classic versions of this dish. What follows is my mother's basic arroz con pollo recipe, which she adjusts depending on her mood and what she has on hand.
Golden Chicken With Tomatoes and Olives
Sesame Chicken and Soba Noodles
4 people like this article Click a Star to Rate This Recipe Serves 4 | Hands-On Time: 30m | Total Time: 30m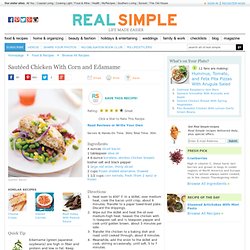 Sautéed Chicken With Corn and Edamame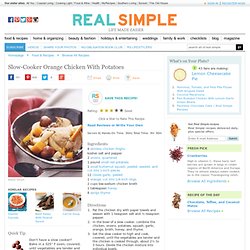 Slow-Cooker Orange Chicken With Potatoes
8 people like this article
Baked Chicken and Rice
24 people like this article Click a Star to Rate This Recipe
Lemon Chicken With Olives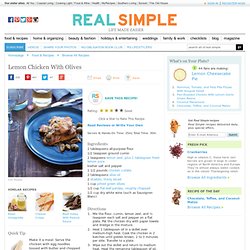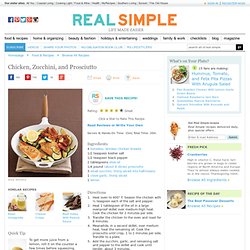 17 people like this article Click a Star to Rate This Recipe Serves 4 | Hands-On Time: 15m | Total Time: 20m
Chicken, Zucchini, and Prosciutto
Chicken and Cashews in Lettuce Wraps
Slow-Cooker Chicken With Bacon, Mushrooms, and Onions
53 people like this article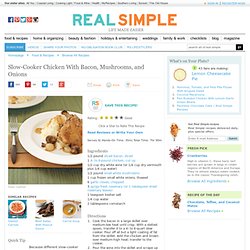 22 people like this article
Chicken Stroganoff
Thai Chicken Stir-Fry
Jerk Chicken With Corn Bread
2 people like this article
Maple-Roasted Chicken With Sweet Potatoes
73 people like this article Click a Star to Rate This Recipe Serves 4 | Hands-On Time: 15m | Total Time: 1hr 40m
Grilled-Chicken Chopped Salad
Chicken Potpie Empanadas
61 people like this article
Simple Roast Chicken
19 people like this article
Balsamic Poached Chicken
Chicken Souvlaki
Rosemary Chicken With Zucchini
Chicken Cacciatore
Chicken Salad With Apple and Basil
Stuffed Chicken Breasts With Tomato Salad
Chicken Cutlets With Tomato Saute
Fiery "Fried" Chicken
Crunchy Herbed Chicken
Chicken With Olives and Carrots
Cashew Chicken