Casserole recipes
Make-Over Corn Casserole. Corn casserole, a cross between of a corn pudding and a corn bread is a wonderful addition to anyone's holiday table.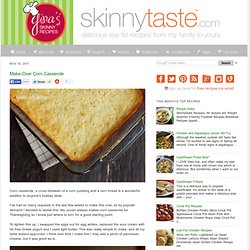 I've had so many requests in the last few weeks to make this over, so by popular demand I decided to tackle this. My cousin always makes corn casserole for Thanksgiving so I knew just where to turn for a good starting point. To lighten this up, I swapped the eggs out for egg whites, replaced the sour cream with fat free Greek yogurt and I used light butter. Layered Eggplant, Zucchini and Tomato Casserole Recipe - Marcia Kiesel.
Skinny Baked Broccoli Macaroni and Cheese. Cheesy macaroni and broccoli are topped with bread crumbs and baked to perfection.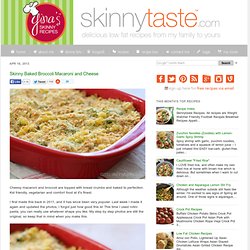 Kid friendly, vegetarian and comfort food at it's finest. I first made this back in 2011, and it has since been very popular. Last week I made it again and updated the photos, I forgot just how good this is! This time I used rotini pasta, you can really use whatever shape you like. Ratatouille Recipe. Good Old Country Stuffing Recipe : Paula Deen. Directions Preheat oven to 350 degrees F.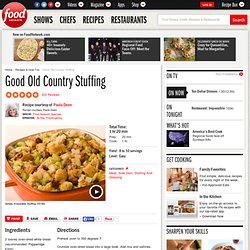 Crumble oven-dried bread into a large bowl. Add rice and saltines. Chicken Quesadilla Pie. Mu Shu Pork Casserole. Stewed Vegetable Gratin. Potato "Lasagna" Healthy Eats – Food Network Healthy Living Blog » Archive » Robin's Healthy Take: Make-Ahead Casseroles. Robin's Chicken Casserole It doesn't matter if you're cooking for yourself, your family or a table of friends, life is easier when you can make a great dish in advance and refrigerate it for another day.
It's no secret I'm a prep-ahead gal, and I do it for two reasons: First, so that I'm not running around the kitchen at the last minute when people are already hungry and second, so I can relax and have a cocktail while dinner cooks.
---