Beef recipes
Carne Guisada (Latin Beef Stew)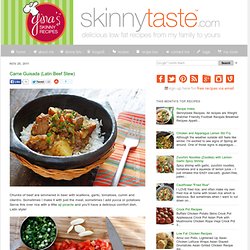 Chunks of beef are simmered in beer with scallions, garlic, tomatoes, cumin and cilantro. Sometimes I make it with just the meat, sometimes I add yucca or potatoes.
Beef with Eggplant
Vietnamese Shaking Beef (Bo Luc Lac) | Ginas Skinny Recipes
Vietnamese steak salad served on a bed of greens and tomatoes, topped with pickled onions and a lime dipping sauce. This widely popular Asian dish combines many taste sensations and creates a harmony of flavors with every bite. The "shaking" in the name refers to the tossing of the beef back and forth in the wok after it's quickly seared. You can serve this as a salad for a low carb meal or make some rice on the side. This is traditionally served over a bed of watercress which I couldn't find, so I used an arugula blend instead. Thick soy sauce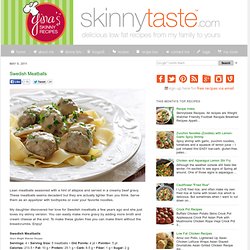 Swedish Meatballs | Ginas Skinny Recipes
Lean meatballs seasoned with a hint of allspice and served in a creamy beef gravy. These meatballs seems decadent but they are actually lighter than you think. Serve them as an appetizer with toothpicks or over your favorite noodles. My daughter discovered her love for Swedish meatballs a few years ago and she just loves my skinny version.
lebanese-style stuffed eggplant
I suspect most of you think it has been pretty quiet around here because we're crazed, sleep-deprived and wholly consumed with nuzzling squishy baby cheeks and, well, you wouldn't be completely off-mark, minus the crazed part.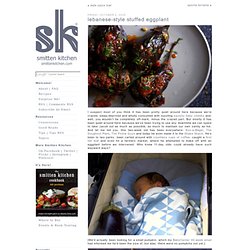 byZerrinonMarch 19, 2011 Who can refuse to have pide (pitta)? Didn't you know what it is? Pide is one of the best Turkish fast food.
Pide Stuffed With Beef | Give Recipe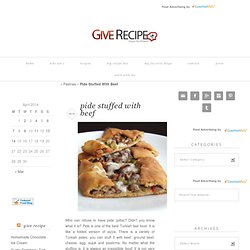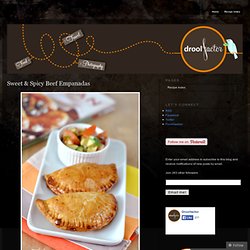 I'm sure you remember my Mexican trip last month. Of course you do because I couldn't stop harping about it. (Sorry!) Well, one of the many gifts bestowed on us during this trip was a Mexican cookbook. I know right? How lovely.
Sweet & Spicy Beef Empanadas «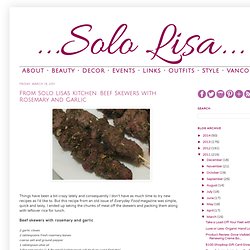 Things have been a bit crazy lately and consequently I don't have as much time to try new recipes as I'd like to. But this recipe from an old issue of Everyday Food magazine was simple, quick and tasty. I ended up taking the chunks of meat off the skewers and packing them along with leftover rice for lunch. Beef skewers with rosemary and garlic
Solo Lisa: From Solo Lisa's Kitchen: Beef Skewers with Rosemary and Garlic
Ingredients 6 ounces garlic-flavored croutons 1/2 teaspoon ground black pepper 1/2 teaspoon cayenne pepper 1 teaspoon chili powder 1 teaspoon dried thyme 1/2 onion, roughly chopped 1 carrot, peeled and broken 3 whole cloves garlic 1/2 red bell pepper 18 ounces ground chuck 18 ounces ground sirloin 1 1/2 teaspoon kosher salt 1 egg For the glaze: 1/2 cup catsup 1 teaspoon ground cumin Dash Worcestershire sauce Dash hot pepper sauce 1 tablespoon honey Directions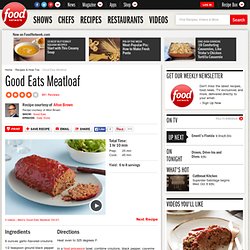 Good Eats Meatloaf Recipe : Alton Brown
Skirt Steak and Potatoes With Herb Sauce
Spiced Mini Burgers With Couscous Salad
Quick Beef Bourguignonne
Beef Stroganoff With Yogurt and Dill
Moroccan Spiced Beef Patties With Couscous
Slow-Cooker Recipe Classic Beef Stew
Meat Loaf
Mexican Meatballs
Big Spicy Meatballs
meatball subs with caramelized onions
Last September, surprising nobody more than my husband, decided I'd be a Good Football Wife this year and start using Sunday afternoons to make a hearty meal, one that stuck to our ribs and balanced out all those salads we enforce on ourselves during the week. I made beef chili with sour cream and cheddar biscuits and then I made… Right. It about stopped there.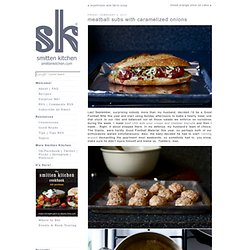 Steak With Arugula and Balsamic Mushrooms
Steak With Golden Zucchini
Strip Steak With Rosemary and Garlic
Steak With Chickpeas, Tomatoes, and Feta
Steak and Potatoes With Spinach Salad
Skirt Steak Romesco
Quick Beef Stroganoff