Fuerza Motriz Térmica
Power station
A power station (also referred to as a generating station , power plant , powerhouse or generating plant ) is an industrial facility for the generation of electric power . [ 1 ] [ 2 ] [ 3 ] At the center of nearly all power stations is a generator , a rotating machine that converts mechanical power into electrical power by creating relative motion between a magnetic field and a conductor . The energy source harnessed to turn the generator varies widely. It depends chiefly on which fuels are easily available, cheap enough and on the types of technology that the power company has access to. Most power stations in the world burn fossil fuels such as coal , oil , and natural gas to generate electricity, and some use nuclear power , but there is an increasing use of cleaner renewable sources such as solar , wind , wave and hydroelectric . Central power stations produce AC power , after a brief Battle of Currents in the 19th century demonstrated the advantages of AC distribution.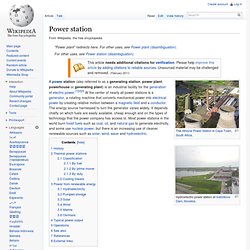 Rankine cycle
The Rankine cycle is a mathematical model that is used to predict the performance of steam engines . The Rankine cycle is an idealised thermodynamic cycle of a heat engine that converts heat into mechanical work. The heat is supplied externally to a closed loop, which usually uses water as the working fluid . The Rankine cycle, in the form of steam engines generates about 90% of all electric power used throughout the world, [ 1 ] including virtually all solar thermal , biomass , coal and nuclear power plants . It is named after William John Macquorn Rankine , a Scottish polymath and Glasgow University professor. [ edit ] Description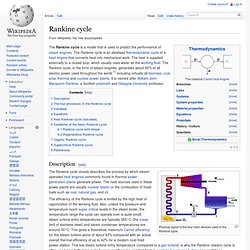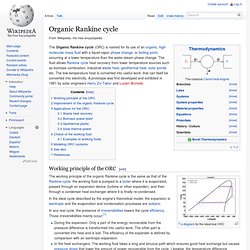 The Organic Rankine cycle (ORC) is named for its use of an organic, high molecular mass fluid with a liquid-vapor phase change , or boiling point , occurring at a lower temperature than the water-steam phase change. The fluid allows Rankine cycle heat recovery from lower temperature sources such as biomass combustion, industrial waste heat , geothermal heat, solar ponds etc. The low-temperature heat is converted into useful work, that can itself be converted into electricity. A prototype was first developed and exhibited in 1961 by solar engineers Harry Zvi Tabor and Lucien Bronicki . [ edit ] Working principle of the ORC
Organic Rankine cycle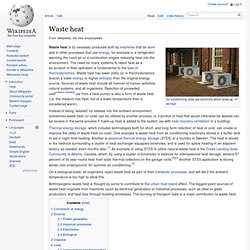 Waste heat
Waste heat , sometimes called secondary heat or low-grade heat , refers to heat produced by machines , electrical equipment and industrial processes for which no useful application is found. Energy is often produced by a heat engine , running on a source of high-temperature heat. A heat engine can never have perfect efficiency, according to the second law of thermodynamics ; waste heat is regarded as a waste by-product of this process. When produced by humans , or by human activities, it is a component of anthropogenic heat, which additionally includes unintentional heat leakage, such as from space heating . Waste heat is thought by some to contribute to the urban heat island effect.
Biomass is biological material from living, or recently living organisms, most often referring to plants or plant-derived materials. [ 1 ] As a renewable energy source , biomass can either be used directly, or indirectly—once or converted into another type of energy product such as biofuel . Biomass can be converted to energy in three ways: thermal conversion , chemical conversion , and biochemical conversion . Historically, humans have harnessed biomass derived energy products since the time when people began burning wood to make fire. [ 2 ] In modern times, the term can be referred to in two meanings. In the first sense, biomass is plant matter used either to generate electricity (via steam turbines or gasifiers), or to produce heat (via direct combustion).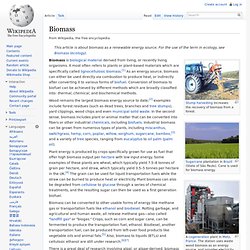 Applied Thermal Engineering - An examination of regenerative organic Rankine cycles using dry fluids
1. Introduction 2. Analysis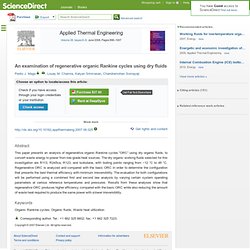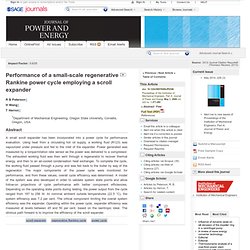 A small scroll expander has been incorporated into a power cycle for performance evaluation. Using heat from a circulating hot oil supply, a working fluid (R123) was vapourized under pressure and fed to the inlet of the expander. Power generated was measured by a torque/rotation rate sensor as the power was delivered to a compressor. The exhausted working fluid was then sent through a regenerator to recover thermal energy, and then to an air-cooled condensation heat exchanger. To complete the cycle, the working fluid passed through a pump and was fed back to the boiler by way of the regenerator. The major components of the power cycle were monitored for performance, and from these values, overall cycle efficiency was determined.
Performance of a small-scale regenerative Rankine power cycle employing a scroll expander
Geothermal electricity is electricity generated from geothermal energy . Technologies in use include dry steam power plants, flash steam power plants and binary cycle power plants. Geothermal electricity generation is currently used in 24 countries, [ 1 ] while geothermal heating is in use in 70 countries. [ 2 ] Estimates of the electricity generating potential of geothermal energy vary from 35 to 2,000 GW. [ 2 ] Current worldwide installed capacity is 10,715 megawatts (MW), with the largest capacity in the United States (3,086 MW), [ 3 ] Philippines , and Indonesia .
Geothermal electricity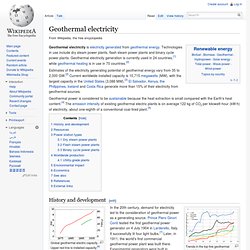 Solar thermal energy
Solar thermal system for water heating in Santorini, Greece. Solar thermal energy ( STE ) is a technology for harnessing solar energy for thermal energy ( heat ). Solar thermal collectors are classified by the United States Energy Information Administration as low-, medium-, or high-temperature collectors.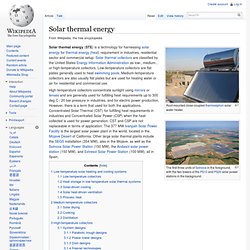 Nuclear power
Nuclear power is the use of sustained nuclear fission to generate heat and electricity . Nuclear power plants provided about 5.7% of the world's energy and 13% of the world's electricity, in 2012. [ 1 ] In 2013, the IAEA report that there are 437 operational nuclear power reactors (although not all are producing electricity [ 2 ] ), [ 3 ] in 31 countries. [ 4 ] More than 150 naval vessels using nuclear propulsion have been constructed. There is an ongoing debate about the use of nuclear energy . [ 5 ] [ 6 ] [ 7 ] Proponents, such as the World Nuclear Association , the IAEA and Environmentalists for Nuclear Energy contend that nuclear power is a sustainable energy source that reduces carbon emissions . [ 8 ] Opponents , such as Greenpeace International and NIRS , believe that nuclear power poses many threats to people and the environment. [ 9 ] [ 10 ] [ 11 ]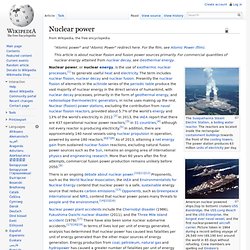 - La de la T erm odi námi ca nos rev ela el prin cip io de la conser vac ión de la energía, sin embargo en la realidad se sabe que esto no ocurre de forma tal, y por lo tanto ex iste una re stricc ión en cuanto a la conv ersió n de ésta; de esta observación se desprende la segunda ley, la cual se basa en dos afirmaciones: 1. "Ni ngú n mec ani smo pue de fun cio nar de tal manera que su úni co ef ec to (e n el si st em a y en lo s al re de do re s) se a el de co nv er ti r completamente calor que absorbe el sistema en trabajo hecho por el mismo"
Plantas de Vapor
Virtual Power Plant
bined-Cycle Gas & Steam Turbine Power Plants - Rolf Kehlhofer, Bert Rukes, Frank Hannemann, Franz Stirnimann
El ciclo de Rankine es un ciclo termodinámico que tiene como objetivo la conversión de calor en trabajo , constituyendo lo que se denomina un ciclo de potencia . Como cualquier otro ciclo de potencia, su eficiencia está acotada por la eficiencia termodinámica de un ciclo de Carnot que operase entre los mismos focos térmicos (límite máximo que impone el Segundo Principio de la Termodinámica). Debe su nombre a su desarrollador, el ingeniero y físico escocés William John Macquorn Rankine . [ editar ] Proceso El ciclo Rankine es un ciclo de potencia representativo del proceso termodinámico que tiene lugar en una central térmica de vapor. Utiliza un fluido de trabajo que alternativamente evapora y condensa, típicamente agua (si bien existen otros tipos de sustancias que pueden ser utilizados, como en los ciclos Rankine orgánicos).
Ciclo de Rankine
Ciclos de Vapor
CICLOS DE VAPOR ABIERTO Y RANKINE (Actualizado a Mayo de 2002) En este punto presentaremos los diversos ciclos de vapor que se utilizan habitualmente. El enfoque a usar privilegiará el comprender el ciclo utilizando diagrama de bloques , diagramas presión-volumen y diagramas T-S.
CICLO DE HIRN (Actualizado a Mayo de 2002) Ya vimos en el punto anterior que un ciclo de Rankine es termodinámicamente muy similar a su ciclo de Carnot correspondiente. Sin embargo tiene algunos defectos de importancia:
Ciclo Hirn - Rankine Sobrecalentado
CICLO DE HIRN CON VARIOS SOBRECALENTAMIENTOS (Actualizado a Mayo de 2002) Al analizar las ventajas y desventajas del ciclo de Rankine, se mencionó el hecho de que a medida que uno se acerca a la presión o temperatura crítica del agua, el vapor tiende a salir más húmedo de la máquina. Esto tiende a ser así incluso con un ciclo de Hirn .
Ciclo Rankine Recalentado
Extracción de Vapor - Regenerativo
CICLO RANKINE REGENERATIVO for termodinamica
Complemento%20sobre%20ciclos
Ciclo Rankine
Mercury vapour turbine
Mercury as a Working Fluid.
Superheated Steam : International site for Spirax Sarco
Turbinas a Vapor
Steam turbine
University of Rochester : Search
Turbinas De Vapor
8_turbinas_de_vapor
Funcionamiento de la turbina de vapor for TESIS CARO
Popular Mechanics - Google Books
Energy Citations Database (ECD) - - Document #5358369
Steam Turbine Failure at Hinkley Point 'A'
Patent US3561216 - THERMAL STRESS CONTROLLED LOADING OF STEAM TURBINE-GENERATORS - Google Patents
Eje de turbina de vapor