Scrapbook
When I See You. Summer Wrap Up | Kim Kesti If you have been following my Not Bummer Summer series, you may have already guessed what today's post is all about.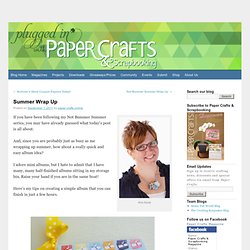 And, since you are probably just as busy as me wrapping up summer, how about a really quick and easy album idea? I adore mini albums, but I hate to admit that I have many, many half-finished albums sitting in my storage bin. Raise your hand if you are in the same boat! Back To School! Although so many of my childhood memories are quite hazy these days, something I do remember really clearly is the wonderful excitement of school holidays!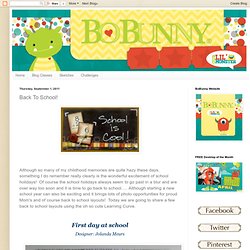 Of course the school holidays always seem to go past in a blur and are over way too soon and it is time to go back to school..... Although starting a new school year can also be exciting and it brings lots of photo opportunities for proud Mom's and of course back to school layouts! Today we are going to share a few back to school layouts using the oh so cute Learning Curve. Create an Album in an Evening: Step-by-Step Instructions - Scrapbooking Tips & Tricks organization issue - Club CK - The Online Community and Scrapbook Club from Creating Keepsakes. Creating an album in a day may seem daunting, but it's doable!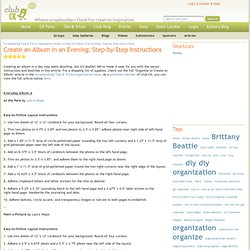 We've made it easy for you with the layout instructions and sketches in this article. For a shopping list of supplies, check out the full "Organize to Create an Album" article in the Scrapbooking Tips & Tricks organization issue. As a premium member of Club CK, you can view the full article online here. Articles. *NEW* Triple Flip Mini Scrapbook Album Tutorial & Kit By Mail + A Give-Away | Andrea Walford, Stampin' Up! Project Ideas. Today I'm really excited to share with you all a brand-new mini scrapbook album I've designed which I call the Triple Flip Mini Scrapbook Album!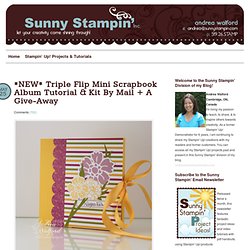 This 5 3/4″ x 5 3/4″ mini album flips open to reveal 14 different page layouts – each of these layouts will comfortably hold a 4″ x 4″ photo, leaving some extra space for embellishments around. This fun little album is compact enough, and easy enough to make that you can use it as a gift for long-distance friends and family; at the same time, it has enough pages and enough room for journalling, that you'll find yourself with plenty of space to preserve those special memories.
This album was created using Stampin' Up!' S Playful Polka Dots Simply Scrappin' Kit from the 2011 Summer Mini Catalog.
---