Frugal
Ways to Get a Great Deal on Anything - How to Save Money. Canadian Restaurants where Kids Eat Free | My Organized Chaos. Agent Savings BzzScape — Discover the best of the Web about Agent Savings.
Freebies
100 Things You Can Make Yourself. Less Waste Using the Ice Cube Method. The Bargainist | Deals, Sales & Coupons. The Bargainist finds the best deals around on just about everything.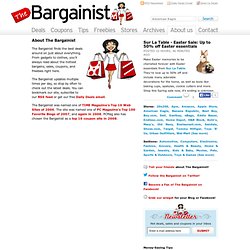 From gadgets to clothes, you'll always read about the hottest bargains, sales, coupons, and freebies right here. The Bargainist updates multiple times per day, so stop by often to check out the latest deals. You can bookmark our site, subscribe to our RSS feed or get our free Daily Deals email. The Bargainist was named one of TIME Magazine's Top 10 Web Sites of 2006. Money Saving Mom® :: Helping You Be a Better Home Economist.
---