Google
Body Browser - Google Labs. Video player in the document list - Official Google Docs Blog. Cross-posted from the Google Enterprise blog.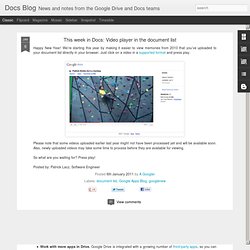 Editor's note: Hangouts On Air are live video chats, interviews, or performances that are broadcast to Google+. We'll host these broadcasts from time to time on the Google Enterprise Google+ page to give you the inside scoop on our business and products. Last week, we hosted our first Hangout On Air from the Google Enterprise Google+ page with Jonathan Rochelle, Director of Product Management, Jeff Harris, Google Docs Product Manager, Teresa Wu, Google Docs Community Manager, and Eric Brunnett, Director of IT at Trump Hotel Collection. Google Rolls Out Shared Spaces Using Wave Technology [BREAKING] Google Labs has quietly debuted Shared Spaces, using Google Wave technology to let users quickly create a space with collaborative gadgets and a chat box inside.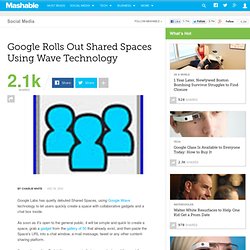 As soon as it's open to the general public, it will be simple and quick to create a space, grab a gadget from the gallery of 50 that already exist, and then paste the Space's URL into a chat window, e-mail message, tweet or any other content-sharing platform. Анимация в Google Docs / Google. Google Scribe.
---