What to do/see in Seattle
Live At Seattle Center - Festal - Festál Cultural Festivals 2013. Festál Cultural Festivals Festál Cultural Festivals Festál, presented by Seattle Center in partnership with community organizations, is a year-long series of FREE events that honors the cultural richness and diversity of the Pacific Northwest.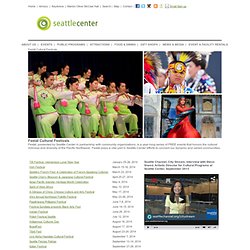 Festál plays a vital part in Seattle Center efforts to connect our dynamic and varied communities. Seattle Channel, City Stream, interview with Steve Sneed, Artistic Director for Cultural Programs at Seattle Center, September 2013. Lucid Seattle. Visitor Center of Our New Campus. Interactive exhibits feature global efforts to help all people live healthy, productive lives.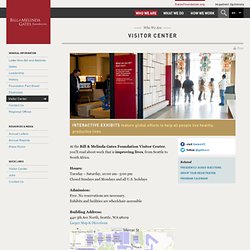 At the Bill & Melinda Gates Foundation Visitor Center, you'll read about work that is improving lives, from Seattle to South Africa. Hours: Tuesday – Saturday, 10:00 am - 5:00 pm Closed Sundays and Mondays and all U.S. holidays Admission: Free. UW School of Music | Events Calendar. Welcome to the Wedgwood Alehouse! Saint Patrick's Day. Saint Patrick's Day, or the Feast of Saint Patrick (Irish: Lá Fhéile Pádraig, "the Day of the Festival of Patrick"), is a cultural and religious holiday celebrated annually on 17 March, the death date of the most commonly-recognised patron saint of Ireland, Saint Patrick (c.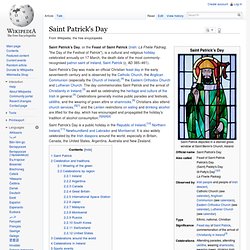 AD 385–461). Saint Patrick's Day was made an official Christian feast day in the early seventeenth century and is observed by the Catholic Church, the Anglican Communion (especially the Church of Ireland),[4] the Eastern Orthodox Church and Lutheran Church. Ignite Seattle! — Enlighten us, but make it quick. Seattle Arts & Lectures \ Season \ SAL U: A U for You. UW Events Calendar - Morning Serial: Webcomics Come to the Table: Henry Art Gallery. Image 1 / 8: Evan Dahm.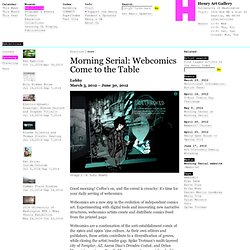 Rice Boy. Image 2 / 8: Sutu. Nawlz. Hungry Planet: What the World Eats - Burke Museum. Morlot Conducts Debussy and Ravel | Seattle Symphony Orchestra. Henri Dutilleux: Cello Concerto, Tout un monde lointain ("A Whole Distant World") Wyckoff Masterworks Season concerts are part of the Seattle Symphony's new Family Connections program, which offers free companion tickets for up to two children between the ages of 8 and 18, when accompanied by a paying adult.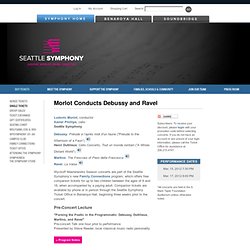 Companion tickets are available by phone or in person through the Seattle Symphony Ticket Office in Benaroya Hall, beginning three weeks prior to the concert. Pre-Concert Lecture. Frye Art Museum. Seattle Art Museum: Home Page. Metameric | Seattle, WA | Rock / Progressive / Metal. Out on the Streets. Citizen Escape (New tracks!!!)
---