Projects
Translation
OpenELIS Global. Openelisglobal - Global OpenELIS (Enterprise Laboratory Information System) is an initiative to provide laboratory information systems for resource-constrained international clinical and reference laboratories. OpenELIS Global Informational Sites OpenELIS Global Website: Public Blogs for OpenELIS Global Configurations: Development Task Manager: OpenELIS Global Task List.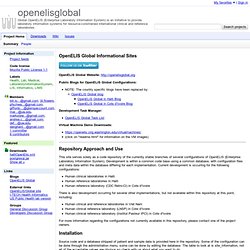 OpenELIS Implementation in Haiti. Isante - Open Source EMR.
OpenMRS » Open source health IT for the planet. iSanté Haiti Internal Site.
---