Jobs
Art & Logic :: Careers. (1) What startups are hiring engineers with strengths in machine learning/NLP. Greenplum is driving the future of Big Data analytics. Jobs. Billets d'avion, Hôtel, location de voiture | agence de voyage Expedia. Contact Us | QL2: Real-time Search | Real-time Advantage. About Us For more information: Contact Us.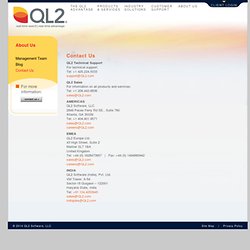 About us. The Economist - World News, Politics, Economics, Business & Finance. NewsWhip builds interactive social news clouds with Infomous. NDRC start-up NewsWhip, which tracks the world's news stories and shows which ones are spreading fastest via social media, has forged an alliance with US data visualisation company Infomous to create interactive clouds that show the fastest-spreading topics.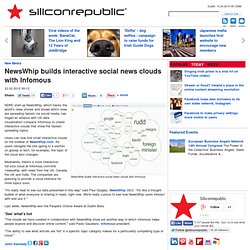 Users can now find small interactive clouds on the sidebar of NewsWhip.com. As users navigate the site (going to a section on gossip or tech, for example), the topic of the cloud also changes. Meanwhile, there's a more interactive, full-size cloud at Infomous.com/site/newswhip, with news from the US, Canada, the UK and India. The companies are planning to provide a cloud interface for more topics soon. "It's really neat to see our data presented in this way" said Paul Quigley, NewsWhip CEO.
Paolo Gaudiano eWeek Interview. Careers. Join our Team! GeekWire - Dispatches from the Digital Frontier. Nordstrom Innovation Lab. Microsoft Acquires Farecast For $115M. Rumors about the acquisition of Farecast are accurate – in a very brief blog post CEO Hugh Crean says they've been acquired by Microsoft.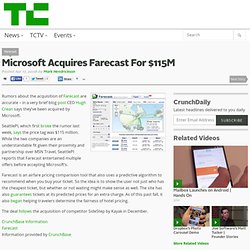 SeattlePI, which first broke the rumor last week, says the price tag was $115 million. While the two companies are an understandable fit given their proximity and partnership over MSN Travel, SeattlePI reports that Farecast entertained multiple offers before accepting Microsoft's. Farecast is an airfare pricing comparision tool that also uses a predictive algorithm to recommend when you buy your ticket. So the idea is to show the user not just who has the cheapest ticket, but whether or not waiting might make sense as well. The site has also guarantees tickets at its predicted prices for an extra charge.
Decide.com: Online Shopping for TVs, Computers, Cameras & Electronics. NYT: Friday's deals may not be the best - Business - US business - The New York Times. Microsoft Careers. Cut Media | Building the top web destinations for saving consumers time and money. 'The most ambitious project at eBay for a long, long time' High performance access to file storage "It's one of the most ambitious projects that's been undertaken at eBay for a very, very long time," vice president of search and experience technology Hugh Williams tells us on the phone.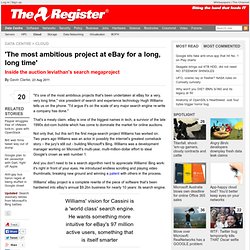 "I'd argue it's on the scale of any major search engine re-write a company has done. " That's a meaty claim. eBay is one of the biggest names in tech, a survivor of the late 1990s dot-com bubble which has come to dominate the market for online auctions.
---