Hack your company !
This is the second post in a series profiling Googlers who facilitate classes as part of our g2g program, in which Googlers teach, share and learn from each other. Regardless of role, level or location, g2g's community-based approach makes it possible for all Googlers to take advantage of a variety of learning opportunities. - Ed. If someone had told me when I graduated with a degree in economics that I'd one day be employed in a technical role at Google, I would have laughed. In 2008, I joined Google's people operations rotation program, in which one experiences three different people ops areas—from benefits to staffing—over the course of two years.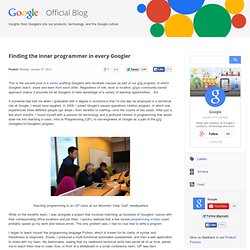 Finding the inner programmer in every Googler
The Employees First Effect
HCL Technologies: Transformational Global Services for IT and Engineering
Vineet Nayar, CEO of Indian IT services firm HCL Technologies, was awarded in 2011, the prestigious title of "Leader in the Digital Age". Distinguished also for the satisfaction of his employees, he is touted for having invented a revolutionary approach to management. His motto - "Employees first, customers then" - stands out from the doctrines of "customer is king" and "shareholder supreme judge." This is also the title of a book he authored (Diateino editions), prefaced by Bertrand Collomb, Chairman of Lafarge, and Francis Mer, the Vice President of Safran.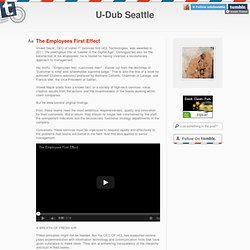 HCL Technologies
Ed Trevisani hangs with his young sons when they come home from school. He volunteers as a Boy Scout leader, serves on nonprofit boards, and teaches management at Philadelphia-area universities. He's even been known to sit on the back porch in the middle of the workday. Not bad for a guy who's still pulling down as much as he did when he was a partner with IBM and PricewaterhouseCoopers. Trevisani is a Wharton MBA and GE alum who now manages high-powered projects for Fortune 500 companies and advises executives on operational issues, change management, and potential mergers. He does all these assignments on a temporary basis, working as an independent contractor.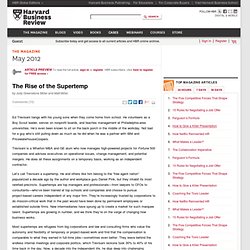 The Rise of the Supertemp
Rules For the Social Era - Nilofer Merchant
"This business model is right for a company selling Purina Dog Chow, circa 1970." "There's no way we could ever be this collaborative." Both are comments I got about my book, back in 2009, about setting direction, collaboratively. The first is from a Google executive; the second, from an exec at Cisco.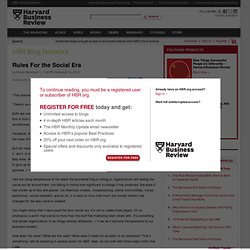 Your custom portal Tivizio allows you to enhance your projects, your ideas, your talents through video in a few clicks. From the first exchange, a video portal is dedicated to you and your videos will be accessible to people who share the same mail domain. Your content is still under your control and stays your property. Your portal and content that you upload are hosted on a secure system and are isolated from other portals by our Smart Cloud Management System. Use Tivizio allows you to combine agility and performance, giving free rein to your project internal communication.
Tivizio
Don't Let What You Know Limit What You Imagine - Bill Taylor One of the most perplexing features of these troubled times is that so many capable people in so many fields look so lost and ineffective. Whether it's the stubborn inefficiencies of the health-care system, the ever-rising costs of the higher-education system, even the slow-motion collapse of the US postal system, leaders with unrivaled expertise and decades of experience can't seem to develop creative solutions to dire problems. Why are so many smart executives so ineffective? One answer may be that all this experience is itself a problem. In her underappreciated book, The Innovation Killer, Cynthia Barton Rabe, a former innovation strategist at Intel, explains how "what we know limits what we can imagine."
Nordstrom Innovation Lab
Let them hack your innovation!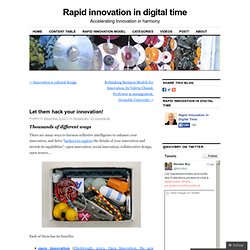 Thousands of different ways Each of them has its benefits: open innovation (Chesbrough, 2003.