Social Media & Advertising Articles
the new social • Link your Connections to Create a Career Chain.
Facebook might be behind the success of university students [Infographic]f
13 October '11, 10:42pm Follow Facebook might actually be good for university students. Online PhD, a site dedicated to helping its readers make important decisions about PhD education and life, states, "Some studies say Facebook is beneficial to students while others say it's harmful; but taken together the research suggests it all depends on how students use it."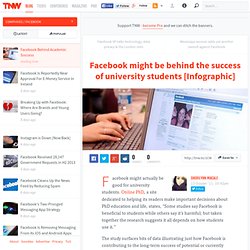 How often should I tweet?
65 Flares Filament.io 65 Flares × In order to master the art of twitter, getting the amount of daily tweets that reach your followers right is crucial. We found some great expert advice, backed up with analytics for different kinds of twitter users, which we want to share with you. How often should I tweet if I am…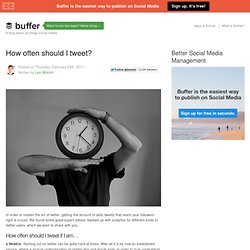 snsanalytics
Christopher S. Penn's Awaken Your Superhero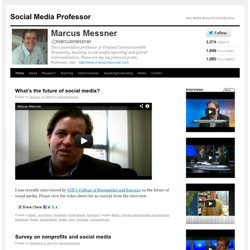 The Association for Education in Journalism and Mass Communication (AEJMC) is hosting a panel on public relations case studies "Tenacious Tweeting, Bellowing Blogging, Fanatical FaceBooking, Yappy YouTubing: Using Industry Cases as Teaching Tools" at its annual conference in Chicago this week. I will present a case study on the positive and negative effects of the KONY 2012 campaign that I am using in my social media class to illustrate the short-lived success of the viral video above. Continue reading Posted in International , Journalism , Public Relations , Social Media , Teaching Tagged AEJMC , Campaigns , Facebook , Global , Invisible Children , Joseph Kony , Kony 2012 , Non-profit , Protest , Social Media , Strategy , Students , Technology , Twitter , Viral Video , YouTube This summer, Vivian Medina-Messner and I are teaching 24 Iraqi college students in our VCU Social Media Institute .
Social Media Professor | New Media Research and Education
Why the QR code is failing
They have become the standard violator appearing on advertising; in the corner of print ads, across billboards, on buses, or in pieces of direct mail -- even peppered throughout this article. You've seen them; that little block of even littler squares. Unfortunately the technology behind QR codes was not invented for advertising and marketing; we are just co-opting its usage, and it shows.
A couple of months ago, we discussed Google's hint that it may be bringing back real-time search. If you remember, Realtime Search was discontinued in Google web search due to Google's failure to come to an agreement with Twitter, whose data Google had been accessing to deliver accurate real-time results. The idea was that Google+ would provide Google with the data it needed to create a real-time feature robust enough to re-introduce to search results, even without data from Twitter.
Google+ Launches Real-Time Search and Hashtag Support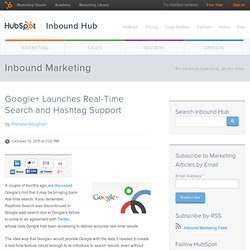 Connecting Twitter to LinkedIn: Just Say No
Posted by Irene Koehler in Business, LinkedIn, Social Media, Tips, Twitter on January 5, 2011 | 35 responses I already know most of you will be in one of two camps. Some of you will immediately feel my pain and totally get what I'm talking about. Others will think I'm making much ado about nothing and ought to let go of my outdated idea of how and where content is best shared.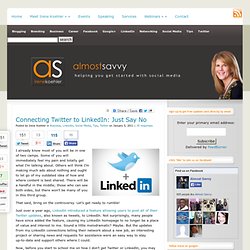 Garren Orr The internet gives us a lot. Unlimited information, free music, constant distraction from real life. But mostly, it gives us a platform to self promote, ask for help, and (for the more uncouth) brag. This Tuesday, the internet provided a new breakthrough in self praise: the site/app "What Would I Say?" created by Princeton Grad students during a Hackathon last weekend.
Emerson Social Media #ESM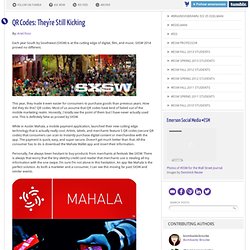 The Five Best Things in Social Media | Yahoo! Advertising Blog
How the 10 Most Popular Facebook Brands Rank by Engagement [Chart]
Last week, Facebook unveiled a new public metric to gauge the success of a Facebook Page beyond its Like count. The feature, called "People Talking About," calculates user-initiated activities on a Page, including posts, comments, Likes, mentions, shares, poll votes, photo tags and checkins. Not surprisingly, those brands with the greatest number of Likes don't necessarily rank as highly against the new metric, according to data from Famecount. Here are the top ten consumer brand pages by Likes: 1.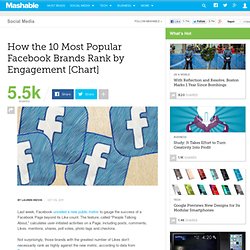 Global Social Media revenues are on a roll, according to latest statistics from Gartner. The worldwide market is on track to hit US$10.3 billion this year, a 41.4 percent jump from US$7.3 billion in 2010. It will reach US$14.9 billion by 2012 and by 2015, nearly double this amount at US$29.1 billion.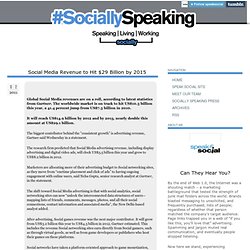 Social Media Revenue to Hit $29 Billion by 2015 - Speak Social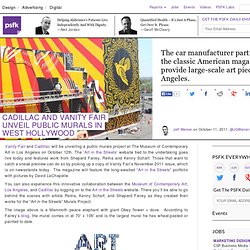 Vanity Fair and Cadillac will be unveiling a public murals project at The Museum of Contemporary Art in Los Angeles on October 12th. The 'Art in the Streets' website tied to the undertaking goes live today and features work from Shepard Fairey, Retna and Kenny Scharf. Those that want to catch a sneak preview can do so by picking up a copy of Vanity Fair's November 2011 issue, which is on newsstands today. The magazine will feature the long-awaited "Art in the Streets" portfolio with pictures by David LaChapelle. You can also experience this innovative collaboration between the Museum of Contemporary Art, Los Angeles, and Cadillac by logging on to the Art in the Streets website.
Cadillac And Vanity Fair Unveil Public Murals In West Hollywood
If you're a blogger, then we're sure you've been in a situation where you can't login to WordPress or Tumblr, or you need to get something to the world fast via Twitter or Facebook. Instablogg lets you set up a blog post instantly and anonymously in seconds. Even if you're not a blogger and don't want to set up your own blog, Instablogg is perfect for quick publishing.
Instablogg lets you create and share a blog post without even signing up
How to Find the Right Creative Agency to Work For | Small Agency Diary
Washington Nationals tap media consultant to improve MASN deal - Baltimore Business Journal
The Washington Nationals have hired a media consultant to improve their MASN deal. John Ourand, staff writer, SportsBusiness Journal The Washington Nationals have hired media consultant Chris Bevilacqua to help the franchise redo its local TV deal, which should result in a significantly higher rights fee for a team that had baseball's smallest local viewership last season. According to several sources, the Nationals currently get around $29 million per year from the Mid-Atlantic Sports Network, which is majority owned by Baltimore Orioles owner Peter Angelos. But as part of the contract that Major League Baseball signed with MASN when it ran the Nationals franchise in 2005, an automatic "reset" was included every five years to make sure that the deal still falls within market value.
Denver-based MapQuest will be rolling out a new product called MQVibe, which the company is promoting that it "will pivot and repackage the local space," according to the platforms announcement on their website. Fusible has been reporting about MQ Vibe since September when AOL was first reported about the trademark filings and domain registrations having to do with NVibe and MQVibe. Fusible had an article earlier this week where the website revealed never-before-known details about the project. After that Fusible was able to glean more information from the website by visiting other various web pages and source code that is no longer available, because AOL has since blocked access to the pages.
MapQuest Will Roll Out a New Product Called MQ Vibe
Shocker: Dr. Pepper's New Campaign Prompts Some Backlash - AgencySpy
Is This Facebook's Most Horrifying Brand Exposure EVER? | Commentary and analysis from Simon Dumenco
Ning's Founder on Starting Up and Starting Over in Social Media
After more than five years at the helm of Ning, Gina Bianchini stepped down in March 2010 from her position as CEO of the custom social network creator that she co-founded. At the time, the startup had an impressive 2.3 million user-created networks and more than 45 million registered users. But not everything was coming up roses at Ning. Shortly after Bianchini's departure, the company laid off 40% of its employees.
How to use Twitter for journalism
Introducing a 10,000 square foot QR code - The world's biggest
QR codes can be massively useful when used correctly but they are quickly turning into the latest marketing stunt with crazier results. This is the perfect example of the technology being used pretty foolishly because, beyond this video, no one will be able to actually scan this QR code. It took 20 people an entire day to bring this together and the QR code, which is painted on to a racetrack, takes up an incredible 10,000 square feet.
Blog
Facebook
How often should I Tweet? | Better at Marketing
How often should you tweet?