Say Anything
Early life[edit] Bemis was born in New York City on April 6, 1984.[1] His family moved to Hollywood, California when he was a child.[1] He had minor roles in some films due to his father's work in Hollywood, including an uncredited role as an altar-boy in Face/Off. Bemis took piano lessons which he credits for the realization that he wanted to make music.[2][3] In addition, Bemis was raised "in a strong Jewish environment," which has influenced his music.[4] His maternal grandparents were survivors of the Holocaust, which was the inspiration for the song, "Alive With the Glory of Love."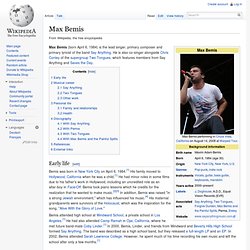 Max Bemis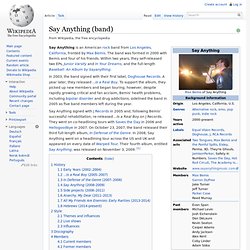 Say Anything (band)
In 2003, the band signed with their first label, Doghouse Records. A year later, they released ...Is a Real Boy. To support the album, they picked up new members and began touring; however, despite rapidly growing critical and fan acclaim, Bemis' health problems, including bipolar disorder and drug addictions, sidelined the band in 2005 as five band members left during the year.
The Official Say Anything Site | The Official Say Anything Site
Announcing New Album "Hebrews" to be released 6/10/2014 with Tour Dates! Touring With The Front Bottoms, The So So Glos + You Blew It! Tour Kicks Off June 13th in Dallas, TX. Pre-Sale Tickets available Wednesday, March 26th at noon local time at sayanything.ducatking.com.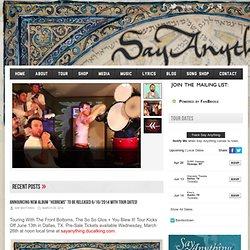 Ahh men - Max Bemis (live acoustic - chain reaction)