Maintenance
Memory Cleaner. Description The first Memory Cleaner on the Mac App Store!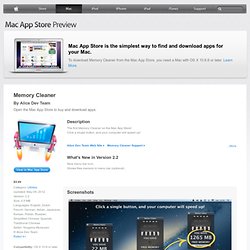 Click a single button, and your computer will speed up! Now Ready for Mavericks! MacPilot. Description Scared of the terminal or can't be bothered to remember those commands to customize your system the way you want?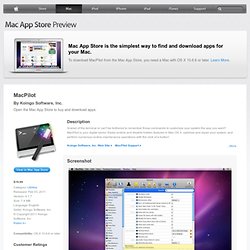 MacPilot is your digital savior. Easily enable and disable hidden features in Mac OS X, optimize and repair your system, and perform numerous routine maintenance operations with the click of a button! Pro user or not, you can now increase computer performance with only a few clicks of the mouse. Optimize your network for broadband connectivity, completely customize Apple File Sharing, perform essential maintenance without having to remember mind boggling acronyms, and much more.
Titanium's Software • Home. Download OnyX for Mac - Mac OS X maintenance and optimisation tool. OnyX is a multifunctional utility for OS X.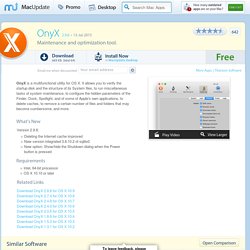 It allows you to verify the startup disk and the structure of its System files, to run miscellaneous tasks of system maintenance, to configure the hidden parameters of the Finder, Dock, Spotlight, and of some of Apple's own applications, to delete caches, to remove a certain number of files and folders that may become cumbersome, and more. What's New Version 2.8.7: Bug when deleting recent items corrected Bug with synchronizing photos in iTunes corrected Deleting the logs improved Info pane improved Opening Preferences from the Dock's icon No similar apps have been recommended yet.
AppCleaner. Memory Scope. Description Memory Scope is an essential tool for when your using memory intensive applications like video and photo editors.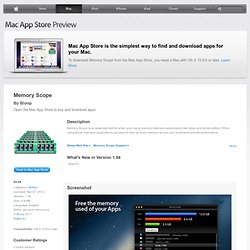 When using these intensive applications you want to free as much memory as you can, to achieve smooth performance. This is where Memory Scope comes in, combining an advanced application with a simple user interface so that you can free memory with just one click of a button. Memory Scope can also preform in the background with Auto Free, ending unnecessary tasks allowing your computer to unlock it's full potential. The application shows you which programs are taking up the most memory so you can control what you need and don't need.
---