Tumblr Tips
How to use Tumblr - Complete guide of how to use Tumblr: Tumblr tips, Tumblr news, help you to use Tumblr more effectively
How to change background image in your Tumblr theme easily - How to use Tumblr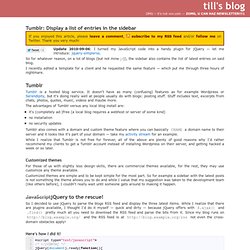 Update 2010-09-06: I turned my JavaScript code into a handy plugin for jQuery — let me introduce: jquery-simplerss. So for whatever reason, on a lot of blogs (but not mine ;-)), the sidebar also contains the list of latest entries on said blog. I recently edited a template for a client and he requested the same feature — which put me through three hours of nightmare. Tumblr
Tumblr: Display a list of entries in the sidebar - till's blog
Geek to Live: Instant, no-overhead blog with Tumblr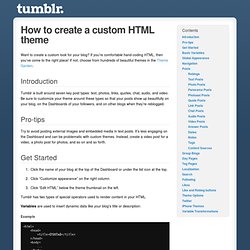 Want to create a custom look for your blog? If you're comfortable hand-coding HTML, then you've come to the right place! If not, choose from hundreds of beautiful themes in the Theme Garden. Introduction
Creating a custom HTML theme
end. - Tumblr + lightbox + tagcloud
After spending way too much time implementing a lightbox in my tumblr, I feel I should write about it in case anyone else runs into the same problems. I decided I wanted a lightbox because, well, they are cool and I figured it would be simple enough, being that I have used multiple different lightbox scripts on different sites in the past. And it is simple, except for one little glitch, that happened to take me forever to recognize - lightbox2 and tagcloud do not work together - or at least not for me. Let me start from the beginning. I started the way I do anything, I searched Google for Tumblr and lightbox.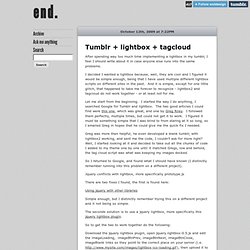 #!/usr/bin/alex - Tumblr and Lightbox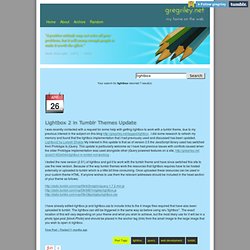 Lightbox 2 in Tumblr Themes Update I was recently contacted with a request for some help with getting lightbox to work with a tumblr theme, due to my previous interest in the subject on this blog http://gregriley.net/tagged/lightbox . I did some research to refresh my memory and found that the lightbox implementation that I had previously used and discussed has been updated. Lightbox2 by Lokesh Dhakar My interest in this update is that as of version 2.5 the JavaScript library used has switched from Prototype to jQuery. This update is particularly welcome as I have had previous issues with conflicts caused when the older Prototype implementation was used alongside other jQuery powered features on a site, http://gregriley.net/post/214524044/lightbox-in-tumblr-not-working .
gregriley.net
end. - 4 Tumblr SEO Tips
Turn Your WordPress Blog Into a Tumblr-style Tumblog - How-To Geek ETC
Would you like to be able to make more unique link, quote, and image posts on your blog? Here's how you can turn your WordPress site into a Tumblr-style blog for free. Tumblr makes it dead simple to post images, videos, quotes, or links on your blog, and many users prefer this to full blog posts.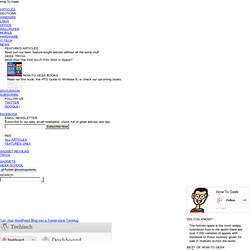 How To Make a Private Tumblr Blog
Tumblr is a great service for sharing media and blog posts, but what if you don't want to share your experiences with the world? Here's how to create a private, password-protected blog for your family or business. By default, Tumblr blogs are available for all the world to see.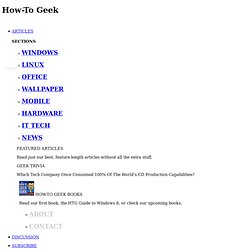 Learn Tumblr Ep10: Creating Multiple Blogs and Collaborating with Members @ uSchoolme
Embedding Tumblr :: Forum
A Complete Guide To Tumblr - Smashing Magazine
Advertisement Think of Tumblr as micro-blogging on steroids (technically, it's called "tumblelogging"). Whereas Twitter and similar services limit posts to 140 characters or less, Tumblr lets you post updates of any length, although it's best suited to short-format posts. Tumblr bridges the gap between full-blown blog and micro-blog.