Tumblr Tips
How to use Tumblr - Complete guide of how to use Tumblr: Tumblr tips, Tumblr news, help you to use Tumblr more effectively
How to change background image in your Tumblr theme easily - How to use Tumblr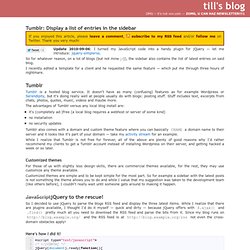 Update 2010-09-06: I turned my JavaScript code into a handy plugin for jQuery — let me introduce: jquery-simplerss.
Tumblr: Display a list of entries in the sidebar - till's blog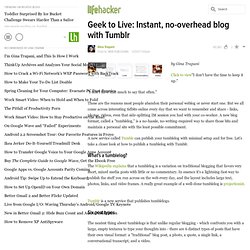 Geek to Live: Instant, no-overhead blog with Tumblr
SExpand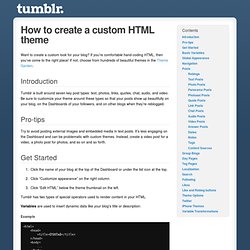 Want to create a custom look for your blog?
Creating a custom HTML theme
end. - Tumblr + lightbox + tagcloud
#!/usr/bin/alex - Tumblr and Lightbox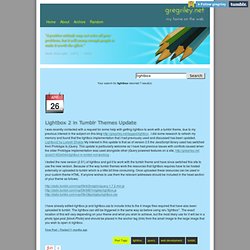 Lightbox 2 in Tumblr Themes Update
gregriley.net
end. - 4 Tumblr SEO Tips
Turn Your WordPress Blog Into a Tumblr-style Tumblog - How-To Geek ETC
Would you like to be able to make more unique link, quote, and image posts on your blog? Here's how you can turn your WordPress site into a Tumblr-style blog for free. Tumblr makes it dead simple to post images, videos, quotes, or links on your blog, and many users prefer this to full blog posts.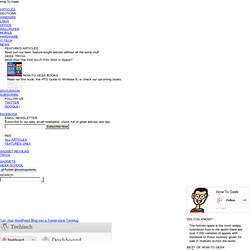 How To Make a Private Tumblr Blog
Tumblr is a great service for sharing media and blog posts, but what if you don't want to share your experiences with the world? Here's how to create a private, password-protected blog for your family or business. By default, Tumblr blogs are available for all the world to see.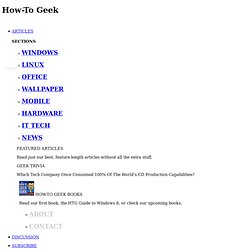 Learn Tumblr Ep10: Creating Multiple Blogs and Collaborating with Members @ uSchoolme
Embedding Tumblr :: Forum
A Complete Guide To Tumblr - Smashing Magazine
Advertisement