Social Media Articles
Weardrobe | who's wearing what. 5 Fresh Digital Media Trends to Watch. Digital media, as many a Mashable reader is aware, is evolving at a rapid pace.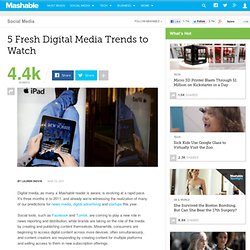 It's three months in to 2011, and already we're witnessing the realization of many of our predictions for news media, digital advertising and startups this year. Social tools, such as Facebook and Tumblr, are coming to play a new role in news reporting and distribution, while brands are taking on the role of the media by creating and publishing content themselves. Meanwhile, consumers are beginning to access digital content across more devices, often simultaneously, and content creators are responding by creating content for multiple platforms and selling access to them in new subscription offerings.
Can Social Media Get You a Job? If you're job hunting, you may be tired of everyone telling you to network, network, network.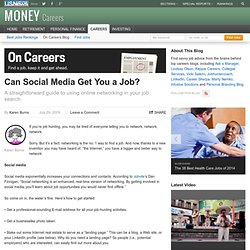 Sorry. But it's a fact: networking is the no. 1 way to find a job. And now, thanks to a new invention you may have heard of, "the Internet," you have a bigger and better way to network: Social media Social media exponentially increases your connections and contacts. 10 New Rules for Today's Job Hunt. If you are mid-career, out of work and looking, you've probably already figured this one out: The tried-and-true job-hunting techniques that served you so well in the past no longer fill the bill.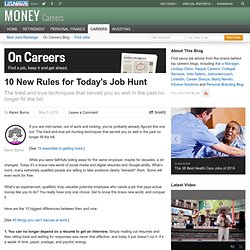 [See 15 essentials to getting hired.] While you were faithfully toiling away for the same employer, maybe for decades, a lot changed. Use Facebook, Twitter, and LinkedIn to Network Your Way Into a Job.: 10 Smart Ways to Use Social Media in Your Job Search - US News & World Report.
---