Education
Teachers.Net - TEACHERS - Lesson Plans, Teaching Jobs, Chat. The Scoop on Groups. Woo to the hoo!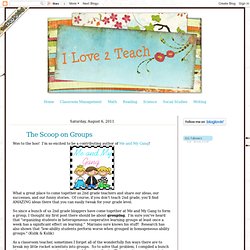 I'm so excited to be a contributing author of Me and My Gang! What a great place to come together as 2nd grade teachers and share our ideas, our successes, and our funny stories. Of course, if you don't teach 2nd grade, you'll find AMAZING ideas there that you can easily tweak for your grade level. So since a bunch of us 2nd grade bloggers have come together at Me and My Gang to form a group, I thought my first post there should be about grouping.
I'm sure you've heard that "organizing students in heterogeneous cooperative learning groups at least once a week has a significant effect on learning. " Miramar Child Development Professionals. Teaching Resources, Classroom Resources & Lesson Plans - TES Resources.
---