Content Strategy
An Event Apart: A Content Strategy Roadmap
skills_of_content_strategists.png (3532×2052)
Content-ment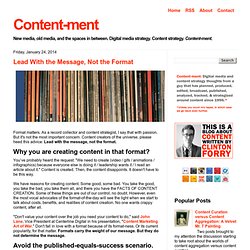 Format matters. As a record collector and content strategist, I say that with passion. But it's not the most important concern. Content creators of the universe, please heed this advice: Lead with the message, not the format. Why you are creating content in that format?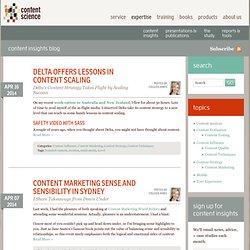 Content Insights - Page 1 - Expertise | Content Science
Hear "governance" and you may think about budget fights, policy arguments, and gridlock. In the digital world, governance doesn't actually have anything to do with the government, but it's very much about getting unstuck. "A lot of organizations have reached the proverbial wall" in their digital efforts, says Lisa Welchman, a pioneer in the field of digital governance.
Baddit Blog
Double (tenuous) link alert: A somebody and the something link…A there link… Shambles is a street in York, so to Thom Yorke of Radiohead… Bonus tenuous link: if you've climbed Kilimanjaro, you've probably managed to prove yourself… The last track was on the album Kilimanjaro, so from Kilimanjaro to Killamangiro… Snow is found on top of mountains.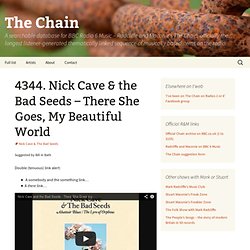 A List Apart: Topics: Content: Content Strategy
Content strategy for desktop, mobile, and beyond. Copy as interface. Building trust through better writing and honest communication. Working with, and in some cases building your own, content management systems. Designing for readers.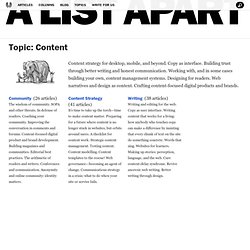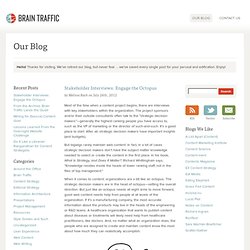 Hello! Thanks for visiting. We've retired our blog, but never fear … we've saved every single post for your perusal and edification. Enjoy!
Brain Traffic Blog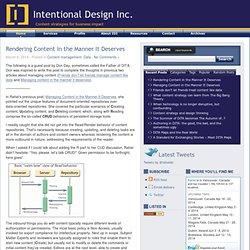 Rendering Content in the Manner It Deserves The following is a guest post by Don Day, sometimes called the Father of DITA. Don was inspired to write this post to complete the thoughts in previous two articles about managing content (Friends don't let friends manage content like data and Managing content in the manner it deserves).
Intentional Design Inc.
Content Strategy - a knol by Jeffrey MacIntyre
Overview Content Strategy is an emerging field of practice within the discipline of User Experience Design (UXD). It also describes in a professional context the roles, work products, knowledge, methodology, and perspectives of content strategists. Content Content is substance.
Hearing Ahava Leibtag and Aaron Watkins talk about Johns Hopkins and how they test content. Challenge of working on a major academic medical center's website: Lots and lots of cooks in the kitchen. Branding is difficult to maintain because content creation is widely distributed.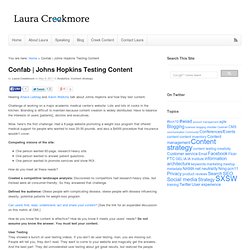 Confab | Johns Hopkins Testing Content « Laura Creekmore