Comics
Friday, January 10th, 2014 Hope you all are having a great start to your new year! It looks like I'm going to be looking for a new apartment to live in sometime in Feb (my roomie is moving out of town), so I'm going trying to make more artwork for sale at my Etsy shop to help cover my moving costs and extra deposits. Follow me on Twitter or Tumblr for current updates on when I post new art for grabs. My 31st Birthday is coming on this Monday on Jan 13th!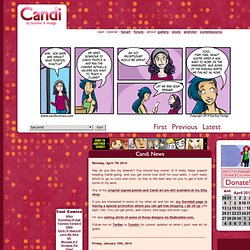 Candi - A College Story
Brightest » Archive » Brightest 218
Comic (4Koma) – 漫画
Pictures of You - A Graphic Novel
Just 1 Random Guy
The Phoenix Requiem
Fajita – Updates Mon, Wed, and Fri! - 166: Continued Introductions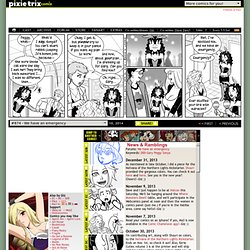 December 31, 2013As mentioned in late October, I did a piece for the Nelvana of the Northern Lights Kickstarter. Shouri provided the gorgeous colors. You can check it out here and here. See you in the new year! Cheers!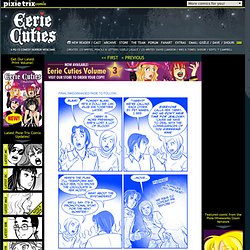 OCTOBER 30, 2013 I'm contributing art, along with Shouri on colors, to the Nelvana of the Northern Lights Kickstarter. Ends on Nov. 1st, so check it out! Also, Eerie Cuties volume 3 is at the printer and will ship mid-November. We're taking orders right now at our store.--Gisele :) SEPTEMBER 8, 2013 I was interviewed this week on the Where Monsters Dwell radio show.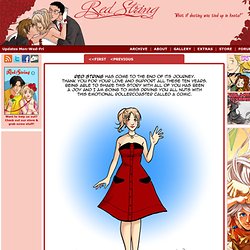 Erstwhile Vol.2 Kickstarter Posted 2013-12-02 10:00 It's finally time!
Posted by sohmer on January 7, 2014 It's safe to say that I have somewhat more than a passing interest in the 'Interwebs', especially when it comes to viewing habits. Over the last decade, I've seen a great deal of ridiculous shite capture people's attention for brief moments, only to be eclipsed and forgotten when the next thing comes along. It's only recently that the culmination of all this aforementioned shite has combined and formed something new, something terrifiying. It's as if Youtube, Twitter, Facebook, TMZ and Gawker were all pieces of Voltron.