Comics
Monday, April 7th 2014 Hey do you like my artwork? You should buy some! :D It really helps support keeping Candi going, and you get some cool stuff for your walls. I can't really afford to go to cons and such, so this is the best way for you to get a hold of some of my work.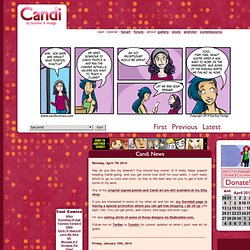 Candi - A College Story
Brightest » Archive » Brightest 218
Comic (4Koma) – 漫画
Pictures of You - A Graphic Novel
Just 1 Random Guy
The Phoenix Requiem
Fajita – Updates Mon, Wed, and Fri! - 166: Continued Introductions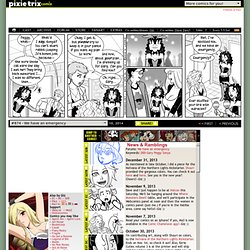 December 31, 2013As mentioned in late October, I did a piece for the Nelvana of the Northern Lights Kickstarter. Shouri provided the gorgeous colors. You can check it out here and here. See you in the new year! Cheers!
To wet your appetite with the bonus story found in our new EC book, here's a sample page of the 8 page print-exclusive bonus story. We're pretty happy with the story, so we hope you'll like it! Also, the crossover between Magick Chicks and Eerie Cuties is in full swing. Be sure to visit both sites for twice the fun! Annnnd, if you're an artist/creator who'd be interested in contributing a guest comic for either Eerie Cuties or Magick Chicks, we're looking for comics or illustrations that we could run during the Xmas & New Year holidays.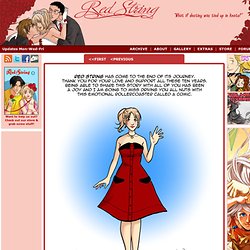 Patreon Posted 2014-04-03 7:25 Hello dear readers.
Posted by sohmer on April 17, 2014 We're way past due on this one, folks, but I'm pleased to announce that LICD Beginnings Volume 6: I'm Doing Sport is on its way to our North American Shores. This book differs from others in the past, as it has a whopping 120 pages, as compared to the 60 pages in Book 5, and the 30 pages in Books 1-4. All that to say, I'm Doing Sport is available for pre-order right this very now, and will be shipping out in the 2nd week of May. Order me!