Comics
Comics. Candi - A College Story. Brightest » Archive » Brightest 218. Comic (4Koma) – 漫画. Pictures of You - A Graphic Novel. Just 1 Random Guy. The Phoenix Requiem. Court - By Tom Siddell. Fajita – Updates Mon, Wed, and Fri! - 166: Continued Introductions. Menage a 3.
December 31, 2013As mentioned in late October, I did a piece for the Nelvana of the Northern Lights Kickstarter.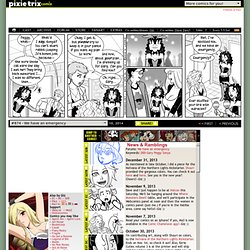 Shouri provided the gorgeous colors. You can check it out here and here. See you in the new year! Cheers! Eerie Cuties. Red String ~ An online graphic novel / webcomic about romance, destiny, & self-discovery. Least I Could Do: the Webcomic » by Ryan Sohmer and Lar deSouza.
---