Green Business
Our green search engine searches only approved green websites, meaning that you will find more green results.Powered by Google's Custom Search Engine technology, you are guaranteed fast and accurate results.Try a green search now by using the search bar at the top of the website! Browse for websites ranging from sustainable tourism to ecofashion, health and wellness and beyond!All websites are approved by Green Maven editors for green and sustainable values.Do you have a green website? Submit it to the Green Search Engine and Directory. Check out our editors top picks on green products, books, movies, travel destinations and more!Submit a review of your favorite green products, books and movies.Check out the latest review now!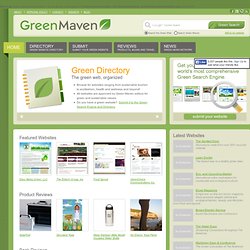 Kelly McMurtrie and Carrie Van Brunt-Wiley, Time and again, green homes prove to be safer, more efficient and less costly to operate than homes built with standard building materials. As research has found, homes made from sustainable building materials are better able to withstand the perils of wind, hail and flood.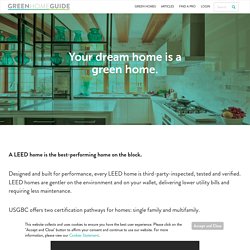 Green Zebra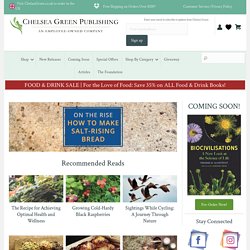 Chelsea Green: The Politics and Practice of Sustainable Living
Submitted by admin on April 10, 2014 08:00 AM Author Didi Emmons understands it's intimidating to work with unfamiliar herbs. In her book, Wild Flavors: One Chef's Transformative Year Cooking From Eva's Farm, she takes the simple approach that herbs, like any other plant, need good soil, water, sun, and air to thrive.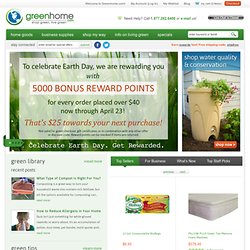 your trusted online source for green products since 1999 We are the original online ecostore, based in San Francisco, California, in the heart of both the environmental and cleantech industries. Since 1999 Greenhome.com has played its part as one of the most comprehensive online resources for greening your home and greening your business. Our company is on a mission to green the world, one person (and one business) at a time.
Green Business Directory
Free House Plans, Premium Home Plans, Green Floor Plans & More
Free House Plans Green Design for Everyone! It's no secret: FreeGreen's Free House Plans would not exist without paid placement from product manufacturers. In the same way that television has used advertiser revenues to bring us our favorite programs, FreeGreen is using house plan product placement to promote and disseminate green design for free. Browse Free Plans Now!
The Home Energy Company
Joraform AB
NatureMill compost bins are designed to make composting easy and convenient. With the help of technology, our composters deliver the same results as traditional composters - in much less time. Saving the world by reducing waste is something most people want to do, although some conservation activities are much easier said than done. Even for someone who already recycles and segregates trash, maintaining a compost pile for food waste takes extra effort and time.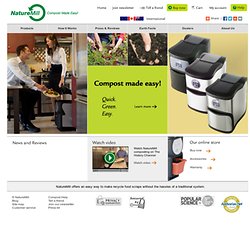 Automatic Compost Bin | The only indoor composter!
Disclaimer: The information presented on the DSIRE web site provides an unofficial overview of financial incentives and other policies. It does not constitute professional tax advice or other professional financial guidance, and it should not be used as the only source of information when making purchasing decisions, investment decisions or tax decisions, or when executing other binding agreements. Please refer to the individual contact provided below each summary to verify that a specific financial incentive or other policy applies to your project. While the DSIRE staff strives to provide the best information possible, the DSIRE staff, the N.C.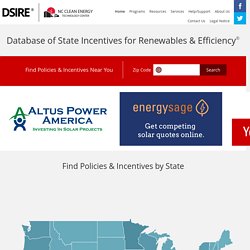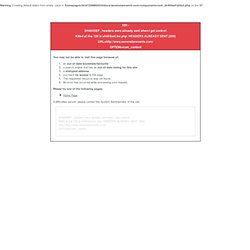 Making Your Event Sustainable
Mission Statement Seven-Star is dedicated to providing education and incorporating social values, prosperity, and green lifestyles in all of our endeavors. We treat our clients like partners and care for their programs and events as our own, proudly associating with projects that result in a brighter more sustainable tomorrow.
Green Building Supplies | Green Depot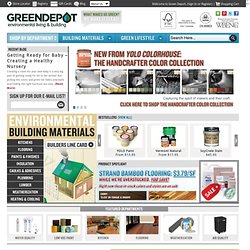 Green Depot is the nation's leading supplier of environmentally friendly building and lifestyle products, services and home solutions. Our mission is to make green building products readily accessible to homeowners and builders so that sustainable practices can easily be adopted into standard construction operations. We utilize a sophisticated, proprietary Green Filter that focuses on Conservation, Local Resources, Energy Efficiency, Air Quality and Corporate Responsibility to show what makes our products sustainable.
Ecolect - Discover Sustainable Materials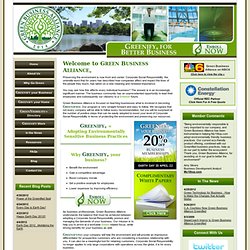 Preserving the environment is now front and center. Corporate Social Responsibility, the umbrella word that for years has described how companies affect and impact the lives of the people they touch, has taken on a new meaning and renewed importance. You may ask how this affects every individual business? The answer is in an increasingly significant manner. The business community has an unprecedented opportunity to lead their employees and subsequently our citizenry to a Greener future. Green Business Alliance is focused on teaching businesses what is involved in becoming Greenified.
Green Business Alliance Enables You to Greenify
HealthyBuilt Homes
Green web hosting - earth friendly solar powered and wind energy