Streaming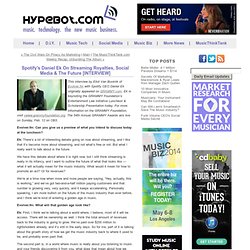 We have this debate about where it is right now, but I still think streaming is really in its infancy, and I want to outline the future of what that looks like — what it will actually mean for the music industry. What would it mean for how to promote an act? Or for revenues? We're at a time now when more and more people are saying, "Hey, actually, this is working," and we've got two-and-a-half million paying customers and that number is growing very, very quickly, and it keeps accelerating. Personally speaking, I am more bullish on the future of the music industry than ever before, and I think we're kind of entering a golden age in music.
Spotify's Daniel Ek On Streaming Royalties, Social Media & The Future [INTERVIEW]
Le marché numérique en train de basculer vers le streaming ?