Musique numérique
Agile Music (the Midem Speech) For those of you who weren't able to make it to Midem last week here are the text and main graphics from my Midem Visionary Monday speech.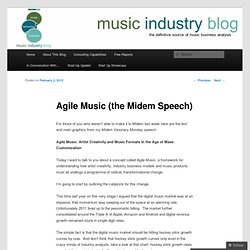 Agile Music: Artist Creativity and Music Formats In the Age of Mass Customization Today I want to talk to you about a concept called Agile Music, a framework for understanding how artist creativity, industry business models and music products must all undergo a programme of radical, transformational change. L'industrie musicale se remet à flow. Après plus d'une décennie de mines défaites, le monde de la musique souffle un peu : le marché mondial a, pour la première fois depuis 1999, stoppé sa chute.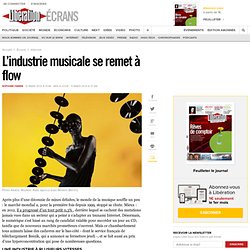 Mieux : en 2012, il a progressé d'un tout petit 0,3% , derrière lequel se cachent des mutations jamais vues dans un secteur qui a peiné à s'adapter au tsunami Internet. Désormais, le numérique s'est hissé au rang de candidat valable pour succéder un jour au CD, tandis que de nouveaux marchés prometteurs s'ouvrent. How Spotify Changed Music. We used to listen to music on our mobile devices in private.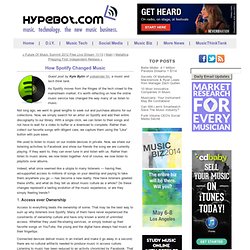 Now, we share our listening activities to Facebook and show our friends the song we are currently playing. If they want to, they can even tune in and listen with us. Rather than listen to music alone, we now listen together. And of course, we now listen to playlists over albums. Indeed, what once seemed like a utopia to many listeners — having free, ad-supported access to millions of songs on your desktop and paying to take them anywhere you go — has become a new reality. Radio.SC Turns SoundCloud Users into Radio Stations.
SoundCloud was originally designed to help musicians send songs (or bits of songs) to each other and their "people" within the industry.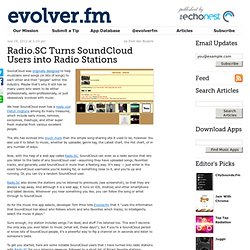 Maybe that's why it still has so many users who seem to be either professionally, semi-professionally, or just obsessively involved with music. We hear SoundCloud even has a really cool Fletch ringtone among its many treasures, which include early mixes, remixes, exclusives, mashups, and other super fresh material from various excellent people. Combien gagne un artiste avec la distribution digitale (Spotify, iTunes, Deezer) ?... C'est l'Hebdo Musique et Web. Chaque jour, en tant que « musiconaute » averti, il est facile de percevoir l'influence croissante des plateformes de streaming et de la distribution digitale.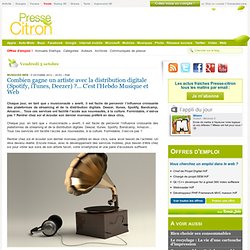 Deezer, Itunes, Spotify, Bandcamp, Amazon… Tous ces services ont facilité l'accès aux nouveautés, à la culture. Formidable, n'est-ce pas ? Rentrer chez soi et écouter son dernier morceau préféré en deux clics, Chaque jour, en tant que « musiconaute » averti, il est facile de percevoir l'influence croissante des plateformes de streaming et de la distribution digitale. Musique - Article - Les ventes de musique poursuivent leur baisse en 2011. Le Marché international de l'édition musicale (Midem) qui s'est tenu à Cannes du 28 au 31 janvier 2012 fut comme chaque année l'occasion pour l'industrie musicale française de publier ses résultats annuels.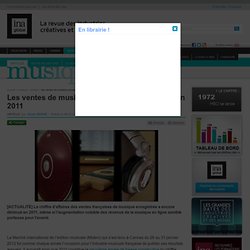 Il apparaît ainsi que 2011 constitue la neuvième année de baisse consécutive du chiffre d'affaires de la musique enregistrée. Le bilan économique du Syndicat national de l'édition phonographique (SNEP) fait état d'une diminution du marché de 3,9 % par rapport à 2010, s'établissant ainsi à 617,2 millions d'euros. Alors que le marché français reste dominé par la major Universal Music, ces résultats semblent refléter la crise que connaît l'industrie du disque depuis plusieurs années.
De la même manière qu'au Royaume-Uni, les ventes de CD et de DVD musicaux ont continué de s'effondrer en France en 2011, de l'ordre de 11,5 % sur un an. BPI figures reveal UK music industry's digital growth in 2011. The BPI released its latest trade figures for the British music industry yesterday, revealing that total recorded music trade revenues fell 3.4% to £795.4m in 2011, although digital revenues grew by 24.7% to £281.6m – 35.4% of overall sales.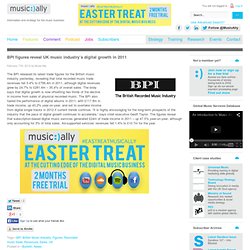 The body says that digital growth is now offsetting two thirds of the decline in income from sales of physical recorded music. The BPI also hailed the performance of digital albums in 2011, with £117.8m in trade income, up 43.2% year-on-year, and set to overtake income from digital single tracks in 2012 if current trends continue. "It is highly encouraging for the long-term prospects of the industry that the pace of digital growth continues to accelerate," says chief executive Geoff Taylor. The figures reveal that subscription-based digital music services generated £24m of trade income in 2011 – up 47.5% year-on-year, although only accounting for 3% of total sales.
Ad-supported services' revenues fell 1.4% to £10.7m for the year.
Streaming. Etats-Unis: Il est légal de revendre sa musique numérique. A l'époque des vinyls ou des CD, on pouvait en toute légalité revendre un disque pour lequel on n'avait plus d'intérêt.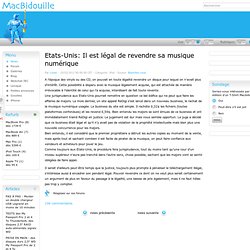 Cette possibilité a disparu avec la musique légalement acquise, qui est attachée de manière irrévocable à l'identité de celui qui l'a acquise, interdisant de fait toute revente.Une jurisprudence aux Etats-Unis pourrait remettre en question ce bel édifice qui ne peut que faire les affaires de majors. Le mois dernier, un site appelé ReDigi s'est lancé dans un nouveau business, le rachat de la musique numérique usagée. Musique et possession : ce que veulent les fans. Apprendre à connaître vos fans, les engager en offrant de la musique accessible, voici les seules choses dont vous devriez vous préoccuper pour provoquer le passage à l'acte.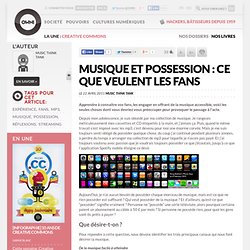 Depuis mon adolescence, je suis obsédé par ma collection de musique. Je rangeais méticuleusement mes cassettes et CD étiquetés à la main, et j'aimais ça. Why You Should Give Your Music Away for Free. Digital music caught the record labels off guard and smashed their business to pieces, and from the rubble new economic realities are emerging.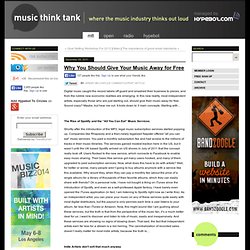 In this new reality, most independent artists, especially those who are just starting out, should give their music away for free. Sound crazy? Maybe, but hear me out. It boils down to 3 main concepts. Study: FM Radio Is Still the Biggest Source for Music Discovery. Sunday, November 13, 2011 by paul One of the oldest platforms is still the biggest vehicle for new music discovery, even among more dedicated music fans.
In a just-released joint study from NPD Group and NARM, FM (and AM) radio consistently emerged as the most important place for discovery, with word-of-mouth falling second. Launches Music App Directory. We'll keep this one short, because this news item is about, well, us. Evolver.fm staffers, engineers, and interns have been working on a music app directory behind the scenes for a while now. We quietly launched the first iteration of it just before Thanksgiving. We have plenty of powerful music-app-discovery features to be thankful for, which we can't wait to unveil in the days, weeks, and months to come.
That said, we hope this new Download Apps feature is already a useful resource for music fans. It currently lists nearly 1,700 music apps for a variety of platforms, although at this point, most of them are for iPhone, iPad, Android, or the web. An update on mobile apps and the music industry « Music & Copyright's Blog. Most mobile music services use pay-per-track and subscription-based pricing models, but some operators have started offering music services bundled with their mobile subscriptions. Full tracks are sometimes thrown in as a "free" extra to motivate people to take out a mobile subscription or data plan or to top up their prepaid credit. An example of the latter is Orange's Monkey prepaid plan in the UK, in which users get free music for topping up as little as £5 (US$7.75).
Statistics published in some European countries have shown sharp declines in mobile full-track music sales over the past year or two. These figures can be misleading, however, because they don't take into account the proportion of full tracks downloaded or streamed via mobile devices from online services such as iTunes and Spotify, even though these services are the fastest-growing segment of the mobile-full-track market in developed countries. L'ENJEU DES MÉTADONNÉES MUSICALES La musique n'est pas qu'un fichier son. Article mis à jour le vendredi 11 avril 2014 Article créé le lundi 4 avril 2011 Version imprimable Article Autrefois, nombre d'informations utiles apparaissaient dans les livrets des CD qui comportaient souvent des photos, éléments de biographie, paroles de chanson, etc. Facebook et Spotify s'associent pour rendre la musique plus "sociale"
Publié le vendredi 23 septembre 2011 Version imprimable Numérique Le fondateur de Facebook Mark Zuckerberg a présenté hier plusieurs innovations du réseau Facebook, qui compte aujourd'hui plus de 800 millions de comptes actifs, dont 500 millions se connectent quotidiennement. le maître mot de ces innovations est certainement "sérendipité" (le fait de faire une découvrir une chose alors qu'on en cherchait une autre). Mark Mulligan: Squaring the Consumption Circle – Why and How the Model Needs Fixing | MIDEMBlog. Listening Room Battles The New Antisocial Music Experience. Rexly Splices Facebook to iTunes for Word-of-Mouth Music Discovery. Jean-Samuel Beuscart : Généalogies de l'écoute musicale.
You Have Options: 6 Interactive Radio Services Reviewed. Slacker Launches On-Demand Music Service. Here We Go Again: The bright new future ahead where we can all share music in the cloud, NOT.. Music streaming subscriptions are the way forward, says Featured Artists Coalition. Big 5 Music Subscriptions Reviewed: Should You Make the Leap? L'expérience musicale" : un levier de dynamisation pour la musique en ligne ! Finally A 21st Century Music Product, And It's From EMI! Deezer enfin rentable ? » OWNImusic, Réflexion, initiative, pratiques. Musique et possession : ce que veulent les fans » OWNImusic, Réflexion, initiative, pratiques. La playlist, le storytelling de la musique, par Ludovic Jokiel. TuneCore CEO Says Apple Just Monetized Pirated Music, Reset Music Industry. Not Free: Revenue Innovation For The Music Industry.
8tracks Brings 'Mixtape' Sharing to iPhone. 8 Best Ways to Share 'Mix Tapes' | Epicenter  Chaos We Can Stand: Attitudes Toward Technology and Their Impact on the New Digital Ecology. New Online Listening Rooms Reintroduce The Shared Music Experience. Why is Spotify playing hard-ball with its free users? « Music & Copyright's Blog. Spotiwhy? : Are Subscription Music Services a Sustainable Business Model? Spotify's app platform: That's it?
Spotify Takes A Step Towards Making Music The API. Spotify, la planète des apps. Musique en ligne : Spotify, pari (à moitié) réussi | Rue89 Culture. Why Spotify can never be profitable: The secret demands of record labels. Comment Spotify peut conquérir le monde en 5 étapes | FrenchWeb.fr. Spotify, Android, Apple TV, And The New Appathy. Last.fm Discover : A découvrir absolument. Facebook Music's Biggest Loser: Last.fm. Last.fm Discover Streams Music from Green, Rolling Hills. Facebook Music's Biggest Loser: Last.fm. Study: FM Radio Is Still the Biggest Source for Music Discovery. Spotify, Android, Apple TV, And The New Appathy. Google Music in a Nutshell. Le marché de la musique en ligne est à peine à l'équilibre. Interview: Distro.fm Could Revolutionize Music with Artist Subscriptions.
---