Iran
Video: Jeff Rense with Jay Weidner "Germany is Going to Bomb Iran in October" Report: US warships stationed off Iranian coast | Raw Story. More 'risky' Bangladesh garment factories shut Bangladesh authorities have closed four garment factories and partially shut down two others after engineers hired by Western retailers detected… Pro-Russian militants free 56 Ukrainian 'hostages' More than 50 people held "hostage" by pro-Russian militants who seized a security building in eastern Ukraine have been released,… Egyptian court rejects new judges for Morsi trials An Egyptian appeals court rejected Wednesday a request that new judges be appointed for two trials involving ousted Islamist president…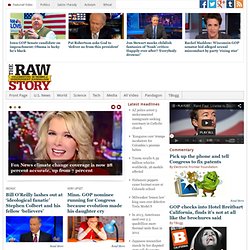 USS Carrier Harry Truman Now Officially Just Off Iran, As Israel. As we first reported last week, in an article that was met with much original skepticism, the Pentagon has now confirmed that a fleet of 12 warships has passed the Suez Canal, and is now likely awaiting orders to support the escalation in the Persian Gulf.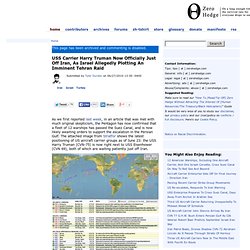 The attached image from Stratfor shows the latest positioning of US aircraft carrier groups as of June 23: the USS Harry Truman (CVN-75) is now right next to USS Eisenhower (CVN 69), both of which are waiting patiently just off Iran. Report republished with permission of STRATFOR As for the catalyst the two carriers may be anticipating, we provide the following update from the Gulf Daily News where we read that Israel may be on the verge of an attack of Iran, with an incursion originating from military bases in Azerbaijan and Georgia.
Report: US Warships Stationed Off Iranian Coast  : ICH - Informa. Israel setting up Saudi base for Iran raid? - World news - Midea. An Iranian allegation that Saudi Arabia is allowing Israel to use its territory in preparation for attacking Iran nuclear sites has stirred a flurry of reports in the Israeli media.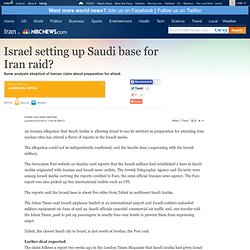 The allegation could not be independently confirmed, and the Saudis deny cooperating with the Israeli military. The Jerusalem Post website on Sunday said reports that the Israeli military had established a base in Saudi Arabia originated with Iranian and Israeli news outlets. G-8 'fully believes' Israel will attack Iran, says Italy PM - Ha. First of all,let me say that i dont wish a war should happen.but,if it does happen,thanks to an israeli strike on iran,triggered by cowards like berlusconi and sarkozy,the israelis would be in a very difficult position.even the usa will not be able to save the day for the israelis.it could turn out to be good-bye "israel". iran is too strong and influential in the ME for anyone to think it would simple be a picnic to strike iran.we are talking here of hell fire.all of palestine is too small to accomodate that fire,believe me.if iran is attacked,expect 4-5 fronts:gaza,lebanon,syria,iran and who knows?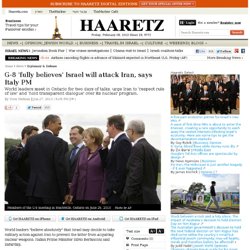 Report: U.S., Israeli warships cross Suez Canal toward Red Sea - ISRAEL 'PLOTS TEHRAN RAID' MANAMA: Israel is massing warplanes in the Caucasus for an attack on Iran, it was revealed yesterday.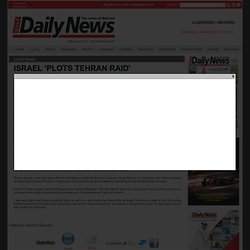 Preparations are underway to launch the military attack from Azerbaijan and Georgia, reports our sister paper Akhbar Al Khaleej, quoting military sources. Israel was, in fact, training pilots in Turkey to launch the strike and was smuggling planes into Georgia using Turkish airspace, they said. However, Turkey was unaware of Israel's intention of transferring the planes to Georgia, the sources said. The unexpected crisis between Israel and Turkey following an Israeli commando raid on an aid flotilla bound for Gaza Strip hit Israeli calculations. Iran Arms Syria With Radar - WSJ.com (Build 20100722155716)
---