Epigenetics
Science & Nature - Horizon
Backgrounder: Epigenetics and Imprinted Genes
dr bruce lipton
Bruce Lipton epigenetics part 1
Bruce Lipton part 2
Benjamin stewart
Introduction Casual behavioral observation alone can produce a variety of theories on what affects human behavior. Two children, born to the same parents and raised in the same environment can exhibit drastically different traits in terms of temperament, intelligence, and behavior.
Epigenetics: Nature Versus Nurture is No Longer a Debate - Associated Content - associatedcontent.com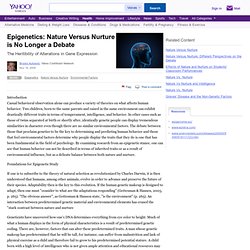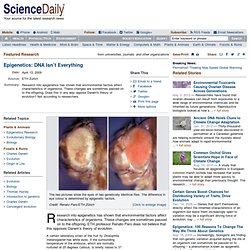 Epigenetics: DNA Isn't Everything
Apr. 13, 2009 — Research into epigenetics has shown that environmental factors affect characteristics of organisms. These changes are sometimes passed on to the offspring. ETH professor Renato Paro does not believe that this opposes Darwin's theory of evolution. A certain laboratory strain of the fruit fly Drosophila melanogaster has white eyes. If the surrounding temperature of the embryos, which are normally nurtured at 25 degrees Celsius, is briefly raised to 37 degrees Celsius, the flies later hatch with red eyes.