Self-help
World's Easiest Way to Be Much Healthier: Stand Up
Your Desk Is Making You Stupid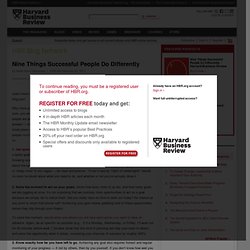 Learn more about the science of success with Heidi Grant Halvorson's HBR Single, based on this blog post. Why have you been so successful in reaching some of your goals, but not others?
5 Ways To Spot A Bad Boss In An Interview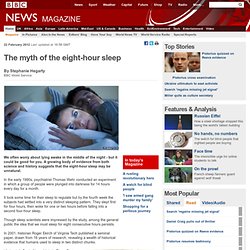 22 February 2012Last updated at 16:58 GMT By Stephanie Hegarty BBC World Service We often worry about lying awake in the middle of the night - but it could be good for you. A growing body of evidence from both science and history suggests that the eight-hour sleep may be unnatural. In the early 1990s, psychiatrist Thomas Wehr conducted an experiment in which a group of people were plunged into darkness for 14 hours every day for a month. It took some time for their sleep to regulate but by the fourth week the subjects had settled into a very distinct sleeping pattern. They slept first for four hours, then woke for one or two hours before falling into a second four-hour sleep.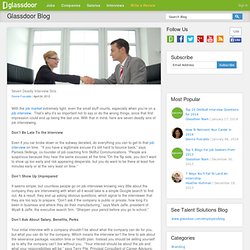 With the job market extremely tight, even the small stuff counts, especially when you're on a job interview. That's why it's so important not to say or do the wrong things, since that first impression could end up being the last one. With that in mind, here are seven deadly sins of job interviewing. Don't Be Late To the Interview Even if you car broke down or the subway derailed, do everything you can to get to that job interview on time.
7 Things You Should Never Do On An Interview by Tony Schwartz | 8:53 AM March 14, 2012 Why is it that between 25% and 50% of people report feeling overwhelmed or burned out at work?
Benjamin Franklin was a man of action. Over his lifetime, his curiosity and passion fueled a diverse range of interests. He was a writer (often using a pseudonym), publisher, diplomat, inventor and one of the Founding Fathers of the United States.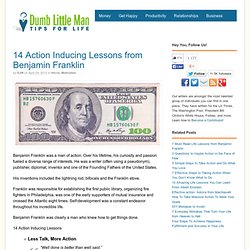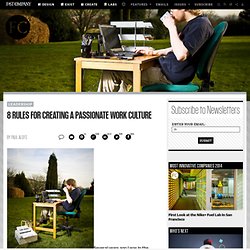 Several years ago I was in the Thomson Building in Toronto. I went down the hall to the small kitchen to get myself a cup of coffee. Ken Thomson was there, making himself some instant soup.
Positive Thinking: 7 Easy Ways to Improve a Bad Day
10 Questions That Create Success
10 Things Bosses Never Tell Employees
6 Easy Ways to Reduce Stress
8 Things Your Employees Need Most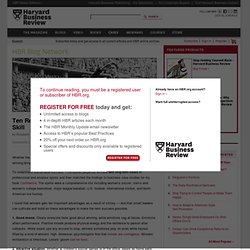 by Rosabeth Moss Kanter | 7:00 AM August 1, 2012
Ten Reasons Winners Keep Winning, Aside from Skill - Rosabeth Moss Kanter
Everyone should work in sales at some point in their career -- the earlier the better. My first post-college job was with a Fortune 500 company. In terms of workload, we only experienced two conditions: Busy and busier. So I never thought about the task of drumming up sales. Why would I?
Why Everyone Should Work in Sales -- at Least for a While
4 Words You Should Never Say
Last Updated May 15, 2011 2:03 PM EDT Mornings are a mad-cap time in many households. Everyone's so focused on getting out the door that you can easily lose track of just how much time is passing.
What The Most Successful People Do Before Breakfast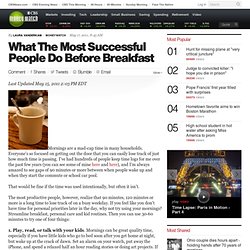 The Link Between Quietness And Productivity
Some of you may have tried to reach me this morning and found that I was unavailable. That's because I was knee high in muck with my husband and some friends. We were out having what I call clamming wars, here on Cape Cod. I have to admit, my team was quite vocal everytime we scored a clam, which by my count was many. The other team raked for clams quietly in the distance.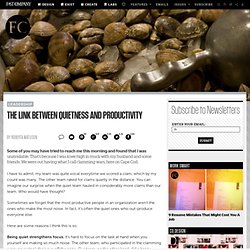 A recent study published in an American Psychological Association journal, Emotion, suggests that early birds are generally happier than night owls. More than 700 respondents, ranging from ages 17 to 79, were surveyed and asked about their emotional state, health, and preferred time of day. Self-professed "morning people" reported feeling happier and healthier than night owls. Researchers hypothesize that one of the reasons could be because society caters to a morning person's schedule.