Self-help
Standing up more is scientifically proven to have huge health benefits, but in our digital world it's not as simple as it sounds. Here's how to make the switch to an upright workday. drewbsaunders/Flickr 798 in Share
World's Easiest Way to Be Much Healthier: Stand Up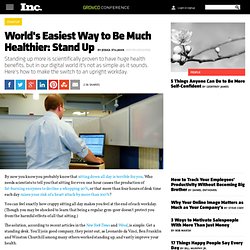 Your Desk Is Making You Stupid
Sitting around all day isn't just making you unhealthy. It might also be making you dumber. slworking2 via Flickr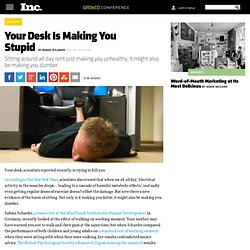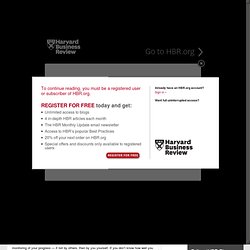 Learn more about the science of success with Heidi Grant Halvorson's HBR Single , based on this blog post. Why have you been so successful in reaching some of your goals, but not others? If you aren't sure, you are far from alone in your confusion. It turns out that even brilliant, highly accomplished people are pretty lousy when it comes to understanding why they succeed or fail. The intuitive answer — that you are born predisposed to certain talents and lacking in others — is really just one small piece of the puzzle.
Nine Things Successful People Do Differently - Heidi Grant Halvorson
5 Ways To Spot A Bad Boss In An Interview
Image by World Economic Forum via Flickr The only three true job interview questions are: 1. Can you do the job? 2.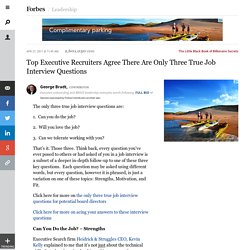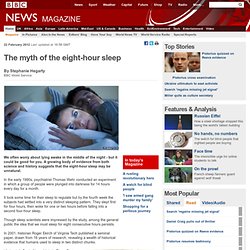 22 February 2012 Last updated at 11:58 ET By Stephanie Hegarty BBC World Service We often worry about lying awake in the middle of the night - but it could be good for you. A growing body of evidence from both science and history suggests that the eight-hour sleep may be unnatural. In the early 1990s, psychiatrist Thomas Wehr conducted an experiment in which a group of people were plunged into darkness for 14 hours every day for a month. It took some time for their sleep to regulate but by the fourth week the subjects had settled into a very distinct sleeping pattern. They slept first for four hours, then woke for one or two hours before falling into a second four-hour sleep.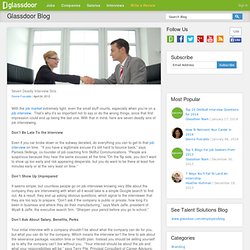 With the job market extremely tight, even the small stuff counts, especially when you're on a job interview . That's why it's so important not to say or do the wrong things, since that first impression could end up being the last one. With that in mind, here are seven deadly sins of job interviewing. Don't Be Late To the Interview Even if you car broke down or the subway derailed, do everything you can to get to that job interview on time.
7 Things You Should Never Do On An Interview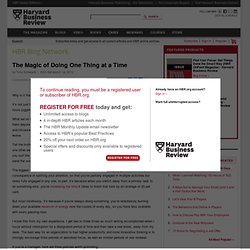 by Tony Schwartz | 8:53 AM March 14, 2012 Why is it that between 25% and 50% of people report feeling overwhelmed or burned out at work ? It's not just the number of hours we're working, but also the fact that we spend too many continuous hours juggling too many things at the same time. What we've lost, above all, are stopping points, finish lines and boundaries. Technology has blurred them beyond recognition. Wherever we go, our work follows us, on our digital devices, ever insistent and intrusive.
Benjamin Franklin was a man of action. Over his lifetime, his curiosity and passion fueled a diverse range of interests. He was a writer (often using a pseudonym), publisher, diplomat, inventor and one of the Founding Fathers of the United States.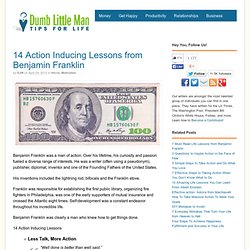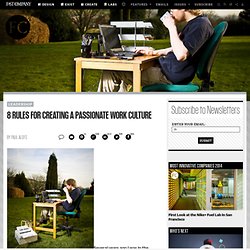 Several years ago I was in the Thomson Building in Toronto. I went down the hall to the small kitchen to get myself a cup of coffee. Ken Thomson was there, making himself some instant soup.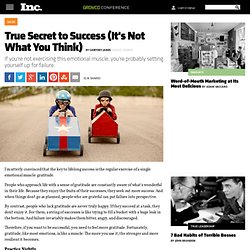 If you're not exercising this emotional muscle, you're probably setting yourself up for failure. Getty 8,301 in Share Connect with Evernote: Please Login to Connect Your Account with Evernote
The most successful people in business approach their work differently than most. See how they think--and why it works. Getty 25K in Share
Don't let a bad morning ruin your entire day. Use these mental tricks to change your momentum. shutterstock images 5,918 in Share Connect with Evernote: Please Login to Connect Your Account with Evernote
Positive Thinking: 7 Easy Ways to Improve a Bad Day
Employee fit is crucial. Here's a simple way to know if a job candidate is right for your business. Getty
10 Questions That Create Success
Want help focusing on what really matters? Ask yourself these on a daily basis. 5,222 in Share Connect with Evernote: Please Login to Connect Your Account with Evernote
Forget good to great. Here's what makes a great employee remarkable. shutterstock images
10 Things Bosses Never Tell Employees
6 Easy Ways to Reduce Stress
8 Things Your Employees Need Most
Ten Reasons Winners Keep Winning, Aside from Skill - Rosabeth Moss Kanter
Why Everyone Should Work in Sales -- at Least for a While
4 Words You Should Never Say
What The Most Successful People Do Before Breakfast
The Link Between Quietness And Productivity