Financial blogs
The Reformed Broker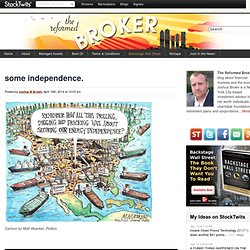 Posted by Joshua M Brown, January 16th, 2014 at 4:17 pm My friends Bob Peck and Leigh Drogen are holding a conference call tomorrow at 11am ET to go over the outlook for internet stocks ahead of their earnings reports, which begin to roll in next week. For traders and investors who are involved in these names or interested in the space, these two guys know as much as anyone about the topic. Leigh Drogen is the founder of Estimize and a good friend of mine since the early days of StockTwits. Bob Peck is, in my estimation, the savviest guy covering social media stocks at any of the big brokerage firms. I'm really looking forward to their insights, join us on the call if you're interested.
Mark Gongloff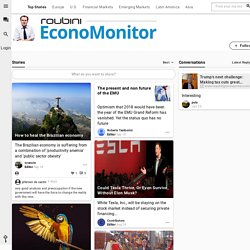 Ed DolanEd Dolan's Econ Blog Edwin G. Dolan is an economist and educator with a Ph.D. from Yale University. Early in his career, he was a member of the economics faculty at Dartmouth College, the University of Chicago, and George Mason University.
EconoMonitor
Research - Sample Reports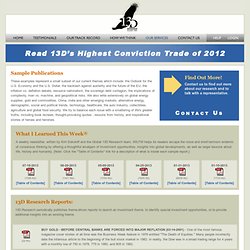 These examples represent a small subset of our current themes which include: the Outlook for the U.S. Economy and the U.S. Dollar, the backlash against austerity and the future of the EU, the inflation vs. deflation debate, resource nationalism, the sovereign debt contagion, the implications of complexity, man vs. machine, and geopolitical risks. We also write extensively on global energy supplies, gold and commodities, China, India and other emerging markets, alternative energy, demographic, social and political trends, technology, healthcare, the auto industry, collectibles, agriculture and global food security. We try to balance each issue with a smattering of life's greater truths, including book reviews, thought-provoking quotes , lessons from history, and inspirational stories of heroes and heroines.
Japanese have long been criticised for being overly conformist and insufficiently creative. This is unfair, if not untrue demonstrated by the Nobel Literature Prize recently awarded to Murakami, and the increasing representation of Japanese brands outside the realm of consumer electronics, and, I might add, Olympus Corporation's daringly-creative plan to sweep away $1.2bn of zaitech losses by burying them in the acquisition prices of several hokey takeovers. Perhaps the most overlooked area of creativity in Japan however is the pith and humour employed in the naming of some of the their listed enterprises.
Cassandra Does Tokyo
Oaktree Capital's chairman Howard Marks is out with his latest memo entitled, "Getting Lucky." It's an interesting missive in which he delves into the role of luck in investing. Marks writes, "Investment success isn't just a question of whether the investor put together the 'right' portfolio, but also whether it encountered a beneficial environment. Thus being successful requires a significant degree of luck. No one gets it right every time.
market folly : hedge fund portfolio tracking, SEC filings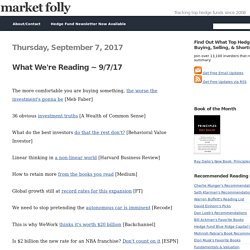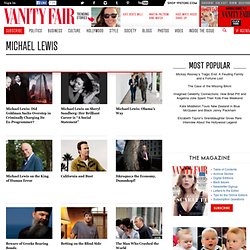 Michael Lewis
Michael Lewis: Did Goldman Sachs Overstep in Criminally Charging Its Ex-Programmer? Michael Lewis on Sheryl Sandberg: Her Brilliant Career is "A Social Statement" Michael Lewis: Obama's Way Michael Lewis on the King of Human Error California and Bust
Geoinvesting is a bunch of short-sellers who I grew to respect during the great era of picking off Chinese reverse merger scams. They got several right and the ones that they got wrong (notably on Zhongpin) they were I believe right on most of the analysis. Yesterday they came out with a "hit-piece" on Seeking Alpha on Amtrust Financial Services.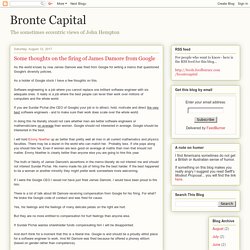 Funds - Weekly Market Comment: Current Archive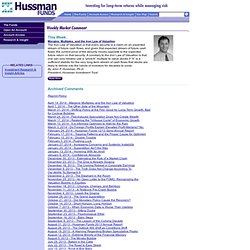 For more information about investing in the Hussman Funds, please call us at1-800-HUSSMAN (1-800-487-7626)513-326-3551 outside the United States Site and site contents © copyright 2003 Hussman Funds. Brief quotations including attribution and a direct link to this site (www.hussmanfunds.com) are authorized. All other rights reserved and actively enforced. Extensive or unattributed reproduction of text or research findings are violations of copyright law.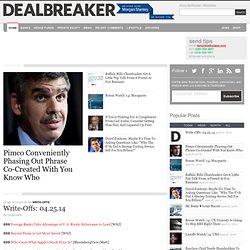 Australia Model Curbs Speed as CEO Says U.S. Too Far Gone (Bloomberg) In Australia, where high-frequency trading firms are half as pervasive as in the U.S., the head of the biggest stock exchange has a message for Americans who would rein them in: forget it. "The way the U.S. market structure has been set up creates serious problems," Elmer Funke Kupper, the chief executive officer of Sydney-based ASX Ltd., told Bloomberg News on the sidelines of a conference March 24. Efforts to rectify that are "very late and unlikely to succeed," he said. Advantages that are hard to replicate in the U.S. help Funke Kupper curb speed traders.
LLC - Home
GMO is a global investment management firm committed to providing sophisticated clients with superior asset management solutions and services. We offer a broad range of investment products, including equity and fixed income strategies across global developed and emerging markets, as well as absolute return strategies. Our client base includes endowments, pension funds, public funds, foundations and cultural institutions. GMO is a private partnership that employs more than 550 people worldwide. Investment management is our only business. As of September 30, 2013, we managed $112 billion in client assets, $55 billion of which was in asset allocation strategies.