Financial blogs
The Reformed Broker. Mark Gongloff. The Big Picture. EconoMonitor. Paul Kedrosky's Infectious Greed. FINANCIAL SENSE | Applying Common Sense to the Markets. Research - Sample Reports. These examples represent a small subset of our current themes which include: the Outlook for the U.S.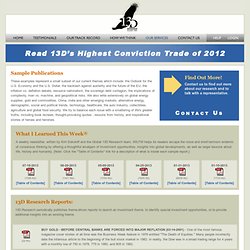 Economy and the U.S. Dollar, the backlash against austerity and the future of the EU, the inflation vs. deflation debate, resource nationalism, the sovereign debt contagion, the implications of complexity, man vs. machine, and geopolitical risks. We also write extensively on global energy supplies, gold and commodities, China, India and other emerging markets, alternative energy, demographic, social and political trends, technology, healthcare, the auto industry, collectibles, agriculture and global food security. We try to balance each issue with a smattering of life's greater truths, including book reviews, thought-provoking quotes , lessons from history, and inspirational stories of heroes and heroines. Cassandra Does Tokyo. ZeroHedge | On a long enough timeline the survival rate for everyone drops to zero.
Market folly : hedge fund portfolio tracking, SEC filings. Michael Lewis. Michael Lewis: Did Goldman Sachs Overstep in Criminally Charging Its Ex-Programmer?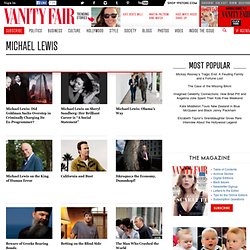 Michael Lewis on Sheryl Sandberg: Her Brilliant Career is "A Social Statement" Michael Lewis: Obama's Way Michael Lewis on the King of Human Error California and Bust. Bronte Capital. Funds - Weekly Market Comment: Current Archive. For more information about investing in the Hussman Funds, please call us at1-800-HUSSMAN (1-800-487-7626)513-326-3551 outside the United States Site and site contents © copyright 2003 Hussman Funds.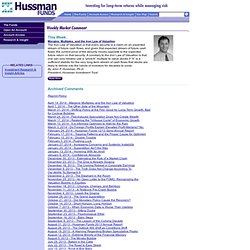 Brief quotations including attribution and a direct link to this site (www.hussmanfunds.com) are authorized. All other rights reserved and actively enforced. Extensive or unattributed reproduction of text or research findings are violations of copyright law. Dealbreaker: A Wall Street Tabloid – Business News Headlines and Financial Gossip. LLC - Home. GMO is a global investment management firm committed to providing sophisticated clients with superior asset management solutions and services.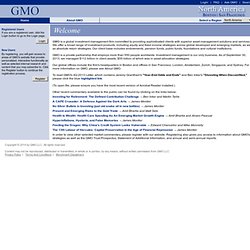 We offer a broad range of investment products, including equity and fixed income strategies across global developed and emerging markets, as well as absolute return strategies. Our client base includes endowments, pension funds, public funds, foundations and cultural institutions. GMO is a private partnership that employs more than 550 people worldwide. Investment management is our only business. As of September 30, 2013, we managed $112 billion in client assets, $55 billion of which was in asset allocation strategies.
---