Future of learning
Reimagining Outdoor Learning Spaces handbook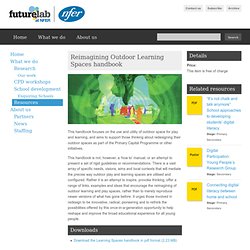 This handbook focuses on the use and utility of outdoor space for play and learning, and aims to support those thinking about redesigning their outdoor spaces as part of the Primary Capital Programme or other initiatives.
Reimagining_Outdoor_Learning_Spaces_handbook
Children's Role in Home-School Relationships and the Role of Digital Technologies literature review
This review provides an overview of the key debates and current practice and research into home-school relationships, with a particular focus on children's role and the opportunities offered by digital technologies to facilitate home-school relationships.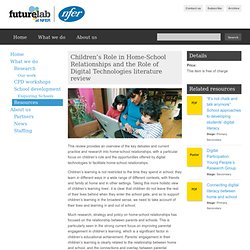 Home-School_Relationships_review
Developing the Home-School Relationship using Digital Technologies handbook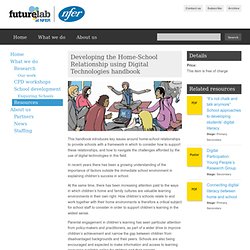 This handbook introduces key issues around home-school relationships to provide schools with a framework in which to consider how to support these relationships, and how to navigate the challenges afforded by the use of digital technologies in this field.
Home-School_Relationships_handbook
Mobile Technologies and Learning literature review
Mobile_Technologies_and_Learning_review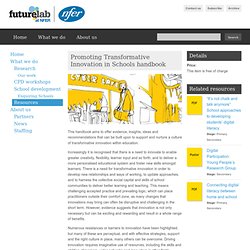 Promoting Transformative Innovation in Schools handbook
This handbook aims to offer evidence, insights, ideas and recommendations that can be built upon to support and nurture a culture of transformative innovation within education. Increasingly it is recognised that there is a need to innovate to enable greater creativity, flexibility, learner input and so forth, and to deliver a more personalised educational system and foster new skills amongst learners. There is a need for transformative innovation in order to develop new relationships and ways of working, to update approaches, and to harness the collective social capital and skills of school communities to deliver better learning and teaching.
Promoting_Transformative_Innovation_handbook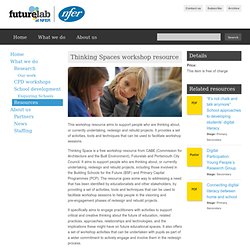 Thinking Spaces workshop resource
This workshop resource aims to support people who are thinking about, or currently undertaking, redesign and rebuild projects. It provides a set of activities, tools and techniques that can be used to facilitate workshop sessions. Thinking Space is a free workshop resource from CABE (Commission for Architecture and the Built Environment), Futurelab and Portsmouth City Council.
Thinking_Space_workshop_resource
Using Digital Technologies to Promote Inclusive Practices in Education handbook
Digital_Inclusion_handbook
Enquiring Minds is an approach to teaching and learning that takes students' ideas, interests and experiences as its starting point, and provides them with more responsibility for the direction and content of their learning.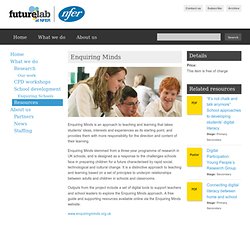 Enquiring Minds
Enquiring_Minds_guide
Aimed at educational leaders involved in curriculum and teaching innovation, this handbook provides guidance for exploring the potential of personalisation to transform curriculum design and teaching practices.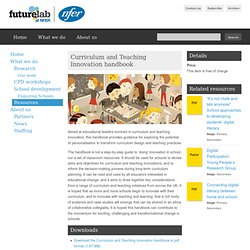 Curriculum and Teaching Innovation handbook
Curriculum_and_Teaching_Innovation_handbook_0
Digital Participation, Digital Literacy and School Subjects literature review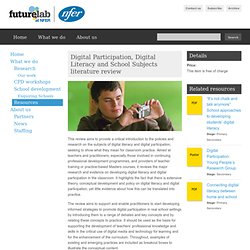 This review aims to provide a critical introduction to the policies and research on the subjects of digital literacy and digital participation, seeking to show what they mean for classroom practice. Aimed at teachers and practitioners, especially those involved in continuing professional development programmes, and providers of teacher training or practice-based Masters courses, it reviews the major research and evidence on developing digital literacy and digital participation in the classroom.
Digital_Participation_review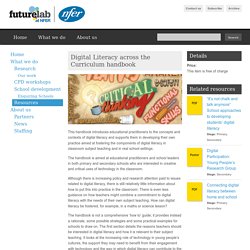 This handbook introduces educational practitioners to the concepts and contexts of digital literacy and supports them in developing their own practice aimed at fostering the components of digital literacy in classroom subject teaching and in real school settings. The handbook is aimed at educational practitioners and school leaders in both primary and secondary schools who are interested in creative and critical uses of technology in the classroom. Although there is increasing policy and research attention paid to issues related to digital literacy, there is still relatively little information about how to put this into practice in the classroom.
Digital Literacy across the Curriculum handbook
Digital_Literacy_case_studies
Digital literacy across the curriculum
New assessment scenarios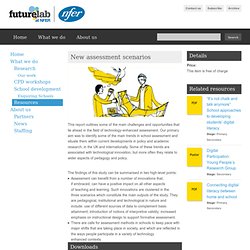 This report outlines some of the main challenges and opportunities that lie ahead in the field of technology-enhanced assessment. Our primary aim was to identify some of the main trends in school assessment and situate them within current developments in policy and academic research, in the UK and internationally.
New_assessment_scenarios_in_brief
New_assessment_scenarios
New_assessment_scenarios_poster
In order to flourish in ever more digital cultures, young people need to be able to participate in a wide range of critical and creative practices involving technology and media. These practices of 'digital literacy' are likely to be important throughout young peoples' lives as the development of technology and media continues to affect how people work, how they socialise, communicate and spend their leisure time and how they learn and share knowledge. Digital literacy is therefore coming to the attention of educators as they recognise that not only does the teaching profession have a role in preparing children for a digital world, but that a sustained engagement with technology and media is now integral to the development of knowledge across disciplines and subjects.
"It's not chalk and talk anymore" School approaches to developing students' digital literacy
Digital_participation_strand_1_final_report
Connecting digital literacy between home and school
Connecting_digital_literacy_between_home_and_school
Curriculum Development and Youth Media
Curriculum_Development_and_Youth_Media_DML_final
This resource is designed to support primary and secondary teachers to integrate the development of students' digital literacy into everyday learning. The activities cover the following areas:
Digital Literacy: Professional Development Resource
Digital_Literacy_Resource
There is increasing interest in applying insights from neuroscience in education, but their impact may be greatest where another force for change, technology, is already transforming how we learn. This review focuses specifically on the potential of neuroscience to inform the design and use of educational technology.
Neuroscience and technology enhanced learning
NTEL_online_AW
Futures Thinking Teachers pack
Futures_Thinking_Teacher_Pack