NASA
Get flash to fully experience Pearltrees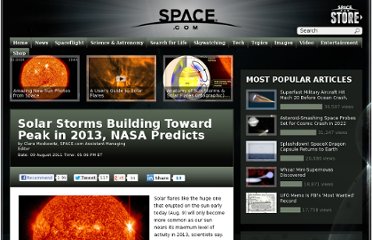 Solar flares like the huge one that erupted on the sun early today (Aug. 9) will only become more common as our sun nears its maximum level of activity in 2013, scientists say. Tuesday's flare was the most powerful sun storm since 2006 , and was rated an X6.9 on the three-class scale for solar storms (X-Class is strongest, with M-Class in the middle and C-Class being the weakest). Flares such as this one could become the norm soon, though, as our sun's 11-year cycle of magnetic activity ramps up, scientists explained. The sun is just coming out of a lull, and scientists expect the next peak of activity in 2013. The current cycle, called Solar Cycle 24, began in 2008.
NASA scientists who monitor the Sun say that our star's awesome magnetic field is flipping -- a sure sign that solar maximum is here. Listen to this story (requires RealPlayer ) February 15, 2001 -- You can't tell by looking, but scientists say the Sun has just undergone an important change. Our star's magnetic field has flipped. The Sun's magnetic north pole, which was in the northern hemisphere just a few months ago, now points south.
+ Play Audio | + Download Audio | + Historia en Español | + Join mailing list March 10, 2006: It's official: Solar minimum has arrived. Sunspots have all but vanished. Solar flares are nonexistent.
******Bron: http://www.nasa.gov/vision/universe/solars...ormwarning.html ****** Solar Storm Warning03.15.06 Researchers say a storm is coming--the most intense solar maximum in fifty years. It's official: Solar minimum has arrived. Sunspots have all but vanished. Solar flares are nonexistent.
XpreZ, op 7 July 2008, 23:35, zei: Is dat echt zo? ik heb dit van het pietpaulusma forum af gehaalt. kan iemand bevestigen of dit echt waar is
Skip Navigation (press 2) <h1><a href="http://www.nasa.gov/">NASA (National Aeronautics and Space Administration)</a></h1><ul><li id="one"><a href="../../eclipse.html"><span>Home</span></a></li><li id="two"><a href="../../solar.html"><span>Solar Eclipses</span></a></li><li id="three"><a href="../..
The "sunspot number" is then given by the sum of the number of individual sunspots and ten times the number of groups. Since most sunspot groups have, on average, about ten spots, this formula for counting sunspots gives reliable numbers even when the observing conditions are less than ideal and small spots are hard to see. Monthly averages (updated monthly) of the sunspot numbers (181 kb JPEG image), (307 kb pdf-file), (62 kb text file) show that the number of sunspots visible on the sun waxes and wanes with an approximate 11-year cycle.
Current climate change impact models that consider only one weather variable, such as increasing temperature, sometimes spawn unsubstantiated doomsday predictions, according to researchers at Purdue and North Carolina universities. Climate change studies that assess the full range of interactions among temperature, radiation, precipitation and land use can better aid humans to prepare for extreme shifts in weather patterns, the scientists report in a special issue of the journal Global and Planetary Change . Climate change impact models often don't consider whether shifting weather will allow for sustainable agriculture, said Dev Niyogi, corresponding author of the journal article and Purdue agronomy, and earth and atmospheric sciences assistant professor.
<center><div class="site_errors"><div class="floatType_site_error_top"></div><div class="floatType_site_error"><table summary="layout table"><tr><td bgcolor="#000000"><font color="#ffffff"><h2><img src="/templateimages/redesign/modules/overlay/site_error.gif" title="Site Error" alt="Site Error"/>There's a problem with your browser or settings. </h2></font><font color="#ffffff"><p>Your browser or your browser's settings are not supported. To get the best experience possible, please download a compatible browser. If you know your browser is up to date, you should check to ensure that javascript is enabled. </p></font><p><a target="_blank" href="/home/How_to_enable_Javascript.html">&rsaquo; Learn How</a></p></td></tr></table></div><div class="floatType_site_error_bottom"></div></div></center>