Masculinist
The Johns Hopkins Guide to Literary Theory and Criticism
Antique Corsets - Victorian, Edwardian & 1920s
Halsall Home | Ancient History Sourcebook | Modern History Course | Medieval Sourcebook African | East Asian | Indian | Islamic | Jewish | LGBT | Women's | Global | Science {*style:<b>Main | Multimedia | Early Modern | Three Revolutions | 19th Century | Modern World
Internet Modern History Sourcebook: The Long 19th Century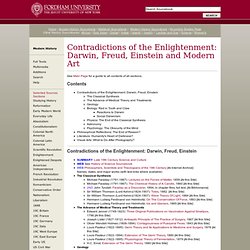 Internet History Sourcebooks
Contradictions of the Enlightenment: Darwin, Freud, Einstein and Modern Art See Main Page for a guide to all contents of all sections. Contents Contradictions of the Enlightenment: Darwin, Freud, Einstein The Classical Synthesis The Advance of Medical Theory and Treatments Geology Biology: Red in Tooth and Claw Reactions to Darwin Social Darwinism Physics: The End of the Classical Synthesis Astronomy Psychology: The Obscurity of the Mind Philosophical Reflections: The End of Reason? Literature: Humanity's Heart of Darkness? Visual Arts: What to Do After Photography?
Hitchhiker's Guide to American History
American Memory - National Digital Library Searchable database of historical pictures from the Library of Congress. America Votes: Presidential Campaign Memorabilia from the Duke University Special Collections Library
MIA Philosophy Resource from Andy Blunden
timeline.swf (application/x-shockwave-flash Object)
Research Center - Women's History Collections - Feminist Majority Foundation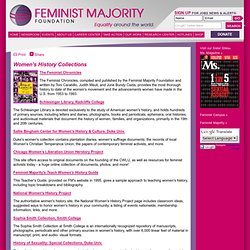 The Fe minist Chronicles The Feminist Chronicles, compiled and published by the Feminist Majority Foundation and written by Toni Carabillo, Judith Meuli, and June Bundy Csida, provides the most thorough history to date of the women's movement and the advancements women have made in the U.S. from 1953 to 1993. Schlesinger Library, Radcliffe College The Schlesinger Library is devoted exclusively to the study of American women's history, and holds hundreds of primary sources, including letters and diaries, photographs, books and periodicals, ephemera, oral histories, and audiovisual materials that document the history of women, families, and organizations, primarily in the 19th and 20th centuries. Sallie Bingham Center for Women's History & Culture, Duke Univ. Duke's women's collection contains plantation diaries, women's suffrage documents, the records of local Women's Christian Temperance Union, the papers of contemporary feminist activists, and more.