Typography
WhatTheFont : MyFonts. The League of Moveable Type. Five simple steps to better typography. – April 13th, 2005 – Typography, I find, is still a bit of mystery to a lot of designers.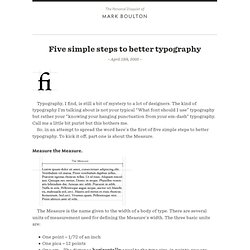 The kind of typography I'm talking about is not your typical "What font should I use" typography but rather your "knowing your hanging punctuation from your em-dash" typography. Erik Spiekermann's Typo Tips. With the invention of "desktop publishing", designers found themselves setting type on their computers for the first time.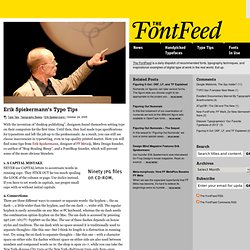 Until then, they had made type specifications for typesetters and left the job up to the professionals. As a result, you can still see classic inaccuracies in typesetting, even in top-quality printed matter. Here you will find some tips from Erik Spiekermann, designer of FF Meta®, Meta Design founder, co-author of "Stop Stealing Sheep", and a FontShop founder, which will prevent some of the more obvious blunders.1. 8 Simple Ways to Improve Typography In Your Designs - Smashing Magazine.
Advertisement Many people, designers included, think that typography consists of only selecting a typeface, choosing a font size and whether it should be regular or bold.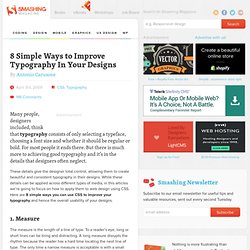 For most people it ends there. AisleOne - Graphic Design, Typography and Grid Systems.
---