Design Ideas
GIHAWOO DESIGN
a professional design consuiting group established in 1986 in Silicon Valley
Top 100 Opinions
Calcium plays an important role in maintaining oral health. However, people don't consider the importance of calcium. Calcium not only makes your teeth strong , but also strengthens jaw bones. Deficiency of calcium can increase the risk of tooth decay and gum disease. Therefore, it is very essential for maintaining oral health.
Products
:: The Tate Group - Home ::
Studio f Hotel / Apartment Furniture
Home Improvement and Remodeling Showroom - Chicago, IL | Community Home Supply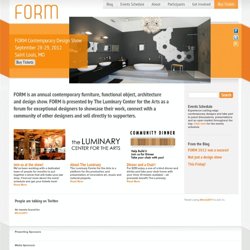 FORM Contemporary Design Show September 28-29, 2012 Saint Louis, MO Buy Tickets FORM is an annual contemporary furniture, functional object, architecture and design show. FORM is presented by The Luminary Center for the Arts as a forum for exceptional designers to showcase their work, connect with a community of other designers and sell directly to supporters. Join us at the show! We've been working with a dedicated team of people for months to put together a show that will make your jaw drop. Find out more about the event schedule and get your tickets here!
FORM
:: Centroid ::