Art-Printmaking
Mod Podge Screen Printing. DIY : Print Your Own Fabric. Guest post by Karina from Maple Ash and Oak Hello there, I am Karina from Maple Ash and Oak.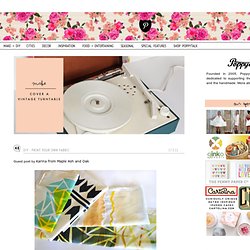 Here I will show you a simple and inexpensive way to create your very own fabric pieces. No need for large screens, squeegees, and emulsion. Beautiful prints can be created with simple methods and materials. Most of the supplies are household items and the rest can be found at your local art or craft store. What is a Print?, Printmaking, original prints, printing. VIDEO What is a Monotype by Arthur Secunda. MOMA What is a Print. Lino_art1. Wonderfoam-collagraph-prints-foam-prints. Solar-plates. Flip_book_compress. Silkscreen_Lesson_6. What_is_relief_printing. Relief_Printing_Process. Technology. By Paul Catanese and Angela Geary is a new release published by A&C Black.
Printeresting was provided with a complimentary review copy. As a practicing artist, I'm not specifically interested in using a CNC router to make my own work but as a print enthusiast, I'm interested in the way technology affects print media. When I read any book about technology (print-related or otherwise), I'm not concerned with how so much as why. By Paul Catanese and Angela Geary covers aspects of both. The title of this book, , sounds pretty exciting. SilverClay Art - Photopolymer plates tutorial. Drawing If you have the ability to draw, use pen & ink for your designs.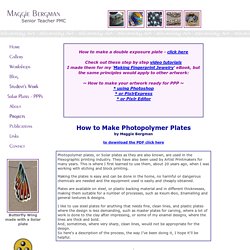 Strong black & white is required, this is known as 'line art' in the printing industry. You can also draw in pencil and have the resulting drawing photocopied to make a high contrast drawing. Computer: If you are proficient on the computer, using a graphics program, you could scan a drawing and convert to a high contrast drawing. Or if you want to do the complete artwork in a drawing program like Adobe Illustrator or Corel Draw, make sure the line width you use is no thinner than 1 pt (= 0.5mm - 0.02") or 2 pt (= 1 mm - 0.04")for deeper impressions. Handout. Relief_printmaking_10. Vallette-jpn. Printmaking Kit Guide BostonKids. If You See the Buddha on the Path... by Margaret Prentice. Prints by | Washington Printmakers Gallery. Daily shoot assignment.
---