Art-Printmaking
Mod Podge Screen Printing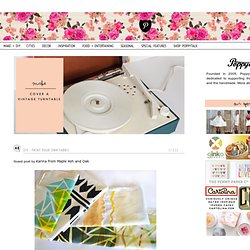 Guest post by Karina from Maple Ash and Oak
DIY : Print Your Own Fabric
What is a Print?, Printmaking, original prints, printing
VIDEO What is a Monotype by Arthur Secunda
MOMA What is a Print
lino_art1
wonderfoam-collagraph-prints-foam-prints
solar-plates
flip_book_compress
Silkscreen_Lesson_6
what_is_relief_printing
Relief_Printing_Process
by Paul Catanese and Angela Geary is a new release published by A&C Black. Printeresting was provided with a complimentary review copy. As a practicing artist, I'm not specifically interested in using a CNC router to make my own work but as a print enthusiast, I'm interested in the way technology affects print media. When I read any book about technology (print-related or otherwise), I'm not concerned with how so much as why. by Paul Catanese and Angela Geary covers aspects of both. The title of this book, , sounds pretty exciting.
Technology « PRINTERESTING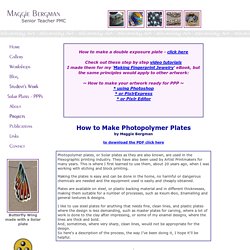 SilverClay Art - Photopolymer plates tutorial
Drawing If you have the ability to draw, use pen & ink for your designs. Strong black & white is required, this is known as 'line art' in the printing industry. You can also draw in pencil and have the resulting drawing photocopied to make a high contrast drawing. Computer: If you are proficient on the computer, using a graphics program, you could scan a drawing and convert to a high contrast drawing. Or if you want to do the complete artwork in a drawing program like Adobe Illustrator or Corel Draw, make sure the line width you use is no thinner than 1 pt (= 0.5mm - 0.02") or 2 pt (= 1 mm - 0.04")for deeper impressions.
handout
relief_printmaking_10
vallette-jpn
Printmaking Kit Guide BostonKids
If You See the Buddha on the Path... by Margaret Prentice
Prints by | Washington Printmakers Gallery
daily shoot assignment