Android
App Inventor for Android lets people create apps for Android phones by manipulating programming blocks in a web browser. Since July 2010, Google has run App Inventor as a large-scale public web service as a part of its Google Labs suite. With the wind down of Google Labs, as of December 31, 2011, Google ended support of App Inventor. In order to ensure the future success of App Inventor, Google Research has funded the establishment of the Center for Mobile Learning at the MIT Media Lab. Sometime in the first quarter of 2012, the Center plans to provide a large scale App Inventor service for general public access, similar to the one Google ran.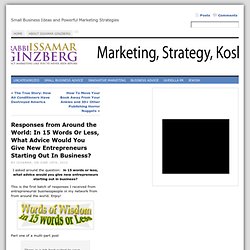 Responses from Around the World: In 15 Words Or Less, What Advice Would You Give New Entrepreneurs Starting Out In Business? | Marketing, Strategy, Kosher!
I asked around the question: in 15 words or less, what advice would you give new entrepreneurs starting out in business? This is the first batch of responses I received from entrepreneurial businesspeople in my network from from around the world. Enjoy! Part one of a multi-part post
Watch it in action
Samsung Galaxy S unlock hack is easiest to date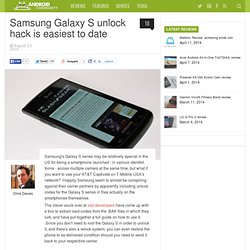 Samsung's Galaxy S series may be relatively special in the US for being a smartphone launched - in various identikit forms - across multiple carriers at the same time, but what if you want to use your AT&T Captivate on T-Mobile USA's network? Happily Samsung seem to almost be conspiring against their carrier partners by apparently including unlock codes for the Galaxy S series in files actually on the smartphones themselves. The clever souls over at xda-developers have come up with a tool to extract said-codes from the .BAK files in which they lurk, and have put together a full guide on how to use it. Since you don't need to root the Galaxy S in order to unlock it, and there's also a relock system, you can even restore the phone to as-delivered condition should you need to send it back to your respective carrier.
yuan gao: Connections
for Android
ZXing (pronounced "zebra crossing") is an open-source, multi-format 1D/2D barcode image processing library implemented in Java, with ports to other languages. Our focus is on using the built-in camera on mobile phones to scan and decode barcodes on the device, without communicating with a server. However the project can be used to encode and decode barcodes on desktops and servers as well. We currently support these formats: UPC-A and UPC-E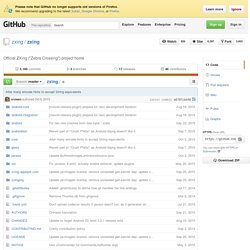 Free Data Matrix ECC200 Barcode Image Creator | IDAutomation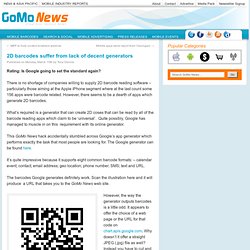 2D barcodes suffer from lack of decent generatorsGoMo News
Rating: Is Google going to set the standard again? There is no shortage of companies willing to supply 2D barcode reading software – particularly those aiming at the Apple iPhone segment where at the last count some 156 apps were barcode related. However, there seems to be a dearth of apps which generate 2D barcodes. What's required is a generator that can create 2D coses that can be read by all of the barcode reading apps which claim to be 'universal'. Quite possibly, Google has managed to muscle in on this requirement with its online generator.