Books
271 Years Before Pantone, an Artist Mixed and Described Every Color Imaginable in an 800-Page Book. In 1692 an artist known only as "A.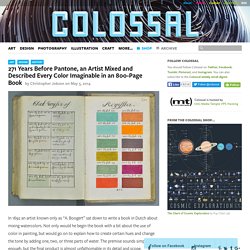 Boogert" sat down to write a book in Dutch about mixing watercolors. Not only would he begin the book with a bit about the use of color in painting, but would go on to explain how to create certain hues and change the tone by adding one, two, or three parts of water. The premise sounds simple enough, but the final product is almost unfathomable in its detail and scope. Spanning nearly 800 completely handwritten (and painted) pages, Traité des couleurs servant à la peinture à l'eau, was probably the most comprehensive guide to paint and color of its time.
Top 10 most-anticipated books of May 2014 | The AudioBookaneers. Everyone has their own lists, but here's mine: what I'm most looking forward to this month, in chronological order of release, with audiobook information if I know about it: Authority by Jeff VanderMeer (FSG Originals, May 6) — "In Annihilation, Jeff VanderMeer introduced the mysteries of Area X—a remote and lush terrain mysteriously sequestered from civilization.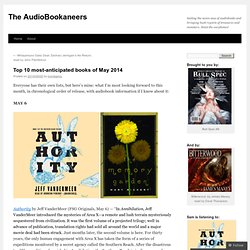 It was the first volume of a projected trilogy; well in advance of publication, translation rights had sold all around the world and a major movie deal had been struck. Just months later, the second volume is here. For thirty years, the only human engagement with Area X has taken the form of a series of expeditions monitored by a secret agency called the Southern Reach. After the disastrous twelfth expedition chronicled in Annihilation, the Southern Reach is in disarray, and John Rodriguez (aka "Control") is the team's newly appointed head. What novels that came out in the last 5 years are must-reads? : books. Not sure what to think.... Am I enjoying these? : Lovecraft. The sci-fi novel "Son of Sedonia" took me 6 years and the best of my ability to complete. What success I've had, I owe to the Reddit and Imgur communities. Here is the eBook, and some of my concept art, for free. Thank you all! : scifi. Hemingway on writing: 7 quotes all book lovers should read.
Ernest Hemingway once said "All American literature comes from one book by Mark Twain called Huckleberry Finn.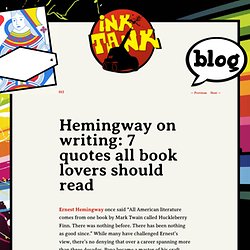 There was nothing before. There has been nothing as good since." While many have challenged Ernest's view, there's no denying that over a career spanning more than three decades, Papa became a master of his craft. In his lifetime, he published seven novels, six short story collections, and two non-fiction works. His last major work of fiction, The Old Man and the Sea won him the 1953 Pulitzer Prize for Fiction and was cited by the Nobel Committee as contributing to the awarding of him the Nobel Prize in Literature a year later. Top Guardian Top 1000 Books on Loved.la. What is a good book to completely immerse yourself in? : books. The list: 100 Great Science Fiction Stories by Women | It Doesn't Have To Be Right...
Now let the arguing begin… The list below contains 100 pieces of short fiction – short stories, novelettes and novellas – by women writers, published between 1927 and 2012.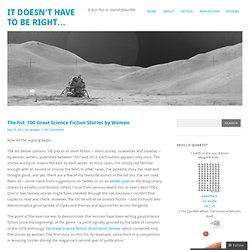 Each author appears only once. The stories are by no means the best by each writer. The Fault in Our Stars. Plot[edit] Hazel explains the magnificence of An Imperial Affliction: It is a novel about a girl named Anna who has cancer, and it's the only account she's read of living with cancer that matches her experience.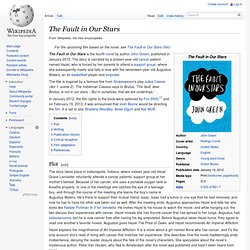 She describes how the novel maddeningly ends midsentence, denying the reader closure about the fate of the novel's characters. She speculates about the novel's mysterious author, Peter Van Houten, who fled to Amsterdam after the novel was published and hasn't been heard from since. A week after Hazel and Augustus discuss the literary meaning of An Imperial Affliction, Augustus miraculously reveals he tracked down Van Houten's assistant, Lidewij, and through her he's managed to start an email correspondence with the reclusive author. He shares Van Houten's letter with Hazel, and she devises a list of questions to send Van Houten, hoping to clear up the novel's ambiguous conclusion. Flowers FOR algernon. The What To Read Awards: Top 10 Books of 2012. S ultimate book guide. Need a last-minute gift?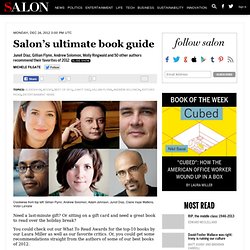 Or sitting on a gift card and need a great book to read over the holiday break? You could check out our What To Read Awards for the top-10 books by our Laura Miller as well as our favorite critics. Or, you could get some recommendations straight from the authors of some of our best books of 2012. Tim O'Reilly's Key to Creating the Next Big Thing | Wired Business. Tech mogul Tim O'ReillyPhoto: Jason Madara One of the marquee attractions at the MIT Media Lab is a camera that can take photographs of objects sitting out of sight, around a corner.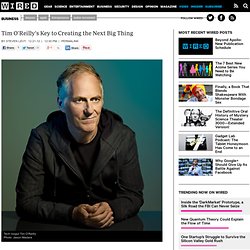 It's the result of years of sophisticated science. The New Space Opera. [Looking for] stories where the discovery or creation of machine intelligence does not doom humanity. : books. The United States of YA | Epic Reads. Fashionable Nonsense. Fashionable Nonsense: Postmodern Intellectuals' Abuse of Science (French: Impostures Intellectuelles), published in the UK as Intellectual Impostures, is a book by Alan Sokal and Jean Bricmont.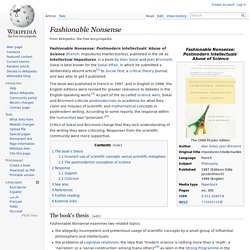 Sokal is best known for the Sokal Affair, in which he submitted a deliberately absurd article[1] to Social Text, a critical theory journal, and was able to get it published. The book was published in French in 1997, and in English in 1998; the English editions were revised for greater relevance to debates in the English-speaking world.[2] As part of the so-called science wars, the book criticizes postmodernism in academia for what it claims are misuses of scientific and mathematical concepts in postmodern writing. Three Roads To Quantum Gravity (Science Masters): Lee Smolin: Amazon.com. What are your favorite essays and short stories? : books. Alan Kirby (writer) Alan Kirby is the author of The Death of Postmodernism and Beyond and of Digimodernism: How New Technologies Dismantle the Postmodern and Reconfigure Our Culture, a book-length study of the same subject.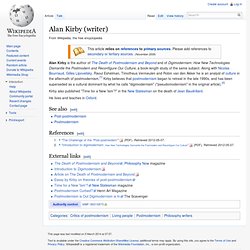 Along with Nicolas Bourriaud, Gilles Lipovetsky, Raoul Eshelman, Timotheus Vermeulen and Robin van den Akker he is an analyst of culture in the aftermath of postmodernism.[1] Kirby believes that postmodernism began to retreat in the late 1990s, and has been superseded as a cultural dominant by what he calls "digimodernism" ("pseudomodernism" in the original article).[2] The Color Trilogy 1 - Read The Color Trilogy 1 Online. FullBooks.com - Thousands of Full-Text Free Books. Popular Quotes - StumbleUpon. Bookshelf Porn. Picc. Share Book Recommendations With Your Friends, Join Book Clubs, Answer Trivia. The 48 Laws of Power - Wikipedia, the free encyclopedia - StumbleUpon. Background[edit] Greene initially formulated some of the ideas in The 48 Laws of Power while working as a writer in Hollywood and observing that today's power elite shared similar traits with powerful figures throughout history.[4] In 1995, Greene worked as a writer at Fabrica, an art and media school, and met a book packager named Joost Elffers.[6][9] Greene pitched a book about power to Elffers and six months later, Elffers requested that Greene write a treatment.[6] Although Greene was unhappy in his current job, he was comfortable and saw the time needed to write a proper book proposal as too risky.[11] However, at the time Greene was rereading his favorite biography about Julius Caesar and took inspiration from Caesar's decision to cross the Rubicon River and fight Pompey, thus inciting the Great Roman Civil War.[11] Greene would follow Caesar's example and write the treatment, which later became The 48 Laws of Power.[11] He would note this as the turning point of his life.[11]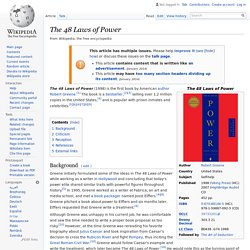 EBooks. Libraries. Whichbook | A new way of choosing what to read next - StumbleUpon. Ebook.
---