Stage
Sites internets donnant accés à des agences de design d'interieur ou d'architecture. Jul 16
Okay, The profile you are looking for is not linking through. This can mean one of two things: 1.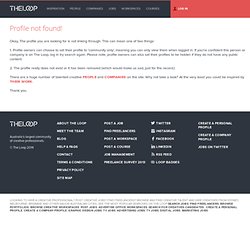 2011 Portfolio - Therese's Portfolio
Interior Design News, Features, Insight & Analysis
100% Design 2012 - 100% Office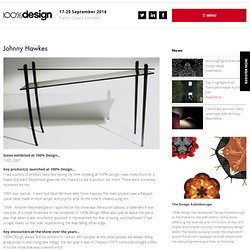 Dates exhibited at 100% Design... 1995-2007 Key product(s) launched at 100% Design... I had a series of product launches during my time showing at 100% Design; I was really there as a maker but each September gave me the chance to put a product out there. There were some key moments for me: 1997 was special - I launched Rave furniture with Steve Pawsey. The main product was a flatpack spiral table made in neon acrylic and psycho vinyl.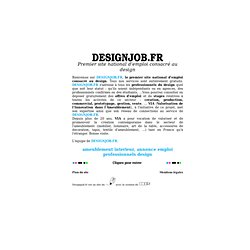 Annonce emploi pour professionnels en design, ameublement intérieur : Designjob
Premier site national d'emploi consacré au design Bienvenue sur DESIGNJOB.FR, le premier site national d'emploi consacré au design. Tous nos services sont entièrement gratuits. DESIGNJOB.FR s'adresse à tous les professionnels du design quel que soit leur statut : qu'ils soient indépendants ou en agences, des professionnels confirmés ou des étudiants, …Vous pourrez consulter ou déposer gratuitement des offres d'emploi et de stages relatives à toutes les activités de ce secteur : création, production, commercial, prototypage, gestion, vente, … VIA (Valorisation de l'Innovation dans l'Ameublement), à l'initiative de ce projet, met son expertise ainsi que son réseau de connections au service de DESIGNJOB.FR. Depuis plus de 20 ans, VIA a pour vocation de valoriser et de promouvoir la création contemporaine dans le secteur de l'ameublement (mobilier, luminaire, art de la table, accessoires de décoration, tapis, textile d'ameublement, ...) tant en France qu'à l'étranger.
Network :: Getting Started
Design Job Requests
Sinot Yacht Design « Dezeenjobs architecture and design recruitment
Intricate London residential jewel: Detailed and compact composition of continuous built-in furniture creates elaborate yet airy and spacious home. This home designed by Atmos for an actress and musician carefully slots between buildings and site-lines, and wraps built-in furniture into every available surface. Both plan and planning constraints generated a complex series of intertwining spaces, enlivened by light and interconnectivity. The massing was generated from the view-lines along the High Street below, tucked carefully out of sight to achieve planning permission for a new storey with front outdoor space hidden within the row of listed buildings. The roof-form deploys a double-pitched butterfly roof, angling upwards from low flank walls to greet the arriving visitor with taller walls at the central stairwell. A crystalline valley skylight hangs above, flooding the void with light.
WAN INTERIORS Residential, WOVEN NEST