Website Tools/Apps/Add-ons and More
Free Icons For E-Commerce Websites. Most e-commerce websites use icons to direct their visitors for an easy shopping procedure.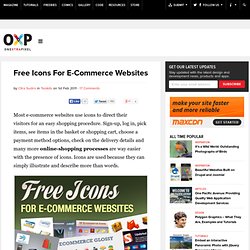 Sign-up, log in, pick items, see items in the basket or shopping cart, choose a payment method options, check on the delivery details and many more online-shopping processes are way easier with the presence of icons. Icons are used because they can simply illustrate and describe more than words. Today we have collected some of the best icon sets for our readers. Ad Server Solutions for Publishers, Ad Networks, Agencies and Advertisers - - Products. ADTECH's focus is on creating innovative, intelligent solutions that work for and with our partner's individual business goals.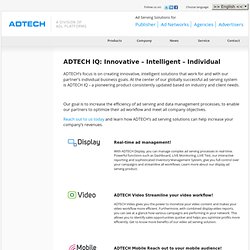 At the center of our globally successful ad serving system is ADTECH IQ – a pioneering product consistently updated based on industry and client needs. Our goal is to increase the efficiency of ad serving and data management processes, to enable our partners to optimize their ad workflow and meet all company objectives.
Reach out to us today and learn how ADTECH's ad serving solutions can help increase your company's revenues. Website Hosting | Plans & Pricing | Comcast Business. White Papers & E-Books. The Elements of Retro Web Design. The vintage and retro style is becoming more and more popular in today's digital artwork.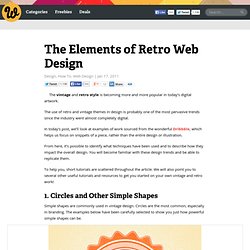 The use of retro and vintage themes in design is probably one of the most pervasive trends since the industry went almost completely digital. In today's post, we'll look at examples of work sourced from the wonderful Dribbble, which helps us focus on snippets of a piece, rather than the entire design or illustration. From here, it's possible to identify what techniques have been used and to describe how they impact the overall design. You will become familiar with these design trends and be able to replicate them. To help you, short tutorials are scattered throughout the article.
Controlling PPC Costs with Negative Keywords: An Expert's Guide. DMD Content Agreement: I acknowledge and agree that the information I provided may be shared with the sponsors and producers of the Content.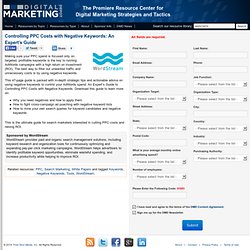 I agree that I may be contacted by the sponsors and/or producers. The information that I have provided in registering for this Content is true and correct. PSD Website Templates: Free High Quality Designs. In the past I have written many articles showcasing web design for inspirational purposes.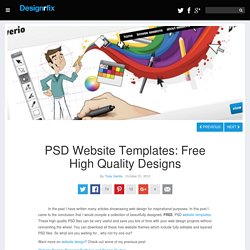 In this post I came to the conclusion that I would compile a collection of beautifully designed, FREE, PSD website templates. These high quality PSD files can be very useful and save you lots of time with your web design projects without reinventing the wheel. You can download all these free website themes which include fully editable and layered PSD files. 30 New Free High-Quality Fonts - Smashing Magazine. Advertisement Every now and then we look around, select fresh high-quality free fonts and present them to you in a brief overview.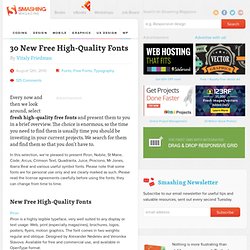 The choice is enormous, so the time you need to find them is usually time you should be investing in your current projects. We search for them and find them so that you don't have to. In this selection, we're pleased to present Piron, Nobile, St Marie, Code, Arcus, Crimson Text, Quadranta, Juice, Prociono, Mr Jones, Ibarra Real and various useful symbol fonts. Please note that some fonts are for personal use only and are clearly marked as such. Webdesign.
---