Shooting
Run Gun Shoot - smaller. better. cheaper. faster.
FL-330AW : 6 x 55W Fluorescent Video Light with Wireless Dimming and Free Lamps - Fluorescent - FloLight LLC
Fluorescent HMI and LED Video Studio and Location Lighting - Cool Lights USA
Blog - Flatten Your?5D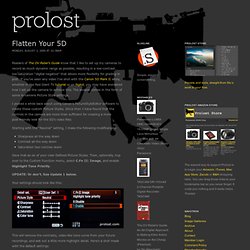 Readers of The DV Rebel's Guide know that I like to set up my cameras to record as much dynamic range as possible, resulting in a low-contrast, low-saturation "digital negative" that allows more flexibility for grading in post. If you've seen any video I've shot with the Canon 5D Mark II lately, whether in the Red Giant TV tutorial or on fxphd, you may have wondered how I set up the camera to achieve this.