Gardening and sustainability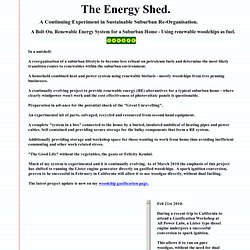 listers
Introduction This website charts a personal journey I am making into renewable technology. Part blog, part diary and part notebook to remind me of stuff I have done, it presents a record of my transition into a lower petroleum society. It details my various projects concerned with providing domestic heat and power by renewable means, using wood fuels, solar water heating and a small amount of solar photovoltaics. The initial desire was to produce my own electricity and to heat my home and business using renewable fuels.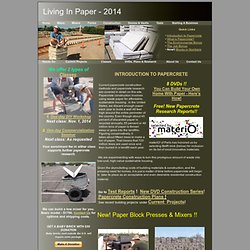 There are a number of ways to make construction material from paper. The generic term for the method described here is "papercrete". There are a number of variations of papercrete, such as fibrous concrete or fibercrete, fibrous cement, padobe and fidobe. See more about these variations under Mixes.
2011 Papercrete DVDs - Papercrete Workshops - Papercrete Research From Miiu.org MiiU is the resilient community wiki. A resilient community is a place that produces most of what it needs locally and connects virtually for everything else. That means it is nearly immune to many of the negative effects of disasters and global breakdowns. MiiU is a collection of all the resources and places that make personal, family, and community resilience possible.
The Occidental Arts and Ecology Center (OAEC) | Occidental Arts and Ecology Center
Use of Baking Soda as a Fungicide
Purple Oxalis -- Oxalis regnellii 'Atropurpurea' Going by whatever name you know it as, this is truly a wonderful plant. The Oxalis Genius has over 800 recognized species throughout the world. So considering the length of this article and TIME I will only talk about one, the Purple Leaf Oxalis. This particular species is native in Argentina, Bolivia, and Paraguay. It was first cultivated in the United States in 1930.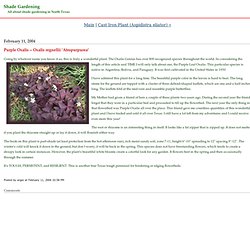 Shade Gardening: Purple Oxalis -- Oxalis regnellii 'Atropurpurea'
Working as a pharmacy technician is an extremely rewarding experience. If you enjoy helping people or just need a new career path, this may be the one for you! There are many different types of programs that will provide the knowledge required, such as those provided by technical schools, online courses or community college classes. Technical schools and community colleges provide hands-on skill building. The courses are typically taught by people that have worked in the field and have experience as a pharmacy technician. These types of programs will set you up with an unpaid internship so you will have pharmacy experience to put on your resume.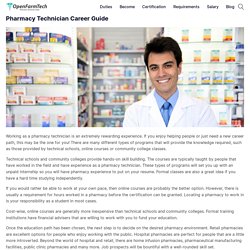 Mozilla Firefox
Casaubon's Book
I've noticed, over the past few years, a growing lack of enthusiasm in the formerly raucous festivities that once marked the end of one year and the beginning of another. That was certainly in evidence last night in our old red brick mill town here in the eastern end of the Rust Belt. As my wife and I clicked glasses together, the night outside was hushed. It was as though all the people who were grateful to see 2013 hauled away to the glue factory suddenly realized that the new year might well be worse. I'm not sure why I didn't share in the general gloom. When you live in a decaying empire that's trying to meet the rising costs of its short-term survival by selling its own grandchildren down the river, contemplating the future that results from that choice isn't exactly a recipe for hilarity, and making a career out of writing about that future might seem like a good way to meet each new year in a profound depression or a drunken stupor, take your pick.
Paul Kingsnorth - One No, Many Yeses - Real England - Environmental and Political Journalist and Author
Where can you get Cheap Natural Fertilizers and Soil Amendments? -
Some see Nature all ridicule and deformity … and some scarce see Nature at all. But to the eyes of the man of imagination, Nature is imagination itself - William Blake Scenes from a younger life # 1: I am 12 years old.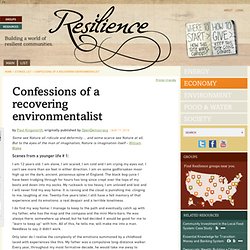 Confessions of a recovering environmentalist
Surrounded by urban sprawl and just a short distance from a freeway, the Urban Homestead project is a family operated and highly productive city farm. It is also a successful, real-life working model for sustainable agriculture and eco living in urban areas and has been featured in multiple news medias both nationally and internationally. Our work in creating Urban Homesteading as a flourishing and self-sufficient lifestyle using minimum resources and land has been referenced as a progressive and forward-thinking example and sourced as the representation of future city planning and reclamation worldwide. For over a decade, we have proved that growing ones' own food can be sustainable, practical, successful and beautiful in urban areas. We harvest 3 tons of organic food annually from our 1/10 acre garden while incorporating many back-to-basics practices, solar energy and biodiesel in order to reduce our footprint on the earth's resources.