Gardening and sustainability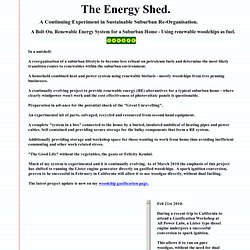 listers
Introduction This website charts a personal journey I am making into renewable technology. Part blog, part diary and part notebook to remind me of stuff I have done, it presents a record of my transition into a lower petroleum society. It details my various projects concerned with providing domestic heat and power by renewable means, using wood fuels, solar water heating and a small amount of solar photovoltaics. The initial desire was to produce my own electricity and to heat my home and business using renewable fuels.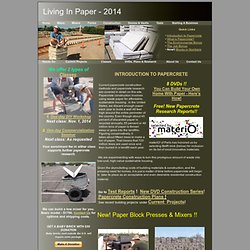 There are a number of ways to make construction material from paper. The generic term for the method described here is "papercrete". There are a number of variations of papercrete, such as fibrous concrete or fibercrete, fibrous cement, padobe and fidobe. See more about these variations under Mixes.
2011 Papercrete DVDs - Papercrete Workshops - Papercrete Research From Miiu.org MiiU is the resilient community wiki. A resilient community is a place that produces most of what it needs locally and connects virtually for everything else. That means it is nearly immune to many of the negative effects of disasters and global breakdowns. MiiU is a collection of all the resources and places that make personal, family, and community resilience possible.
OAEC Launches Permaculture Program Blog The Occidental Arts & Ecology Center is excited to announce the launch of a blog for our Permaculture & Ecological Design Program, which we hope will inspire people around the world to see Permaculture not as a gardening technique but as a way of thinking--an ideology that facilitates community-wide discussion, planning and collaboration to build more sustainable human settlements that emulate the diversity and resiliency of natural ecosystems. The opening posts of the blog detail Program Co-Directors Brock Dolman and Kendall Dunnigan's trip to Haiti to work with and learn from SOIL, a Permaculture-minded organization dedicated to turning human waste--currently a major problem in Haiti due to lack of infrastructure--into a resource.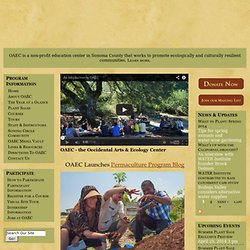 Use of Baking Soda as a Fungicide
Purple Oxalis -- Oxalis regnellii 'Atropurpurea' Going by whatever name you know it as, this is truly a wonderful plant. The Oxalis Genius has over 800 recognized species throughout the world. So considering the length of this article and TIME I will only talk about one, the Purple Leaf Oxalis. This particular species is native in Argentina, Bolivia, and Paraguay. It was first cultivated in the United States in 1930.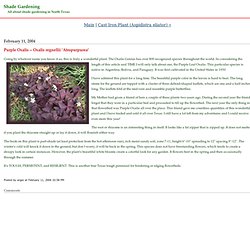 Shade Gardening: Purple Oxalis -- Oxalis regnellii 'Atropurpurea'
Open Source Ecology Weblog
Mozilla Firefox
Casaubon's Book
Last week's post on the vacuous catchphrases that so often substitute for thought in today's America referenced only a few examples of the species under discussion. It might someday be educational, or at least entertaining, to write a sequel to H.L. Mencken's The American Credo, bringing his choice collection of thoughtstoppers up to date with the latest fashionable examples; still, that enticing prospect will have to wait for some later opportunity.In the meantime, those who liked my suggestion of Peak Oil Denial Bingo will doubtless want to know that cards can now be downloaded for free. What I'd like to do this week is talk about another popular credo, one that plays a very large role in blinding people nowadays to the shape of the future looming up ahead of us all just now. In an interesting display of synchronicity, it came up in a conversation I had while last week's essay was still being written.
Paul Kingsnorth - One No, Many Yeses - Real England - Environmental and Political Journalist and Author
Where can you get Cheap Natural Fertilizers and Soil Amendments? -
Some see Nature all ridicule and deformity … and some scarce see Nature at all. But to the eyes of the man of imagination, Nature is imagination itself - William Blake Scenes from a younger life # 1: I am 12 years old.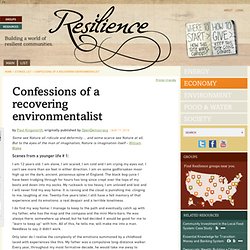 Confessions of a recovering environmentalist
Surrounded by urban sprawl and just a short distance from a freeway, the Urban Homestead project is a family operated and highly productive city farm. It is also a successful, real-life working model for sustainable agriculture and eco living in urban areas and has been featured in multiple news medias both nationally and internationally. Our work in creating Urban Homesteading as a flourishing and self-sufficient lifestyle using minimum resources and land has been referenced as a progressive and forward-thinking example and sourced as the representation of future city planning and reclamation worldwide. For over a decade, we have proved that growing ones' own food can be sustainable, practical, successful and beautiful in urban areas. We harvest 3 tons of organic food annually from our 1/10 acre garden while incorporating many back-to-basics practices, solar energy and biodiesel in order to reduce our footprint on the earth's resources.