Textures
Get flash to fully experience Pearltrees
Default versus JoliCraft in the center A texture pack is a collection of files that is used to change the in-game textures of blocks , items , mobs and the GUI.
Everything was updated to 1.0.0! Finally!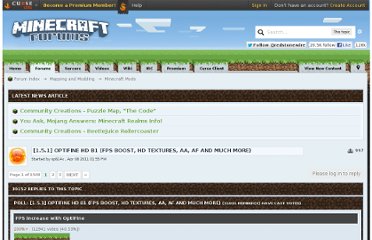 HD Textures Minecraft 1.5 and above comes with general support for HD textures. OptiFine fixes many bugs, adds support for new features and fixes the performance of larger texture packs. Custom Animations Minecraft 1.5 and above supports animations for blocks and items ( info ).
Works with 1.3.1 (Be sure to download the newest installer!) Do not post questions here about your problems if you haven't read this post and haven't checked out the wiki . If you ask a stupid question, I will give you a stupid answer. I don't expect you to know everything about this mod or Java or GLSL but I expect you to use common sense. That means if you get an error in the install log, you need to copy and paste it here.
Hello, Just cause I was asked, I barely find time to check my private messages at the moment.
Information
Yeah I'd like to join in on this. I'm not 100% great at doing texturework, but I'm working on the Iron Armor at the moment. I spent a good 1-2hrs last night studying Doku's techniques, (Which is mainly lighting) and I believe I've got it down pretty good.
[1.5] -Updated blocks -Updated items -Updated gui -Unstitched textures [1.8] -1.8 items -Added text -Fixed resolution on all improperly proportioned textures -Adjusted a couple textures [1.7.2] -Fixed beds and cakes to fit properly -Stray pixels [1.7] -1.7 items -Achievement menu adjustments -Fixed pumpkin texture -Adjusted torches
v1.1.1 - 3.4.2012 I've fixed jungle saplings, which were incorrect in v1.1.0 due to an oversight on my part. Thanks to xiondiscthree for pointing this out! v1.1.0 - 3.3.2012 SineCraft is now compatible with the Minecraft 1.2.x update, including 1.2.3.